Entertainment
Everything On BlocBoy JB: The "Look Alive" & "Rover" Singer On Rise
If you love listening hip-hop songs then you must have heard "Look Alive" and "Rover" recently released by the rapper BlocBoy JB. His song "Look Alive" which features Drake- a popular singer, and songwriter, peaked at #5 on the Billboard Hot 100 in 2018.
Well, if you are a fan of his and wish to know more about the rapper on the rise, then this one is for you!
Keep reading to know out more about him.
BlocBoy JB: Everything There Is To Know
BlocBoy JB with his signature dance has been able to gather many fans for himself. BlocBoy, who goes by real name James Baker, was born on 19 May 1996. He is a native of Memphis, Tennessee.
Moreover, James is the third-youngest child among his seven siblings. Well, talking about his parents, it has come to light that James's was raised by his mother alone. His father, with whom he shares his name, has been locked up on a 25-year sentence since he remembers.
However, his family bounced around for a while eventually settling in the community of Raleigh when he was 14 years old. Back then James was nicknamed "Fatboy" as he was a chubby kid. But looking at him now it seems like his dance moves do have some contribution in losing all those extra fats.
He is a handsome man now who can attract any woman with his charismatic looks. Going by his twitter post, it seems that currently he is not dating but looking for a girlfriend.
Who Wanna Be My Girlfriend
Even though his dating status has not surfaced the media, he does have a son. He left school while he was in 10th grade and soon after he became a father of a child. The mother of Jame's child is still a mystery.
Moreover, James adores and loves his first-born dearly, and the post on his social media account supports the fact too. Recently in January, he shared a photo of junior JB on his Instagram account captioning the photo as,
"Baby JB?"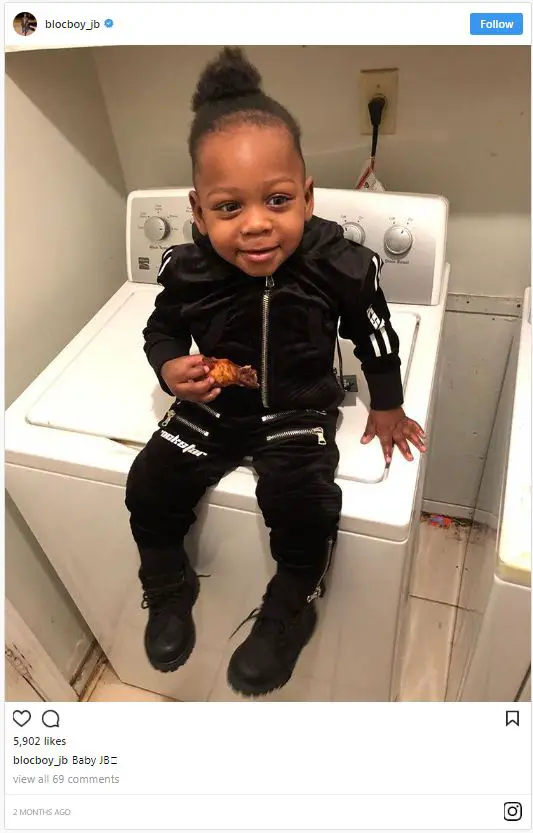 (Photo: BlocBoy JB 's Instagram Account)
Nevertheless, with his baby boy and search for a girlfriend, he has been able to keep the gay rumors miles away from himself.
However, James who is family guy has been able to rise to the heights of success all by himself. After releasing his video "Shoot" back in July, he has gained many followers for himself.
He started putting music on his SoundCloud account since 2012. In 2016, he released his first mixtape with tracks that was able to grab views on YouTube. One of his track, "No Chorus Pt." nearly reached 2 million views on YouTube.