Entertainment
Bobby Flay Find Way Back To Love After Divorce! Is Counting Years With Girlfriend
If you are destined to get love and be loved, you will get it no matter how much disarray you come across in your dating or married lives. This is something which celebrity chef and restaurateur Bobby Flay can explain to you better as he too has found love after some broken relationships and divorce.Everyone knows that he was married in the past but now she has someone new in his life who has been redefining love for him. So let us have a look at how he has found his way back to love and see how his past relationships were like.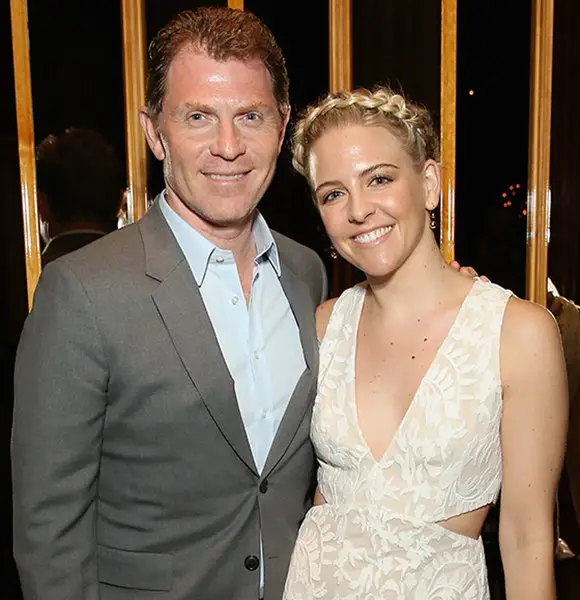 If you are destined to love and be loved, then you will get it regardless of the failed dating affairs or marriages. The thought can be connected to the celebrity chef and restaurateur, Bobby Flay as he too has found love after suffering broken marriages followed by separation and divorce. Nevertheless, love has found its way into Bobby's life so let us have a look at his lovely relationship with his girlfriend along with the failed marriages which his past holds.
Suffering Failed Relationships And Finding New Love:
The 52-year-old celebrity chef, Bobby Flay has a series of failed relationships in the past, but today he enjoys a beautiful relationship with his girlfriend.
Flay was once married to Debra Ponzek from 1991 to 1993, but the relationship failed in the test of time. And as life moved on he too embraced a new relationship and then got married to his second wife Kate Connelly in 1995, whom he met in her program in the channel Food Network. The relationship flourished into marriage, but like his previous marriage it fell apart and ended in divorce. However, the details of the relationship weren't made public.
The marriage of Bobby with "Law and Order" actress Stephanie March back in the year 2005 can be considered as his longest marriage as it lasted for a decade before the couple divorced in July 2015.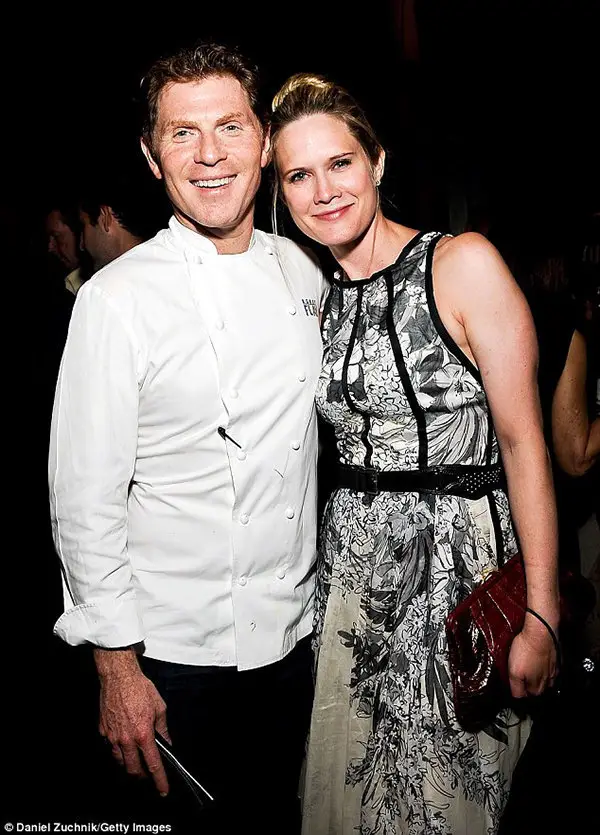 Caption: Bobby Flay ended his ten years long marriage with Stephanie March back in divorce in July 2015.
Photo Credit: dailymail.co.uk
The estranged relationship of Bobby and Stephaine created headlines when they decided to separate back in March 2015. The divorce battle heated up and as a result, things reached to such a level that Bobby canceled Stephanie's credit card.
The reason for the demise of their relationship is kept very far from the knowledge of the fans and media, but events and incidents reported make it evident that there was a lot of fire in the marriage which burnt and destroyed the love between them.
However, love made its way in Bobby's life in the form of his actress girlfriend Heléne Yorke. The two met back in 2016 when they attended a Knick game.
Bobby opened up in this regard and said,
"So I'm going to let you in on a little secret. Last season I went to a Knick game and I met Helene. Now we kind of date."
Bobby's close friend and fellow chef Alex Guarnaschelli when asked if Bobby and Heléne instantly hit off, Heléne responded,
"Yeah, I was like who's this sweet guy? Who knew?"
It's how their relationship started, and now the two have celebrated a year of togetherness. By the looks of it, the scars of broken marriages are not bothering Bobby because he is enjoying being in love.
Bobby posted a selfie with his girlfriend Yorke to celebrate a year of togetherness back in February 2017 and even shared his happiness as,
And it looks like the relationship between them has just been getting better and strengthing with passing time.
The dating affair of Bobby and Helene shows that love will find a way in life and would shower with happiness!
Did you know Bobby shares a daughter named Sophie Flay (21) with his second wife Kate Connelly who attend USC?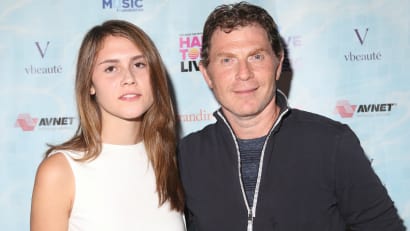 Caption: Bobby Flay and his daughter Sophie.
Photo Credit: sheknows.com
The father-daughter duo is goals by the looks of it, and even though the young lady is not a public figure, she is well recognized for her father's credentials.