Entertainment
Bone Crusher Proud To Be Married To Wife! Showers Love - As Husband & Parent
Wayne Hardnett Jr., better known by the stage name, Bone Crusher is famous for his debut album, AttenCHUN!, after it topped the US R&B/Hip-Hop Charts back in 2003.
Not only his charismatic popularity, but he also possesses a beautiful family, for whom he maintains his time. Whether it's loving his wife or children, he has played an excellent role both as a husband and parents to his family.
So bring down all your curiosity and overlook the family dynamics of your favorite artist, Bone Crusher in the following few minutes!
Bone Crusher's Family Time!
The American rapper, Bone Crusher got married to his then-girlfriend, Aneesah Hardnett back in 28th March 1994 after reportedly dating for quite some time.
Bone's family of two blossomed into seven after the couple welcomed five children. The American rapper often flaunts his bond with his family on his social media, which surely helps deflect the tag of gay derived from various rumors.
On the occasion of Valentine's day, the rapper romantically expressed his feelings for his wife via an Instagram on 14 February 2018. His wife took no time to respond with a comment that read,
"Awwww Suga!!! Happy Valentine's Day!!! I love you soooo much!! Thank you for blessing me with YOU!"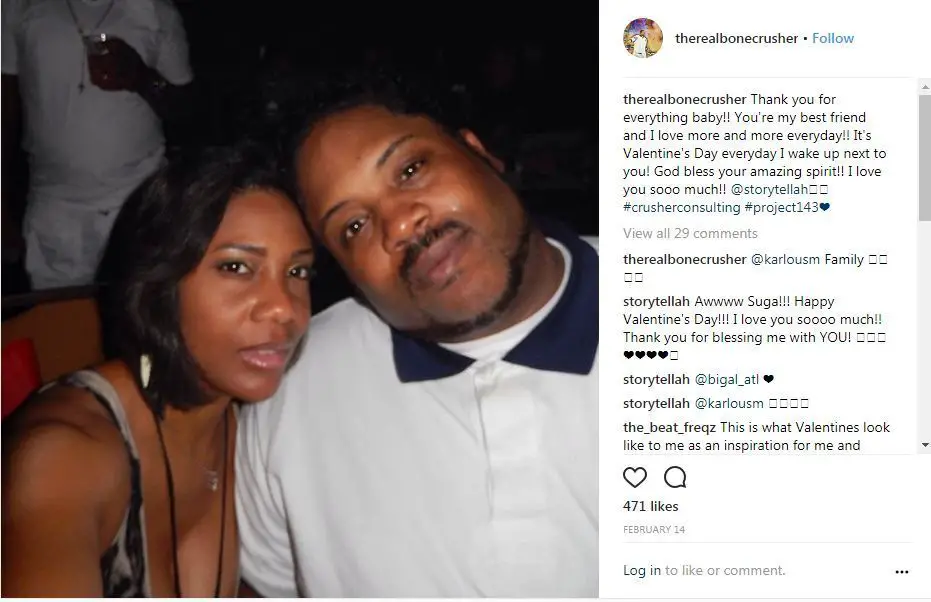 Bone Crusher, with wife, Aneesah Hardnett (Bone Crusher's Instagram)
The couple of 24 years enjoys each other's company and is on their way to celebrate their 'silver jubilee,' and still, their love for each other has not lessened a bit.
Apart from his personal life, Bone Crusher is best known for participating in reality shows and music career.
He made his TV show debut as himself on the talk show, Late Night with Conan O'Brien in 2003 that followed his first film appearance in the movie, Trois 3: The Escort in 2004.
Bone even starred in the cooking reality show, Battle of the Bulge in 2005, which Bone's wife later produced. He also started First Chance Variety House in Smyrna, Georgia with his wife, Aneesah.
Later, in 2007, the rapper created his own record label company, Vainglorious Entertainment along with his wife.
The Atlanta, Georgia native also went to the fourth season of a reality show, Celebrity Fit Club, where he lost 50 pounds of his weight by following the disciplined diet for 16 days for the weight loss.
He still holds the record of "Biggest Individual Weight Loss" on VH1's Celebrity Fit Club and was named the captain of his weight loss team, "The Fat Crushers," during the show.
However, he gained a significant amount of weight back in 2013, after he went through knee surgery. He roughly weighed around 360 pounds and expressed that he wanted to get down to the days he was in Celebrity Fit Club, and he set the goal weight to 250.
The American star, who belongs to black ethnicity, is also an actor known for xXx: State of the Union (2005), The Wrestler (2008) and Stomp the Yard (2007).
Think we're missing something? Do let us know in the comment section below!