Entertainment
Boston Russell: Who Are His Parents? Is He Married Yet? Wife Or Is Dating Someone?
Born to a celebrity family itself make the new bee an inborn star, similar is the case of Boston Rusell. Despite having few contribution in the Hollywood, he has been the most popular star due to more of his family background rather than contribution.
Today, we shall learn about the family background and few details of Boston Rusell love life and relationship status.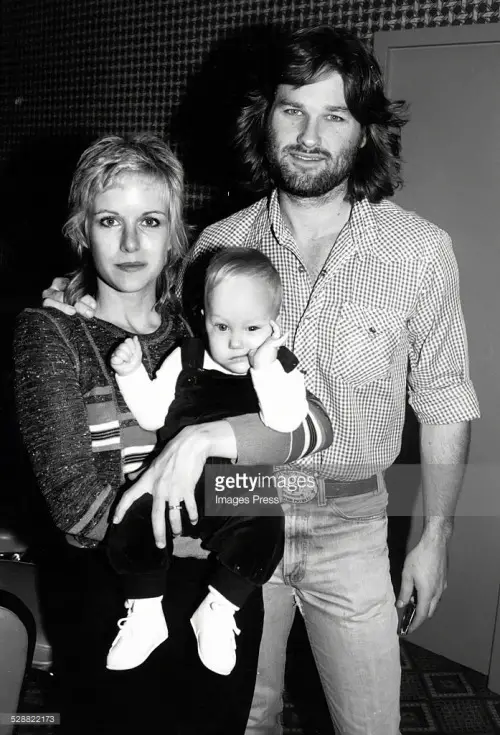 Caption: Boston Russell(in center) with mother Season Hubley and father Kurt Russell(1983)
Source: tumblr.com
Get to know his family background?
Boston Russell has the familiar family name "Russell" which gives all of us a hint and blueprint of his family tree. Being born to famous parents; actor father  Kurt Russell and beautiful actress  Season Hubley, Boston Russell has earned acting knowledge through his family gene.
He is the grandson of Bing Russell and is the nephew of  Larry J. Franco and Whip Hubley. He is the only son of Season Hubley but has another half-brother  Wyatt Russell from his father Kurt and stepmother Goldie Hawn.
When talking about parenthood and the career of Boston, his stepmother Goldie Hawn speaks about him walking in a separate footstep different from theirs.As posted by Inquisitr on 20th June 2015, she said:
"What you prepare your children for is to be able to deal with differences, obstacles, ways of handling uncertainty,the truth is, it doesn't matter what they would have chosen to do. Every business changes."
Is he Dating? Or Secretly Married?
Despite being born and brought up in a well know Hollywood family background, the actor has kept his personal life quiet low and out of media attention. He has completely outcasted his personal life, especially about his dating life and relationship status away from media attention.
Not a single rumor of him dating with any of his co-stars or female personality has ever been identified nor has been spread on any social sites.
Thus, at the age of 36, it is really hard to digest the fact about him being single and about not having a girlfriend but as no information about his hook-ups, marriage has ever been obtained so, we are compelled to term him as a single fellow and is not married.
Short Bio of Boston Russell:
Boston Russell was born on 16th February 1980 in Los Angeles, California, the USA to Kurt Russell and Season Hubley. He is well known for his contribution in the movie Executive Decision (1996) and 60 Minutes (1999).