Entertainment
Brandi Glanville, Mother of 2 Children, Divorced From Ex-Husband, is Dating: Who's Her Boyfriend?
It is quite normal in Hollywood for a woman who is married to one guy to break it all up and start a new relationship. Although there are still many countries, where monogamy is what people practise, when it comes to marriage, American lifestyle is a whole lot different.
But a divorce also means a window of opportunity for a new relationship, although not everybody can easily forget their past life.
Who is She Dating Now? Boyfriend?
Apparently, her relationship status has become very confusing, and despite her Twitter account which says that she is famously single, we have many reasons not to think so. Just like the controversy which surrounded her after she was fired from the reality TV show, "The Real Housewives of Beverly Hills Season 6", her relationship issues often tend to put her in uncomfortable positions.
Brandi who has got over half a dozen of boyfriends on her dating list was last found to have dated comedian/ actor Theo Vonn and that too for a strange reason. However, there are some reports which claim that these two have already separated, because of her crush in other men whose name has not come to light yet.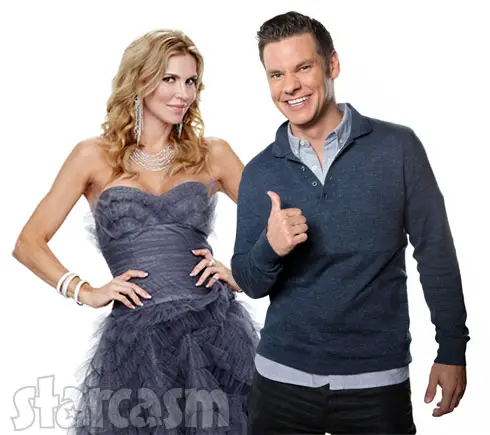 Caption: Brandi and Thoe spotted together, 2016
Source: starcasm.net
However, she has recently been dating someone she met on the internet, although there are no solid proofs to that. However, there are some Tweets that try to give us an insight on this new and mysterious boyfriend of hers.
However, as she told pagesix.com, the new man, whom she met online on Tinder is not anybody famous as he is not from the glam industry but is possibly a single father raising his kid.
He's not in the industry," said a source last month according to PageSix.
Mother of 2 Children: Married Life, Husband, and Divorce History
Eddie Cibrian was the only man who Brandi was married to, and they were together for nine years as a married couple. The couple dated for 1 year after getting together in Sep 1998. After a 1 year of engagement, they got married on May 12, 2001.
However, things got bad when Brandi found out that Eddie was hooking up with one of his co-working actresses and that ended the relationship and the marriage leading to separation in Jul 2009 and divorce on 30th Sep 2010. 
Eddie, who is currently working in producing TV shows is married to LeAnn Rimes, an American singer, and musician.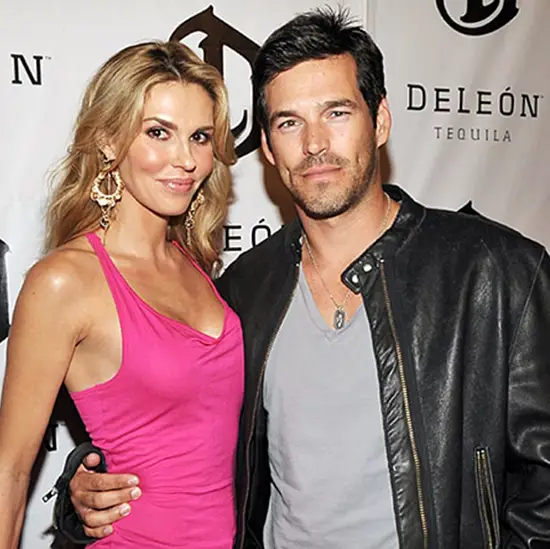 Caption: Brandi and her ex-husband Eddie, in 2002.
Source: usmagazine.com
Brandi Glanville who has not been married since then is a mother of two kids with her ex, Eddie Cibrian; Mason Edward (born June 8, 2003) and Jake Austin(born April 7, 2007). Both the kids are now in the custody of their father and new mother, LeAnn Rimes which has often stirred fume between the two women.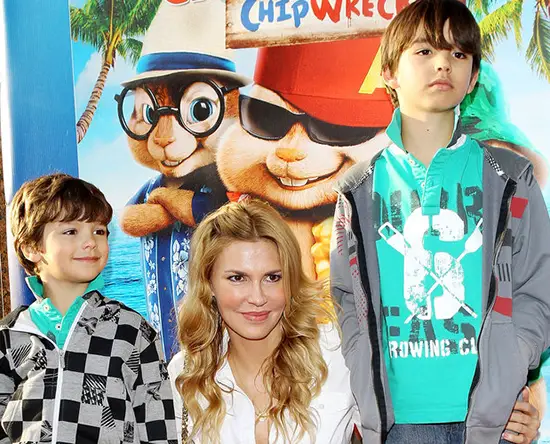 Caption: Brandi and her kids enjoying together, 2013
Source: bravotv.com
Brandi reportedly has resentment towards LeAnn for taking away her family. Eddie on the other hand regrets about the failure of his marriage with Brandi, but has set his mind straight on being a good father and taking care of his kids well.