Entertainment
Brandon T. Jackson Hiding His Girlfriend And Daughter From Public? Talks About Turning Partner Into Wife
Celebrities prefer their personal life to remain a secret, but when a person rises to fame and become a celebrity, the person's private life is bound to create headlines whether one likes it or not.
Something tells us that the multi-dimension personality Brandon T. Jackson has been hiding his girlfriend and daughter from the public, but despite his efforts, it has been reported in the media.
Is Brandon's Married? Who is His Wife?
Brandon T Jackson is dating his girlfriend, Denise Xavier who is a dental hygienist by profession and they are in a live-in relationship too.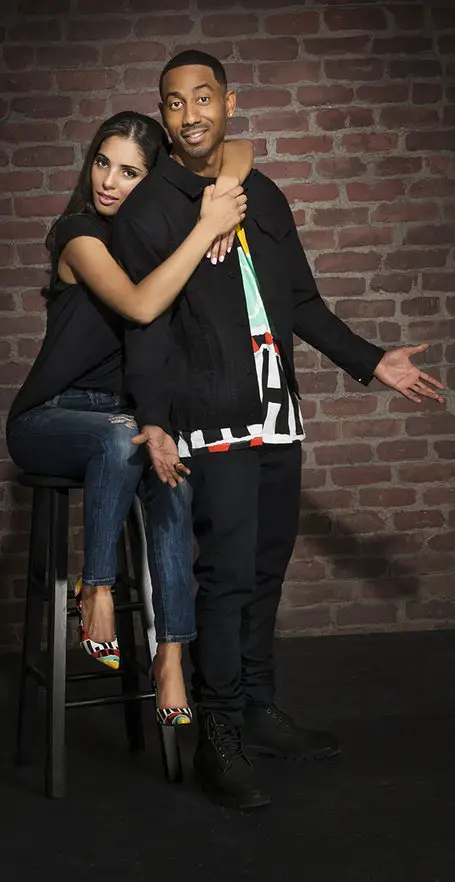 Caption: Brandon T Jackson being adorable hugged by his girlfriend Denise Xavier.
Photo Credit: oxygen.com
Also in an interview, on April 11, 2016, when asked about his marriage with his girlfriend Denise which will turn her a wife, he told that it's God's will and when he plans a marriage for him it will happen and being optimistic he said,
"If it's God's plan, we'll get married," he says. "Denise is beauty and brains. She's African and Portuguese from Cape Verde, so what more could a man ask for? I jumped into past relationships and they didn't work. We have to take our time."
While Brandon has left his marriage on the hands of God but becoming a father has been his decision. Experiencing the beautiful feeling of parenting a child, Brandon is a father and has a daughter whose identity is confidential. The little girl is seen in this YouTube video, where she is in a car sitting in the passenger seat.
Caption: Brandon T. Jackson's daughter enjoying a car ride in passenger's seat.
Daughters are always daddy's dearest and get treated like a princess. Similarly, Brandon treats his daughter like a real princess and he frequently tweets about her too.
His daughter, who is totally anonymous to the media, already is making sure that her father reaches the responsibility. 
Despite most of the tweets include Instagram pictures, those particular pictures are not available anymore. For some unknown reason, Brandon has no pictures of his daughter in any of his social media sites.
Now, after knowing all these things about his personal life, you might be wondering where Brandon got his over the top qualities. Matter of fact, most of the qualities has been passed on to him by his father. 
Brandon has a Bishop father, Wayne T. Jackson and he takes his responsibility of being the change in the society for good and taking pride of his father's message he posted via twitter.
Brendon T. Jackson's Short Bio:
Brandon T. Jackson is a stand-up comedian, a rapper who went to become an actor and writer as well. He initially started as stand-up comedian in "Laugh Factory" and his film credit includes "8 Mile", "Tropic Thunder", "The Day the Earth Stood Still", "Fast & Furious", "Tooth Fairy", "Percy Jackson & the Olympians: The Lightning Thief", "Thunderstruck", and "Big Mommas: Like Father, Like Son" and Television credit includes "Wild N Out", "Mr. Robinsons", "BoJack Horseman". With his hard work and dedication, he has accumulated a net worth of $ 6 Million.