Entertainment
Braxton Family Values' Gabe Solis: Divorced His Actress Wife in 2015, What About Children? Girlfriend?
"When you're talking to yourself
And nobody's home
You can fool yourself
You came in this world alone"
Yes, this is lyrics of one of the Guns and Roses' great hits. But the thing is not about Guns and Roses', it is about Gabe Solis and Trina Braxton.
Both estranged husband and wife have finally called it off! Although they have two children, their relation ended in a divorce. The reason behind it? We'll diagnose it all!
Married Life, Wife, and Divorce Reason?
Trina Braxton is single again. TheJasmineBRAND.com exclusively reports confirms that Trina Braxton has officially divorced from his unfaithful husband, Gabe Solis signed off by a Georgia judge, following years of martial problems and Trina's attempt to work out their issues all went in vain.
The couple tied their knot back in 2003, but they split up in 2013 after Trina found out that he had been having cyber-sex with someone who he met online. Moreover, later it was revealed that Gabe also had an affair with one of her band members.
The lady is none other than women alleged to be his girlfriend Julisa Abadshian. Enough was enough! Trina then filed for divorce, but the couple later called it off the divorce to repair their estranged marriage, and both of them renewed their vows. Proof? We've got those pics.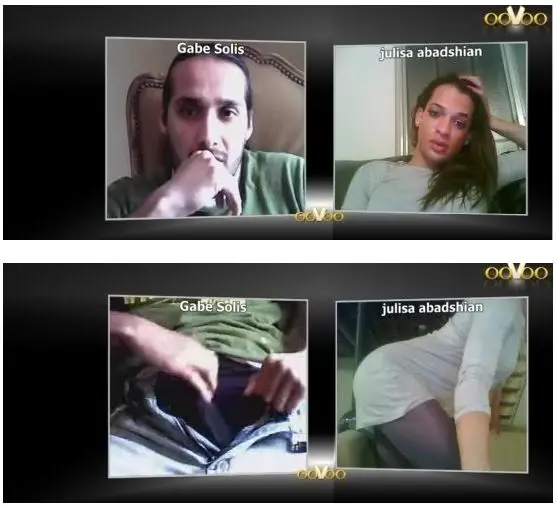 Caption: Internet sex with Julisa Abadshian.
Source: theybf.com
After the story spread, Gabe even reached out to TheYBF.com and also explained that he has never met women named Julisa. He also added that he had a request pending from her.
He also said that he had never had any communications with her.  His also said the whole story is inaccurate and fake:
"First off I want to apologize from the bottom on my heart to my baby Trina who deserves NONE OF THIS. I have done many things that I am not proud of that I'm sure will all unfold in the coming weeks on the show, on the blogs, the newspapers and any other way it can unfold. I canNOT undo the past. However, I am NOT into Trannies!!!! I am very heterosexual. I have no clue who the ladydude woman posted on the web is and I have never spoken to her/him/ or whatever they are claiming."
Moreover, he also admitted his habit of sex addiction:
"Yes, I know I will be the target of many gossip bloggers because of my past record. Like I said, I have NEVER Resorted to same sex affairs or any physical affairs. I know that cheating is cheating and I am in no way making excuses. I am currently in therapy because I have a SEX Addiction Problem. I very much want the help that it will take to restore my family." -Gabe Solis.
But it wasn't meant to be forever. Finally, Trina re-filed for divorce in October of 2014 and divorced in April of 2015.
"I don't understand what I'm supposed to be doing, am I supposed to fight, and am I supposed to not fight?" Trina said in the clip below, crying to her sister Towanda Braxton.
"I feel so stupid, I feel so dumb" She added.
In her past interview, Trina said that her family had a huge impact on her decision to get a divorce, she tried to focus on her children and save their marriage as well.
"It's more than just myself; it's more than just me and Gabe. It's me and it's Gabe and it's our family. We have two children who we both love," the reality star stated.  "So, right now we're concentrating on being good parents. My oldest son is in college and my youngest is in 10th grade so, it's a long haul."
In some clips of the reality show, Trina was seen having a breakdown, and some of her family members had made a clear view, her secret was that her cheating husband had got someone pregnant.
Trina and her ex-husband Gabe have two children: Eric and Caleb. Eric was born on April 30, 1995, whereas Caleb was born on March 30, 1998.
Solis Bought a Gun!
On one of the Braxton Family Values episode "You Want That Old Thang Back?," while Towanda Braxton works on her acting career, her sister Trina Braxton drops a bomb in the kitchen. Trina tells her sisters that she had a conversation with her ex-husband Gabe Solis. Moreover, Braxton sisters are not pleased with the news and Tamar Braxton says "You look crazy."
Trina Braxton married Gabe Solis in 2003. After hearing rumors about Gabe Solis cheating, Trina Braxton threatened to divorce him in 2013, but it took another two years for Trina Braxton to make it divorce official in April 2015. According to Gabe's Twitter account in August of 2016, he bought a new gun which is a Glock 43 pistol. SO what's next in the Braxton family?
Gabe Solis is an American actor of television reality show 'Braxton Family Values' and also a software developer. Gabe was formerly married to Trina Braxton. His net worth is $500 thousand.