Entertainment
Just Married! Breana Tiesi, 26, And Fiancé Johnny Manziel, 25, Weds Secretly
Just Married! Breana Tiesi, 28, And Fiancé Johnny Manziel, 26, Wed Secretly...Model Breana Tiesi and American football quarterback Johnny Manziel were officially a married couple...Breana and her fiance turned husband Johnny tied the knot in a private ceremony at California courthouse...Sadly, the couple split in...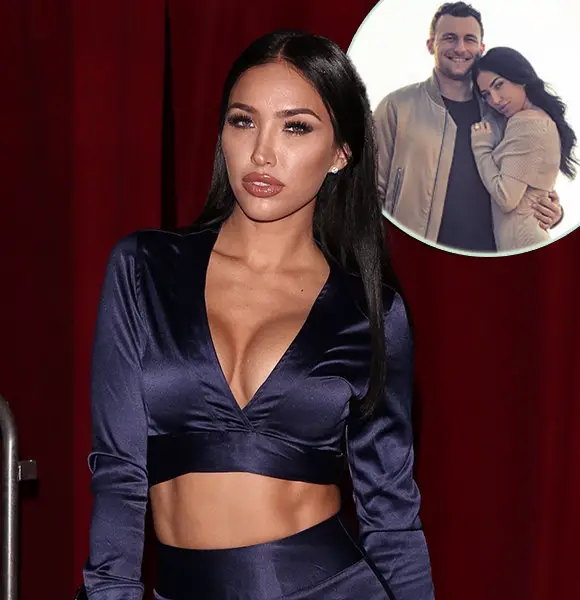 Model Breana Tiesa and American football quarterback Johnny Manziel were an officially married couple.
Breana and her fiance turned husband Johnny tied the knot in a private ceremony at California courthouse, as per reports on TMZ Sports.
Breana and The Heisman Trophy winner Johnny were spotted wearing wedding rings; in fact, sources told that Breana planned on taking Johnny's last name.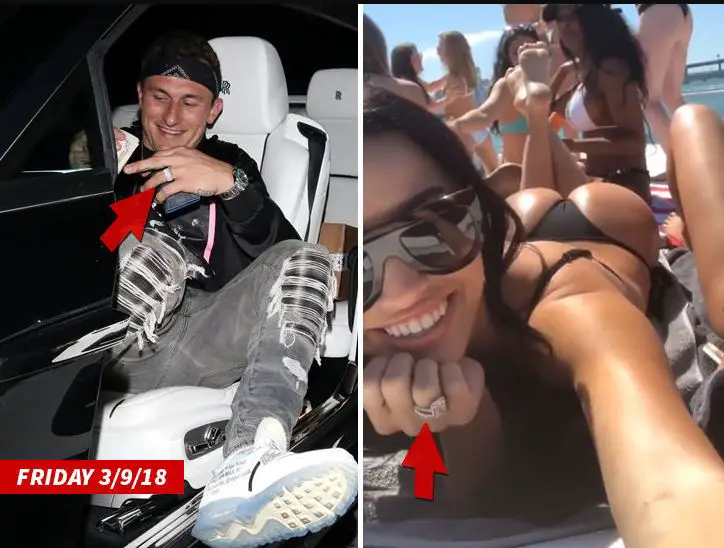 Johnny Manziel's and Brie Tiesi with wedding rings (Photo: TMZ.com)
Johnny, who is 26 of age, popped the question to Breana in March 2017.
Moreover, the former Cleveland Browns quarterback revealed that he was diagnosed with bipolar disorder in 2017, after several years of self-medication to cope with depression via boozing.
He further credited Breana for turning his life around and helping him overcome the difficult phase in his life.
Johnny was getting ready for a second chance at NFL glory participating in Spring League in Texas, and he credited Breana for a significant part in his comeback. He posted a short video last February on Instagram, stating;
"Without you there is no ComebackSZN @bre_tiesi."
The newlyweds didn't rule out a lavish celebration later in the year because it seemed Johnny's primary focus was getting back on the football field and making an NFL return. 
Breana started dating Johnny in late 2016 after a December trip to Miami. Johnny told TMZ that he and Bre got engaged in September 2017 in the romance capital of the world, Paris.
Split, Removes Initials From Tattoo
However, nothing lasts forever. Same as that, the relationship of the model and the NFL star crumbled after one year into their marriage in March 2019. Getting married secretly was not a surprise for the fans, but getting separated was a major one.
At first, Breana was the first to make a move and delete all the photos of the quarterback from her Instagram. In addition to that, the model also dumped the surname "Manziel" from her last name.
When both were asked about the reason for the breakup, they preferred not to talk about the situation and wanted their private space. Similarly, Breana posted a picture showing off her wrist tattoo, where she removed the initials of Johnny from the tattoo.
Further, to celebrate the occasion, Breana threw a party at Miami and declared the start of a new chapter in her life.
Former Relationship, Fiance
Before Johnny, Breana was engaged to another man, Chris Anzalone, who was a Baller in Southern California. The story of their relationship involves everything from money to diamonds to the FBI.
The relationship between the two became sour when Chris was locked up. Further, Chris even accused Breana of embezzlement of $1.3 million in cash and expensive property. 
Later, Breana went to FBI agents and deposited a list of items, including Louis Vuitton backpacks, watches, designer luggage, and rings. However, she claimed that the things weren't embezzled, but were given as gifts by Chris.
Nevertheless, she found the supposedly perfect man in the form of Johnny, who supported her pretty well until they eventually broke up.