Entertainment
Brendan Fevola Shares An On And Off Relationship With His Wife With Whom He Shares Three Beautiful Kids
Despite a stable career and fame in the Australian football team, Brendan Fevola has surfaced in the headlines for his instability in his married life. Though being precise and focused in his football career, looks like Brendan Fevola has scattered himself on his relationship font.
For now, we shall look into the primary reason for such on and off relationship with his wife and also get hold of his wealth.
Fluctuating Married Life:
After getting married to his long-term girlfriend, Alex Cheatham on October 7, 2005, at the St John's Church Toorak, the couple headed for divorce in 2014, keeping aside their nine years long marriage.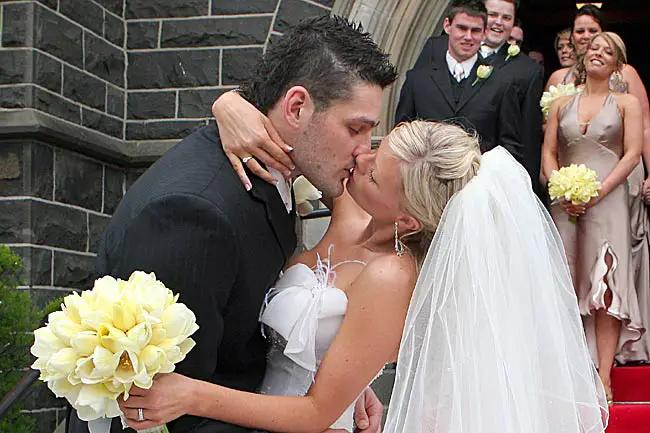 Caption: Alex and Brendan get cozy on their wedding day at St John's Church Toorak (2005)
Photo Credit:aktifmag.com
The primary reason for divorce was said to be the existence of infidelity in the wedding and gambling addiction.Through a show "The Daily Edition" Alex revealed the difficulties she had faced in her married life, while Brendan remained quiet on the issue.
From the marriage, he has two daughters Leni and Lulu and a stepdaughter Mia from Alex's previous relationship. There is a close bond between Brendan and his daughters as he has posted numerous pictures on Instagram.
Brendan had on and off relationship with his wife even before heading for divorce. Now after being divorced for around two years, Brendan again re-proposed his former wife Alex to marry him. Back in the month of April 2016, through his radio show Fifi and Dave Breakfasty, he revealed his intention about remarrying his ex-wife Alex.
Through a source, Brendan disclosed his reconciliation with his wife and even disclosed his dilemma. He said:
"Alex and I have got back together, apparently we are divorced by the courts, but we're living back home, with the family and I have a dilemma, do we get remarried? Do we have an engagement party a wishing well? Do we have the same bridal party?"
He added:
"She's already got her rings back on."
The listeners got scooped with the news of his proposal to his ex-wife. With much effort, Brendon had gathered few kids and few friends around to ask the woman of his life to marry again. With the "yes" reply from Alex, Brendan shared his wife to be an amazing lady. He said:
"Over my break, I gathered the kids around and a few friends and asked the 'shnooksie' to marry me again.I was a bit nervous; I didn't think she'd say yes but it was charming with the kids there they were all going: Hawaii, Hawaii, Hawaii. I've got an ex-wife who's now my fiancé, how confusing.She's an amazing woman, she has an amazing story, just amazing."
After a roller coaster relationship, Brendan finally decides to marry Alex overseas in the month of December 2017. The wedding is planned to be carried out in a private ceremony in the presence of his three daughters. As said by Brendan:
"I think we will go overseas in early December or January sometime. It will just be us. We are thinking about it. I believe that is what we will do, just with the girls ,their daughters and then have a big party when we get back."
Well, the on and off relationship is finally on the verge of being stable. Maybe in the month of January, we will get to see a fresh wedding picture of Mr. and Mrs. Fevola. We simply pray for the longevity of their relationship.
Dating Details Before And After Divorce:
Before heading for divorce, Brendan got involved in a five-week affair with the Australian model Lara Bingle in 2006. Brendan and Lara confirmed the news to be accurate.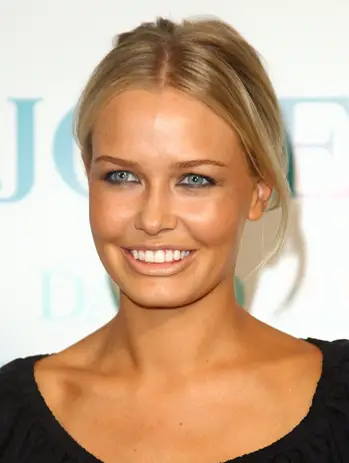 Caption: Model, Lara Bingle who had a fling with Brendan (2005)
Photo Credit:brisbanetimes.com.au
Lara had met Brendan in Melbourne and later on they had gathered in Melbourne. Since then their relationship started. On an interview, she disclosed about her long distance relationship with the football player. She also revealed about their long telephonic conversation and how she had come to know about Brendan to be a married man. She said:
"We met in Melbourne and then hung out in Sydney when he came up for a couple of days, and that was all there was to it. I'm only 19. I was young and single, and I thought I had met a guy who was nice"
She furthermore added:
"We spoke a lot on the phone because he was in Melbourne and I was in Sydney. We were talking one day, and I asked,What's that noise and he said,'It's my baby and then it all came out."
After the illegitimate affair, no other relationship of Brendon has surfaced his on-screen affair with his co-star Sue Boomer Jenkins in the Australian series "Went Worth." He revealed the on-screen relationship with Sue Boomer through Twitter;
Recently in the early year of 2017, Brendan again surfaced in the news for texting intimated message to women 13 years junior to him. The name of the woman got confined, but the testing spree started after meeting in Snapchat. As Brendan has not confirmed the allegation this can only be claimed as a rumor.
In spite of having ups and down in his relationship and married life, the Australian star won a cash prize of $100000, from the show" I m A Celebrity." Similarly, even while working as the AFL player Brendon, he had an earning of $6 million. With all those earnings as the AFL player and cash prize, Brendon has enough net worth to enjoy his luxury life.