Entertainment
Is Brent Faiyaz Gay? No Trace Of Girlfriend, Dating Status Now
When it comes to celebrities, there is no short of gossip-fueled theories and assumptions even regarding their sexual orientations.
On such note, today, we present you a new name again on the list of being rumored as gay, which is none other than your favorite American Music producer and artist Brent Faiyaz.
American singer, Brent Faiyaz, who is also a part of the group Sonder, has a mysterious love life without any romantic link-ups. Although many speculators might assume the singer's sexual orientation as gay, the reality might just be different.
Well, let us explore his love life down below and find out if the rumors are true, or are just baseless assumptions!
Brent Faiyaz's Mysterious Love Life
The American star, who gained popularity by famous labels like Lost Kids, LLC, Lost Kids, prefers to keep a low key life and has allowed only limited information regarding his personal life to surface in the media.
Despite such low-key nature, Brent is frequently spotted with a girl named Amber Olivier, who is a singer, on his Instagram.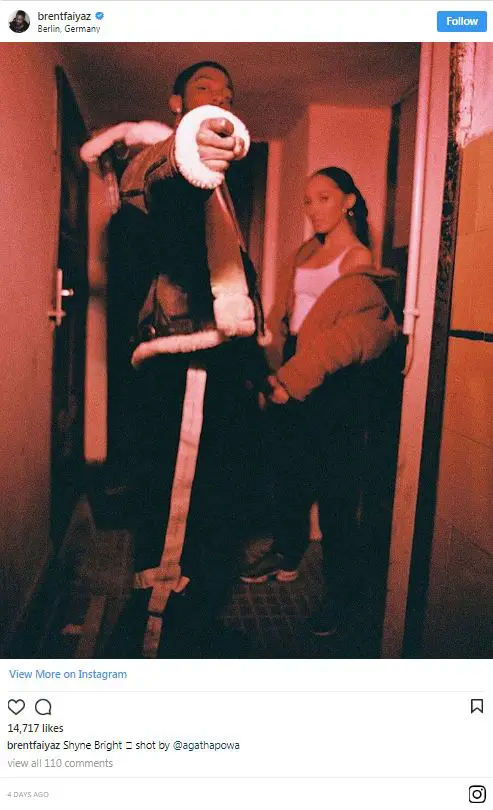 (Photo: Brent Faiyaz's Instagram)
But this was not the first time; the two posted a picture of each other in their respective social media before that as well.
Previously, on 20 September 2017, Amber shared an Instagram image wishing Brent a happy birthday. Aside from birthday, Brent's rumored girlfriend, Amber also shared their family outing moments via Instagram on 21 August 2017.
Because of such frequent appearances on social media, Amber is rumored to be Brent's possible girlfriend, and they are said to be sharing a dating relationship. However, neither Brent nor Amber has given their official statement regarding their relationship in any of their interviews.
Is Brent Faiyaz Gay?
Though the Sonder Son singer's social media speaks a girl's presence, that does not stop gay rumors from getting into Brent's life. However, he cleared, to some extent, that he was not gay via a tweet on 25 July 2017.
He explained that every man needs a woman in their life to save from themselves, which indirectly gives his insight on dating.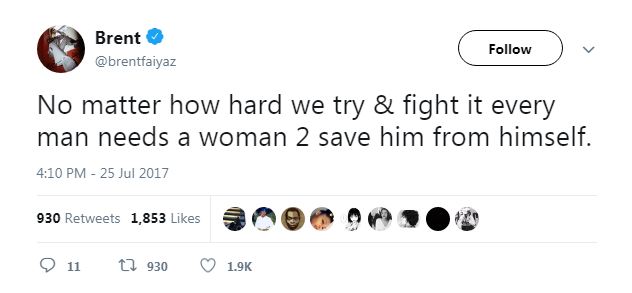 Brent tweet to make it clear that he's not a gay (Photo: Brent Faiyaz's Twitter)
Brent's tweet may direct his preference of a woman in his life. However, he did not give further opinions regarding dating or gay sexuality. Though his tweet may help to falsify the gay rumors to some extent, Brent is yet to come forward with the information himself.
Brent Faiyaz's Short Wiki-Like Bio
Aspiring Singer Brent Faiyaz was born on 19 September 1995 in Baltimore, Maryland, the U.S. He first uploaded his music onto SoundCloud in 2014, that brought many more of his artistic works. Brent, later, released his first debut single named Allure on 19 January 2015.
His parents were also supportive of Brent's career, and with their encouragement, he moved to Los Angeles in the hopes of pursuing a musical career. Following the course, he formed his music group named Sonder in October 2016 with record producers, Dpat and Atu.
Brent's group released their debut single Too Fast on 25 October 2016 and soon became a sensation among the public. Following their debut album, Sonder released their debut EP, Into on 26 January 2017.
Their work was loved and praised so much that they were even named as Artist of the Month in 2017.
As of now, Brent is busy on tours and concerts; he last went on a tour on 14 March 2018 in London, U.K. and is sure to get to your city shortly!
Keep Visiting for the emerging updates on the life of Brent Faiyaz!