Entertainment
Brett Dalton: Is He Really Married to Longtime Partner? Enjoying Holiday With Wife and Daughter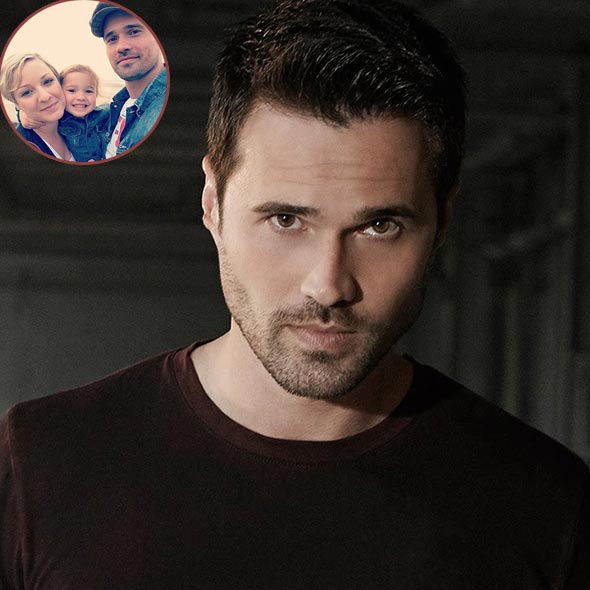 The American actor, Brett Dalton, who portrays the character of Hive in ABC's series, Agents of S.H.I.E.L.D., has his plans and approach to raising his daughter.
Today, we will shed light on his marriage, also present in the report is the father-daughter bonding and love. 
Doting Father, Lucky Daughter
The Westmont High School graduate discussed his plans to upbring his daughter and the values he wanted to teach her while growing up in an interview with  lifeofdad.com in September 2016. 
In the interview,  the proud father explained why it was necessary to upbring his  
We try to have respect for where she is at as a human being at this particular point. We have never done the baby voice. We have never said no without an explanation. We try and explain things to her. We try to have patience and sympathy for where she is at in her process of this crazy world that we brought her into. So we just try and talk to her like a human being.

Obviously every parent thinks that they have the smartest and most beautiful child in the world. We have got some crazy compliments from a lot of people. She definitely seems to have an old soul. I think the funniest comment I ever got was 'I was going to have a baby, but why? I give up. There will never be a baby better than this.' So we are like okay we will take that.

We really try and explain things to her. We are very patient with her. We also have been very lucky as well. She didn't have colic or anything like that. It kind of felt like she was meant to be in this world. She didn't even cry when she was born. She had this look on her face like oh this is what I imagined the world to be like. This is cool.
Brett Dalton first welcomed his daughter named Sylvia Dalton in 2012 along with his wife and took to Instagram to share his happy news of daughter's birth. He shared a throwback Instagram image on 16 February 2017 talking about his daughter's birth.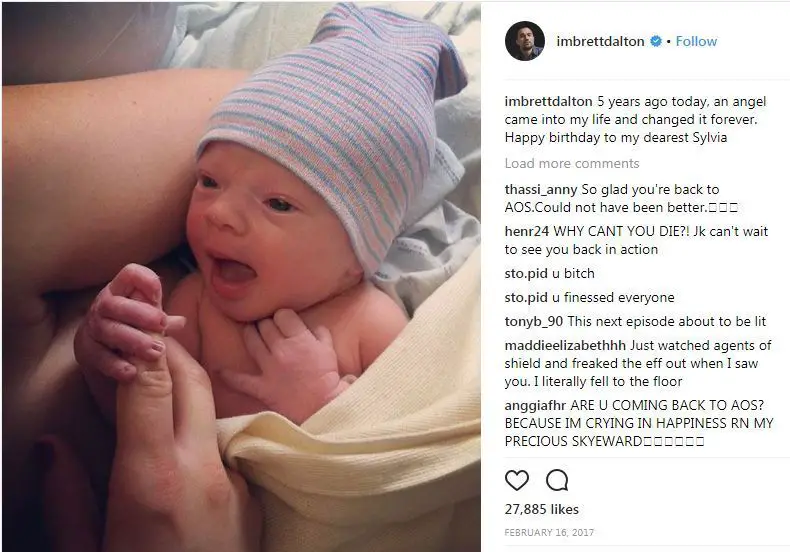 (Photo: Brett Dalton's Instagram)
Similarly, he shared another Instagram post marking his daughter turned four years old on 17 February 2016.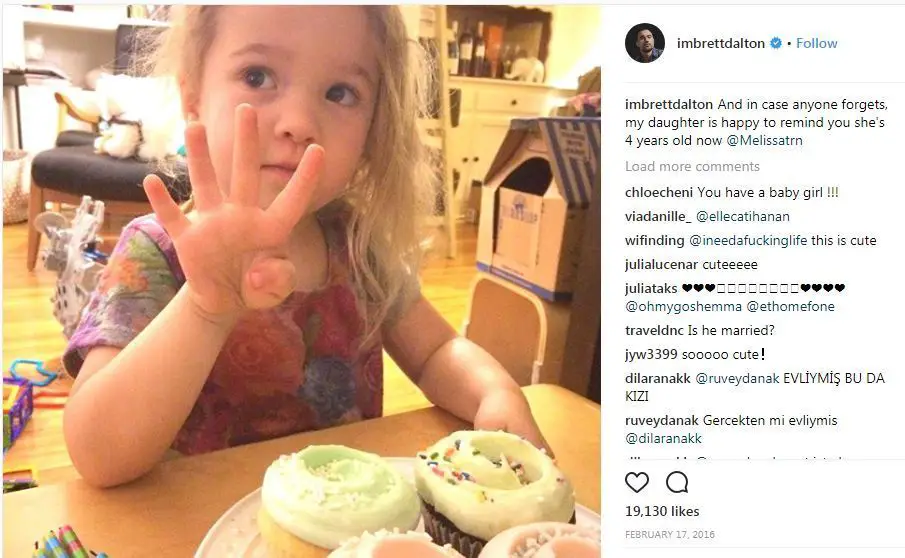 (Photo: Brett Dalton's Instagram)
Brett Dalton is very open to talking about his love towards his daughter. In the interview with lifeofdad.com in September 2016, Brett stated that his only daughter, Sylvia is his life's greatest jewelry. The proud father flaunted his daughter's beautiful smile and even talked fondly about his favorite memories with his daughter in the interview. He stated,
 I have had countless moments. The one I first remember was dancing with my daughter. She was about four months old. She could smile at that point. I think she was laughing a little bit too. I just remember thinking I will be doing this at her wedding. There is something so special about father daughter time. We have all these cool adventure that we go on now, but I remember at that point that this was one of the best moments in the world. We were in our own little world. I was thinking what has happened to me. I am dancing and crying with a small child in my living room. I just have no explanation for it. I remember thinking that no matter what happens I hope that we can always come back and dance together.
Also, he was asked whether he had the particular father-daughter ritual/act between him and his daughter that everyone enacts to make their daughter. He replied,  
"We have had this thing forever actually. I will pretend to chase her and scrunch up my shoulders and do a standing crab type of walk. It is really ridiculous, but I go around chasing her. I would say, 'I'm gonna get cha. I'm gonna get cha.' She will always laugh at that."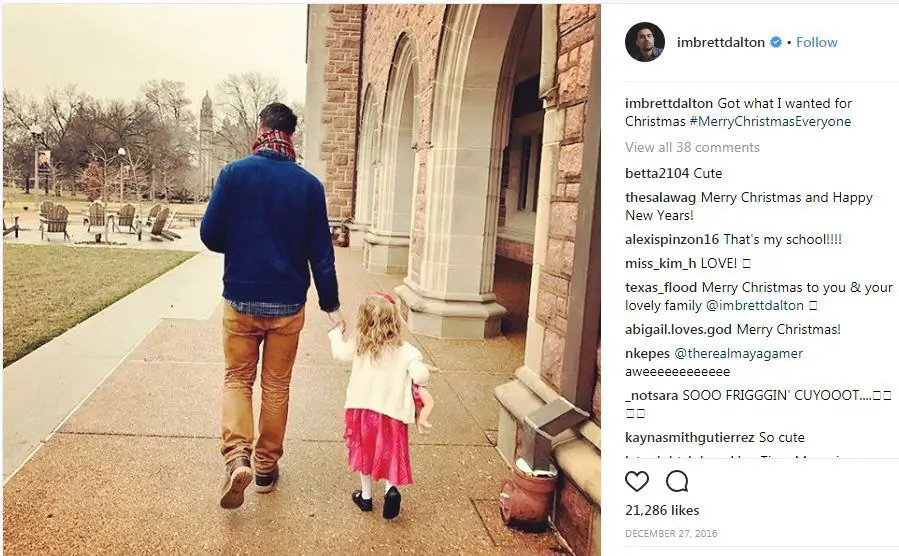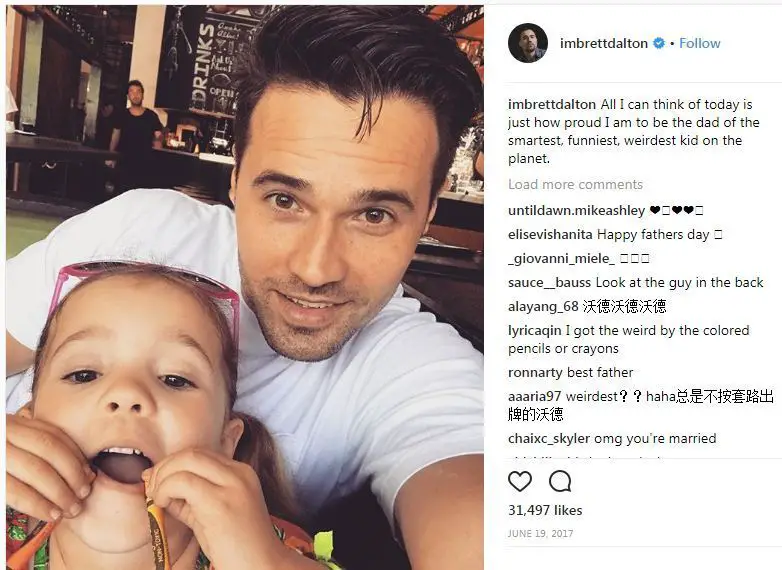 Brett shared the latest tweet talking about his daughter, Sylvia on 21 January 2018. 
Married To His Longtime Girlfriend:
Brett Dalton, who stands at the height of 6'2" (1.88m) shares his five years old daughter with his wife, Melissa Trn. He got married to Melissa Trn on 16 December 2015 in Los Angeles, California turning his girlfriend into wife.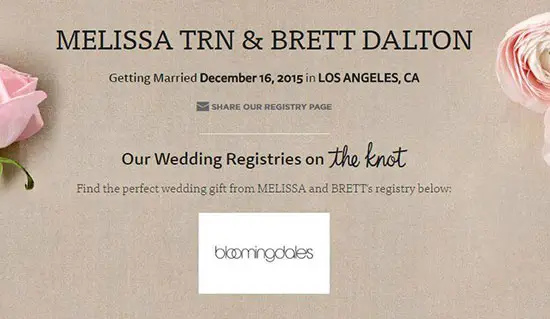 Brett Dalton married his girlfriend of six years Melissa Trn on 16 December 2015 in LOS ANGELES, California (Photo: theknot.com)
However, their wedding ceremony's registry was located in Astoria, New York. 
The married couple celebrated their 2nd marriage anniversary in December 2017, which Brett shared via his Instagram. Following the marriage, in August 2016, Brett's wife was congratulated by a woman named Vicki while replying to one of her tweets. 
The couple first met while both were attending the same drama school, Yale School of Drama. Later, Brett Dalton got engaged to the custome-designer girlfriend after dating her for six years. 
His longtime girlfriend turned wife is the resident Costume Designer for the Calhoun School in NYC, who studied Master of Fine Arts in Yale School of Drama. His wife has designed The Trojan Women (After Euripides) at Brooklyn Academy of Music for SITI Company in New York City.
Family Time With Wife and Daughter:
Brett frequently shares his wife and daughter's images on his social media, which speaks about the volumes of his family bond. On 11 May 2014, Brett shared one of his family moments while having a brunch together via his Twitter. 
Similarly, he shared another image on 16 June 2016, where Brett was enjoying his vacation with his wife and daughter in Paris. Here are some of the pictures of his vacation that he shared on his Instagram.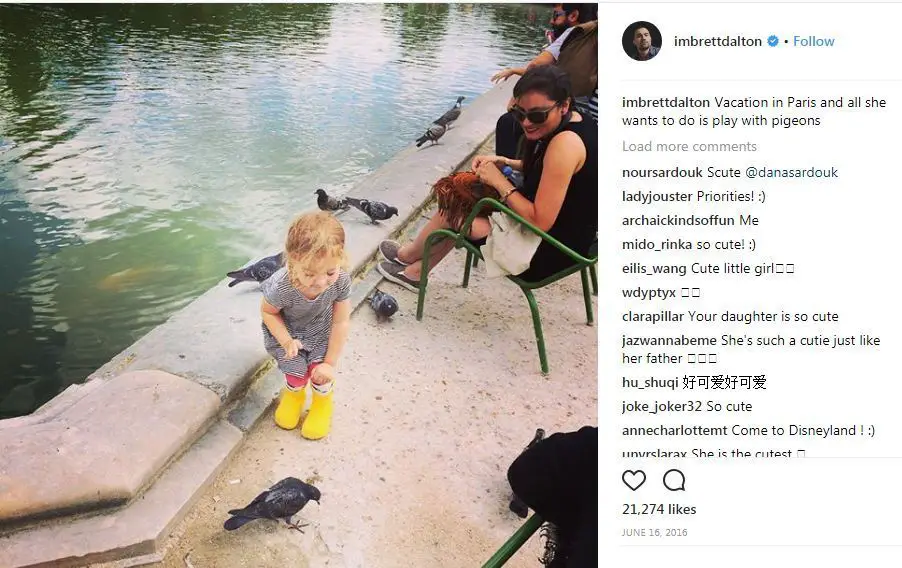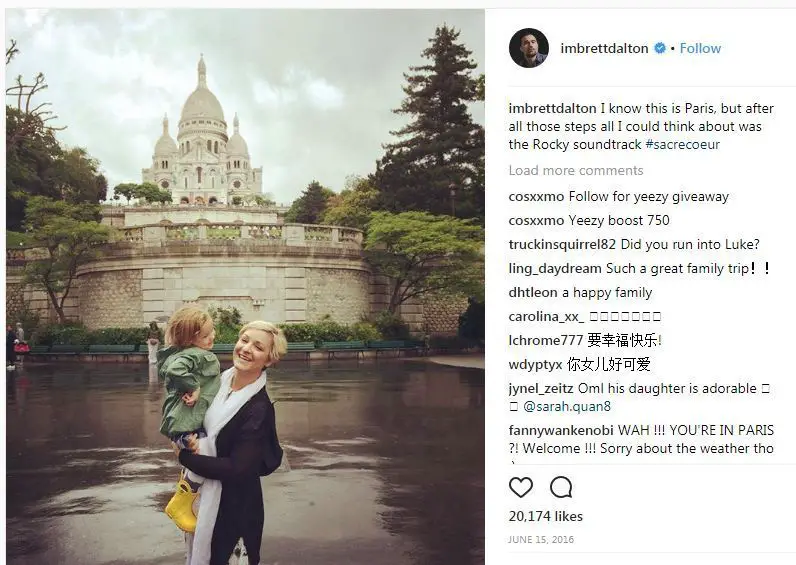 Brett shared one of his moments with his wife, daughter and Mr. Gay San Francisco, Nguyen 'Win' Pham via his Twitter on 30 December 2017. 
The couple currently lives in Los Angeles. 
Perfect Family Vacation:
In the year 2014, in an interview with lifeofdad.com, Brett was asked about his perfect family vacation. Brett replied,
"We did have a pretty perfect one this summer. I was working pretty long hours, but I was happy. We would have the weekends together there in Florence. They would visit me on set. My daughter loved it because it was the land of pizza and ice cream. It probably blew her mind that there is a place that is all about pizza and ice cream. (Both laugh.) We came back tan, happy, and a little fatter, but that is okay."
Not only family vacation, Brett also shared about his Christmas together with his wife and daughter on his Instagram on 25 December 2017. 
Brett Patrick Dalton's Short Bio:
American actor, Brett Patrick Dalton was born on January 7, 1983, in San Jose, California. He is of white ethnicity. He attended Westmont High School in Campbell, California and graduated in the year 2001.
After auditioning for a production of One Flew Over the Cuckoo's Nest, Dalton discovered his interest in acting. He attended the University of California, Berkeley. Dalton received a Master of Fine Arts from the Yale University in 2011.
Thirty-three-year-old Dalton is popular for appearing in Agents of S.H.I.E.L.D(since 2013). He was also seen in The Resurrection of Gavin Stone this year. Likewise, Dalton's other notable acting credit include Army Wives (2012), Blue Bloods (2012), Killing Lincoln (2013), Jake and the Never Land Pirates (2015) and much more.
Brett is known mostly for his show, Marvel's show, Agents of S.H.I.E.L.D. where his character, Ward was killed twice. In an interview with ET in April 2017, he stated about his character's return despite two times death in the series saying, 
"It was an unexpected surprise for me, after having two deaths on the show I wasn't sure if they were going to bring me back. But of course, as soon as [they] called, I was like, you had me at hello. I'm always happy to have an opportunity to work with those guys, they're my family... So whatever they want me to do, I'm game."
Besides the show, Agents of S.H.I.E.L.D., Brett is gearing for upcoming ABC's series, Deception, where he will be portraying the role of a CIA agent, Isaac Walker.