Entertainment
Brett Dier And His Upbeat Dating Affair With Actress Girlfriend Who Stands Through Thick And Thin
With the existence of ample amount of chaos and ongoing busy life, people desire for one special person who sticks with them throughout their thick and thin. It seems like actor Brett Dier has found that special person in his life who has continually stood with him on his happiness and sickness.
Now the questions arise, are Brett, and his actress girlfriend still clinging onto one other or have they moved on with their separate life?
 Throughout Thick And Thin; Still On Or Separated?
Ever since the Canadian actor laid an eye on the beautiful American actress Haley Lu Richardson the fling between the couple might have started which ultimately coaxed them to get mingled. Though no particular detail related with the congregation got revealed, the dating between the two began to show up for each other through their social networking site when Brett Dier spoke about his Haley Lu withdrawals on 7th November 2013.
From then, they have remained together in a hilarious and unfortunate situation. In the month of April 2016, Brett met with a car accident which made him broke his three ribs and a pelvis.
The scenario created an uproar amongst his fan followers inviting flow of concerns and get well soon tweets:
But the actor, later on, clarified the statement by posting a firm picture of himself to be a prank primarily formed on the occasion of "April Fool" day. The joke got played with the consent of his girlfriend Haley where she was seen as a part of the whole drama.
The relationship went on a steady pace as on March 2015, Haley and Dier were spotted in the marathon weekend together at Dodger Stadium in Los Angeles.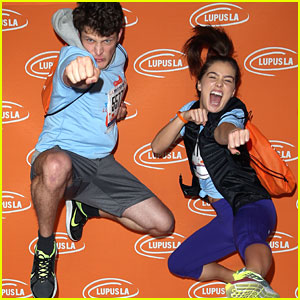 Caption: Together we stand, love birds Haley and Dier at Marathon Weekend (2015). 
Photo Credit: justjared.com
Currently, the relationship between the power couple still exists as through the Instagram post; the two were enjoying a quiet vacation together.
While Dier posts the backward facing picture with his other half,
Well, the relationship has already crossed three years, and with no news of the existence of infidelity, we are sure the relationship will surpass any hurdle that comes on their way. It looks like both of them are inclined towards their career, success and working together as a power couple in building a steady, and vigorous career in the Hollywood with no emotional drama, filled in with ample of love and care for each other.
Neither Brett nor Haley Lu has any record of having a wife or husband, so the relationship between them is their first love which is turning out to be a successful one. We wish them the best for the longevity of their love!