Entertainment
Brett Gelman Has Any Children With Low-Profiled Wife? Or Are They In For A Divorce?
Personal life of a public figure is perhaps the most mysterious thing for their fans and the media. What the celebs usually do is keep their personal life closer to their chest and not reveal it in front of anyone. The same can be said about American actor and comedian Brett Gelman whose professional life is something that most of the people are aware of but the personal aspect of his life is something most of his fans do not know.
People often wonder if the actor has any children with his love profiled wife and also wonder if the couple has divorce on their mind. 
So lets us shed some light on these.
The Secretive Married Life of Brett Gelman!
Many of you might be wondering about the married life of Brett Gelman. Brett has been living a happy married life with his wife, Janicza Bravo, who has been making innovative and engaging in cinemas since 2011.
She began her career with the Vice-produced short "Eat!". The two dated and shared a boyfriend-girlfriend relationship for some period before tying the knot back in December 2015.
Gelman and Bravo, who first met in New York City while working in making a New York Lotto commercial, live in Los Angeles.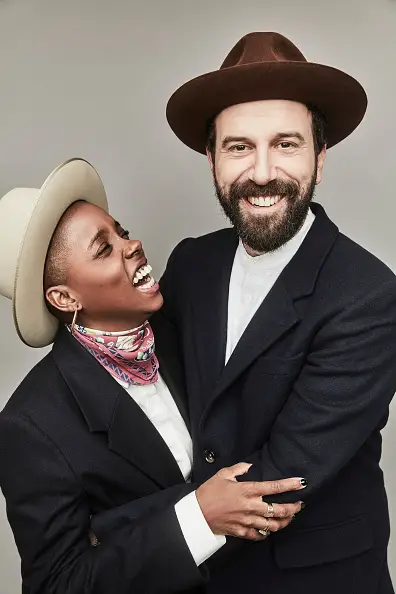 Caption: Brett and his wife Janicza looking all fine and content to be photographed.
Photo Credit: Getty Images
Janicza cowrote "Lemon" with Brett, who stars as Isaac in the very project, but the two have been less open about their relationship behind the cameras.
The next thing people wonder is if the couple has any children together. Thus far, the two have not revealed about them sharing children along with their plans to expand their family in the near or far future.
So let us wait and see if the pair reveals anything about having an addition to their family of two!
Moreover, people often speculate that the couple might have divorce on their minds. Well, the couple does not bother to address those rumors, so let us hope they are not a verge of divorce.
Who would like to witness such a beautiful couple getting divorced, right?
More About Brett Gelman:
Brett Gelman was born on October 6, 1976, in Highland Park, Illinois, U.S. He is famous for his career as an actor and a comedian. His most famous role came as Mr. K in the TV series "Go On" from 2012 to 2013.
He is equally famous for his 2014 TV Short "Dinner With Friends," where Brett and his Hollywood friends treated people with a lively night of chit chat and dining. 
Caption: Dinner With Friends with Brett Gelman and Friends: Adult Swim (Published on Feb 6, 2015).
Works like this and a successful career as an actor and comedian has helped him earn an ample amount of money in his life, which is evident in net worth, which dwells around $500 thousand.
Moreover, Brett is often speculated to have undergone some weight loss in his life as he seems to have shredded some pounds. However, like the details of his plans about children, he remains adamant till this date regarding his weight loss campaign as well.
Regardless, he is a great talent and has been gracing the people's screens for a long time now.
Stay with us for the emerging updates on Brett Gelman!