Entertainment
Brian Dowling's Gay Married Life With Partner, Arthur Gourounlian
If you ask a married couple, what was their happiest moment? The answer in a lot of cases may be their wedding day. Since it is the day, the two become one. Same is the case with the Big Brother star Brian Dowling and his life partner Arthur Gourounlian.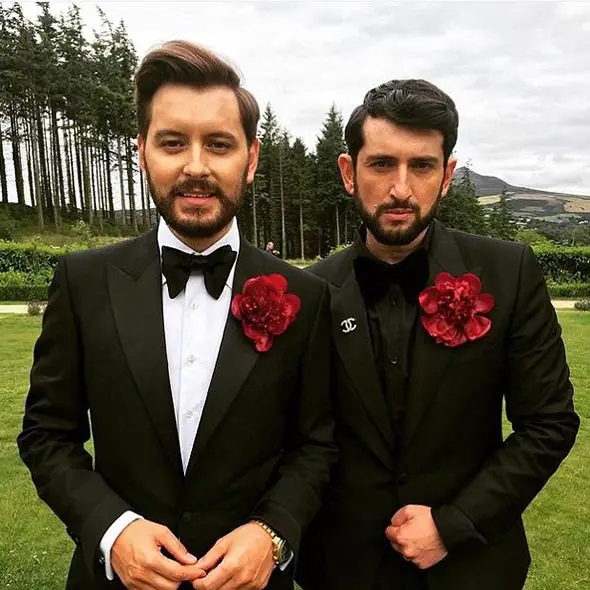 The Irish presenter, Brian Dowling rose to fame after winning the title of the UK reality show, Big Brother.
In addition to his professional life, Brian and his partner, Arthur Gourounlian is Ireland's first gay-marriage couple. Interestingly, they had already tied the nuptials in London before same-sex marriage was legalized in Ireland.
Also, the married couple has expressed their keen interest to welcome a child into their family.
Married Life With Partner
Brian Dowling was dating the US-born partner Arthur since 2012. The couple has not revealed how they have met.
After dating for three long years, Brian and Arthur tied the knot in London on 2015 as the gay-marriage was not legal in their native home until that time. But when Ireland legalized the gay marriage by voting, the already-wed couple planned another big day for them. Brian stated:
'We did it in London as we didn't know how the law would go in Ireland. We wanted to make sure we got it right,
And so, as soon as the gay marriage was legalized in Ireland, Brian and Arthur rushed to the altar and shared the wedding vows on Brian's homeland on 30 July 2015. With this marriage, they became the first celebrity gay married couple.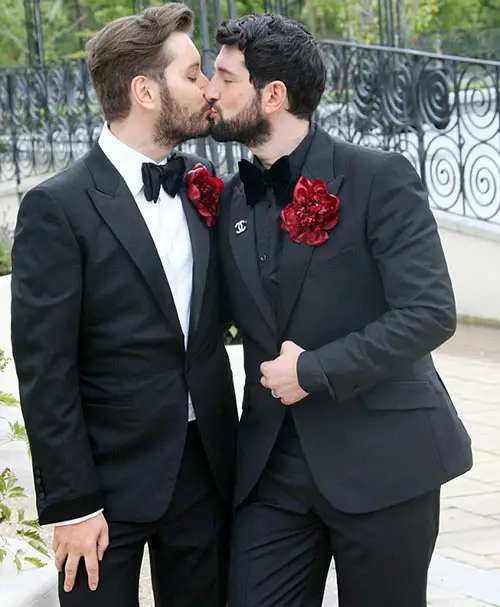 Brian Dowling and Arthur shared a kiss on their wedding day on July 30, 2015 (Photo: dailymail.co.uk)
For the big day, the couple was splashed out on Tom Ford Suits with the 40-year star in a white shirt and Arthur in the black one. Many celebrity guests eye-witnessed the first gay marriage of Ireland, including Kimberly Walsh, Louis Walsh, Tess Daly and her husband Vernon Kay.
Since after their marriage, the duo has been spending quality time. Brian took to Instagram with his partner on 19 March 2016, where they were seen going on the road trip.
Well, the couple is not together all the time. But their passion and love for each other have kept them going. And also on Arthur's 35th birthday, the married couple were not together. But Brian took to Instagram with their wedding pictures and wished his partner on his birthday, writing:
"A big huge Happy Birthday to my husband @gourounlian Even though I'm not there with you am sure you will have a FAB day.❤️#husband #birthday #35#love"
Following their marriage, the love between the couple has not been lessened a bit. Still, after three years of their married life, they spend the quality time with each other.
Though the couple wasn't together on the 35th birthday of Arthur in 2016, they celebrated the 40th birthday of Brian together among many friends and well-wishers. Also, Brian expressed his love for his mother to brought him into this world and shared the pictures from his wedding time. He wrote:
It's OFFICIAL I'm FINALLY 40.Now I will be the first to admit I've dragged it out a bit.?I'm dedicating today to the woman who brought me into this world my AMAZING mum Rosie.How we all miss you and especially today.This is us dancing on my Wedding Day.My Birthday wish is for one more dance❤️#wemissyousomuch #im40 #itsallforyou#thankyoumum 
Well, though his mother is no more with him. He still misses his mother who passed away on 21 February 2018 at the age of 61. It seems his mother still blesses the couple. They are still shining like a newly married couple after being for three long years.
Brian took to Instagram with the pictures of the couple on 14 June 2018, where the caption hints that they have good memories and spent a memorable week together.
Notably, still the couple is living happily together but they think that their family is incomplete. So they expressed to add a new member to their family soon.
 Wants To Be A Dad
The former TV presenter had expressed his keen interest to adopt a baby just after celebrating a year of marriage anniversary with the partner Arthur Gourounlian.  And he has also changed his surname onto Arthur's surname and called himself as 'Brian Dowling Gourounlian.'
Brian thinks that it's the right time for them to adopt a child and cherished the parenthood. He added"
"I just thought it would be nice because if we go down the children route we'd like our children to have the same surname. All of our friends are having children. We're on the baby train at the moment and we're definitely thinking about it."
Brian, who is also godfather to his close friends Pippa's son Louis godfather, claims that he likes to be a dad and said:
"I'm surrounded by children. All my friends have children and I have five nieces and two nephews, so maybe that's enough. Plus I have a great life. The lack of sleep would kill me too. 
Probably, the gay-partner is ready to welcome the new addition to their life and it seems they are waiting for the arrival of the child.
Brian and Arthur's Professional Highlights:
Brian earned a name for himself in 2001, after ultimately winning the second series of the UK reality show, Big Brother whereas his partner is a well-renowned choreographer, who has choreographed Christian Louboutin "Dancer in a Daydream" video.
Brian then became the first openly gay children's television presenter by presenting SMTV Live. He has since hosted different Television shows including I'm Famous and Frightened, Celebrity Extra, Big Brother, Celebrity Big Brother, etc.
While Brian is busy hosting, Arthur, on the other hand, is busy traveling around the world doing stage shows and what not with big names like Christian Louboutin, Coca-Cola Corporation, Diesel, Jean Paul Gaultier, etc.
Brian has also appeared in theater adaptations of plays like Pantomimes, Peter Pan, Cinderella and Beauty and the Beast. Whereas Arthur has appeared in movies like Beyond the Sea, Bel Ami, and Piccadilly Jim as a dancer.
Brian Dowling on Sitting on a Fortune (YouTube.com)
Since Brian and Arthur hail from the different professional background, they still managed their time for their personal life. Brian also gushed about his married life that he is luckier to have Arthur as his husband.