Entertainment
Is Brianna Hildebrand A Lesbian? Looking Forward To Dating Or Already Has A Girlfriend?
Young and upcoming actress, Brianna Hildebrand who first made name for herself from the blockbuster movie "Deadpool" has been making her mark in the industry since her career began. But now that she has started her career in a great manner, she has come out a gay/lesbian.
And now that we know that she is a lesbian, does she have a girlfriend in her life or is she open to dating someone in her life? Let us find that out!
Coming Out As Gay: Has A Girlfriend Or Is Single?
Just when she was basking in the glory of fame and success, Brianna seems to have dropped a bombshell on everyone regarding her sexuality. Although she has not been that affirmative on her sexuality, she keeps posting tweets about her girlfriend over on her social sites.
Today my girlfriend tweeted for the first time since she shared her Peanuts Movie character in September... I'm so proud.

— Brianna Hildebrand (@briannahilde) February 10, 2016
Last night my girlfriend and I told ourselves that we bought 6 bags of Milk Chocolate Cadbury Eggs because Easter.
Today I'm not so sure..

— Brianna Hildebrand (@briannahilde) March 27, 2016
Now this shows that she has a girl in her life and is enjoying her time with it.
Also, on being a lesbian and meeting her mystery girlfriend, she said,
"It took me a long time, not necessarily to come out, but to understand how I was feeling. It wasn't planned for me to come out with First Girl or anything. I just so happened to have met my current girlfriend on the set,"
That kind of gives an indication that whoever her girlfriend is, works with her in the industry. But the name is yet to be revealed so we might have to wait for Brianna to come up with that.
Moreover, when she raised her voice to support LGBT community, she said that there is nothing to be ashamed of in accepting your sexuality. In her own words she said,
"Whether you are unsure and afraid or sure and proud of your sexuality, no matter what part off the journey to self-acceptance that you are at, it's OK, and it really does get better! You are exactly where you are supposed to be."
She then continued,
"I am lucky to say now that it is not frightening for me living in LA to be gay. Even when I was in Texas, I wasn't afraid. I was kind of out in high school, I just could never decide on what label. I am glad that I am public about it and I think I should be."
Brianna who has played a lesbian in one of her projects, "First Girl I loved" also added, her parent were made to call her by the name of a boy and she described it in a tweet.
"When I was little we went to Hawaii & I made my parents call me Jamie. If that wasn't the moment my parents knew I was gay idk what was."

— Brianna Hildebrand (@briannahilde) April 29, 2016
Caption: The "First Girl I Loved" Movie Trailer (Published on September 2, 2016)
Brianna's Mancrush:
Oh! and by the way, Brianna once admitted that she had a major crush on Ryan Reynolds. She was so crazy for him that she even photoshopped her with Reynolds.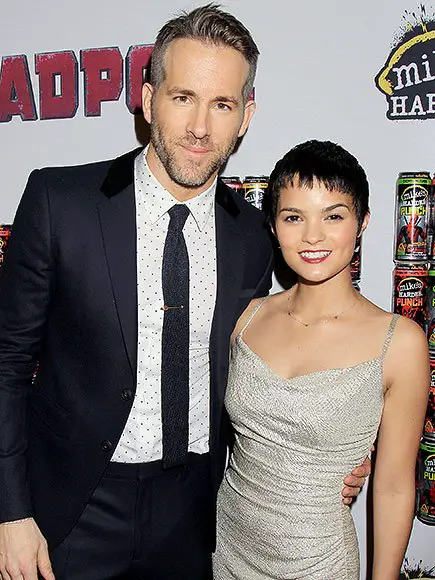 Caption: Hilderbrand photoshopped herself with her crush Ryan Reynolds
Photo Credit: people.com
On this, she said,
"I actually had photoshopped myself into a picture with him when I was maybe a freshmen in high school."
She then said that Ryan and the rest of the crews were super helpful to her when she first felt nervous to work for her first feature film,
"I was pretty nervous coming to set because everyone was so much more experienced than I was, I had a talk almost everyone in the cast they just really reassured me that I was in the right place and that I knew what I was doing."
Good job Reynolds!
A Short Bio of Brianna:
Born on August 14, 1996, in College Station, Texas, United States, Brianna Hilderbrand is an American actress best known for her roles in the famous film "Deadpool" and in the web series Annie Undocumented. She also was nominated for the Teen Choice Award for Choice Movie Breakout Star which shows the impact she made with her roles. She is young but she is not someone who messes around with her work.
She is dedicated and is gritty when it comes to her work and as a result, she has made name and money for her in an ample amount. But still, she is yet to reveal any official statement regarding her net worth.