Entertainment
Britt Robertson's Secretive Dating Affair Revealed! Meet Hunky Actor Boyfriend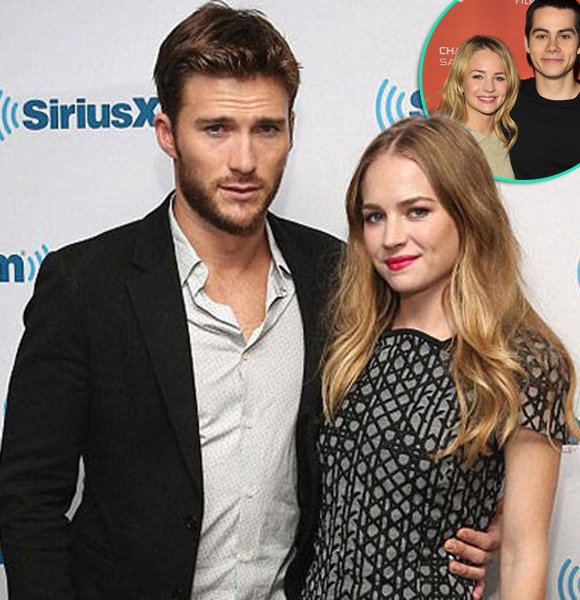 American actress Britt Robertson, who is noticeable for her appearance as Sandra Bell in ABC's legal series For the People, mostly keeps her personal life under the wraps.  
She has kept her love life hidden from all her followers and fans, however, lately, it came to the limelight that Britt is still in a dating relationship with her longtime boyfriend, who is a heartthrob of many ladies.
Curious to know who that lucky guy is? Follow in!
Dating Going Strong: Travels Miles For Boyfriend
Sometimes celebrities fall in love with their co-star after they work together on a project. The same scenario is shared by Britt Robertson and her boyfriend, Maze Runner's star Dylan O'Brien.
The lovebirds first met when they starred together as a couple in the romantic comedy, The First Time in 2012. The pair portrayed high school student, who falls in love with each other over one weekend.
It appears that Britt and Dylan got too serious in the roles as they fell in love in real life as well. They started dating while keeping their relationship very low-key and rarely getting spotted together. 
Probably their career as actors and hectic schedule made them have long distance relationship and even helped them stay away from the light of paparazzi. But the love they share never dimmed despite the distances. 
Britt in an interview with the Clevver on 20 May 2015 disclosed that she and Dylan always try to make time for each other despite the hectic schedule. 
 "We're always working so we have to coordinate vacations and trips to see each other meticulously. It's a very difficult process combining our schedules and making them work."
When asked how she and Dylan manages time, Britt answered,
"You know, you just find the time to be with one another."
Also, she added that their busy time lets them be content and appreciate every time spent together. Britt even disclosed that they didn't like to see each at their set while they are working as they are 'little shy and sensitive about working in front of their significant others.' She uttered, 
"It's nice that we both don't like it. When I go visit him I don't even go on set. And, when he visits me it's very rare that I'll go on set."
Furthermore, In an interview with the Clevver TV in January 2017, Britt also revealed that she once traveled a thousand miles to see her love and check if he was okay. When Dylan was in Atlanta, Georgia he gave a call to Britt saying that he felt sick. Britt asked Dylan to go to the hospital as she thought he had an appendix that was rupturing.
Soon after she got the call, she drove three straight hours from her set of Vancouver, Canada to Seattle to catch a flight with her two dogs. She met Dylan in Atlanta to find out that he had not suffered from appendix but just gas issues.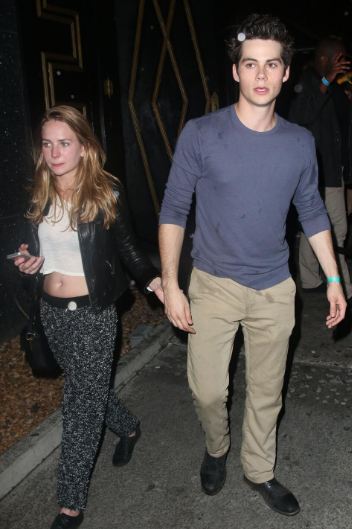 Britt Robertson with boyfriend Dylan O'Brien on 2 March 2014 (Photo: livejournal.com)
The revelation of Britt reflects the couple's dedication to each other and the affection they have for each other. However, the low-keyness that they have in their relationship timely swirls the rumors of them breaking up. 
They were rumored to have split at the first month of 2018 as well, but, Dylan made it crystal clear that they were going strong via an interview with the HeyUGuy in January 2018. 
Talking about the beard he had for his movie American Assassin, Dylan said, 
"Sometimes I look back and I'm like, 'Man, I actually lived with that for more than half a year of my life. And my girlfriend did not leave me.' It's great."
With the mentioning of his girlfriend in the say, Dylan made it clear that he and Britt are still going strong. 
Oldest Daughter, Loves Family 
Though Britt never uploads pictures with her boyfriend on her social media, she updates her Instagram with the glimpses of her family and her affection towards her siblings. 
Britt, who is the oldest of seven siblings, uploaded a picture of her sister's wedding on 20 May 2013 and wrote that she is proud of her sister for her kind and generous heart. 
Moreover, she also Instagrammed a picture with her parents on 22 July 2015 and via the captions wrote that she is proud to call them her parents. 
As a proud daughter, it is no denying that Britt is also making her family proud of her success and achievements in the entertainment world.