Entertainment
Is Brittany Snow Look-Alike Jessy Schram Hiding A Secret Husband? Reveals If She Is Married Or Not Via Twitter
The American who resembles Brittany Snow is a natural performer since a very young age. She has cemented in the hearts of many from a tender age. Now, she is more attractive and beautiful, and it is quite evident that she must have been in a relationship.
Once speculated as a married woman reveals the fact behind the assumption via twitter. Let's see what she got to say on that very topic in our story today.
Brittany Snow looks alike Jessy Schram Married?
The actress Jessy Schram who moreover resembles another star Brittany Snow has put forward the fact of her life. The actress landed in various roles but who is ruling her heart? Is she a married woman and has a husband? Well! Not actually.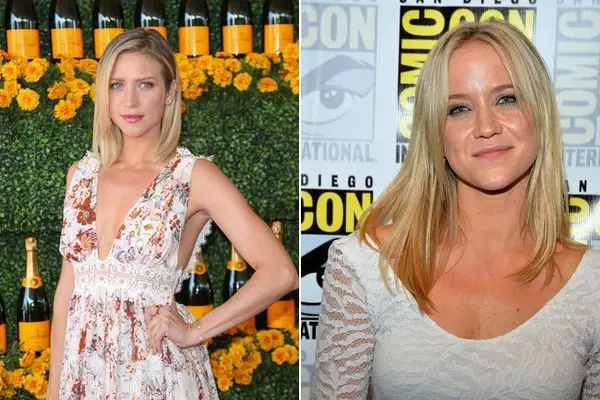 Caption: Close enough! Jessy Schram moreover resembles actress Brittany Snow.
Photo Credit: stylebistro.com
The 31 years old actress has given the answers after people were assuming she is getting married. She wrote on her Twitter account that she is not the one who is getting married, but that is her sister.
As of now, Jessy Schram is not linked up with any man. That superficially shows she is not dating and doesn't have a boyfriend but the possibility of her dating doesn't end here. She might be having low profile dating.
Talking about her private life, Jessy Schram started her career at the very age of 10. She landed in various commercials, television works, print campaigns, and voice-overs. Further, her success in entertainment started to grow in the industry.
At the age of 18, she moved to LA and appeared in various televisions. Out of which her work credits include her portrayal as Hannah Griffin in Veronica Mars (2006), Rachel Seybolt in Life (2007-2009), Karen in Falling Skies (2011-2014) and Cinderella/Ashley Boyd in Once Upon a Time (2011-2016). Talking about her new project, she has recently worked in the new movie "The Birthday Wish."
Caption: Sneak peek of Jessy Schram's new project "The Birthday Wish" (Published on January 22, 2017)
Jessy Schram has touched the heart of the audience through the freshness and intangible star quality. The pace of her success in the industry is growing rapidly. We would like to immense success in the near future.