Entertainment
Brody Stevens Says He's Married - Not With Person! Also Is Gay - How?
Brody Stevens, from the Comedy Central show based on his own name Brody Stevens: Enjoy It! is an American actor/comedian. Brody's professional and private life both have been a topic of interest to his viewers. His rise to fame up until the point of his Twitter meltdown has garnered the curiosity of the public.
But what about his personal life? Is he married, single or gay? You are about to be fascinated by the unusual life of the infamous Brody Stevens!
Brody's Personal Life, Relationship Status
Brody, 47, shocked his fanbase back in 2011 when he revealed on his twitter account that he was married. However, it turned out to be a joke as he meant it to be in a spiritual way. He also talked about his affair, but as expected it turned out to be a joke too.
"I'm married to the natural & practiced elements of humor. But I'm only, barely dating Hollywood. #ResedaKid"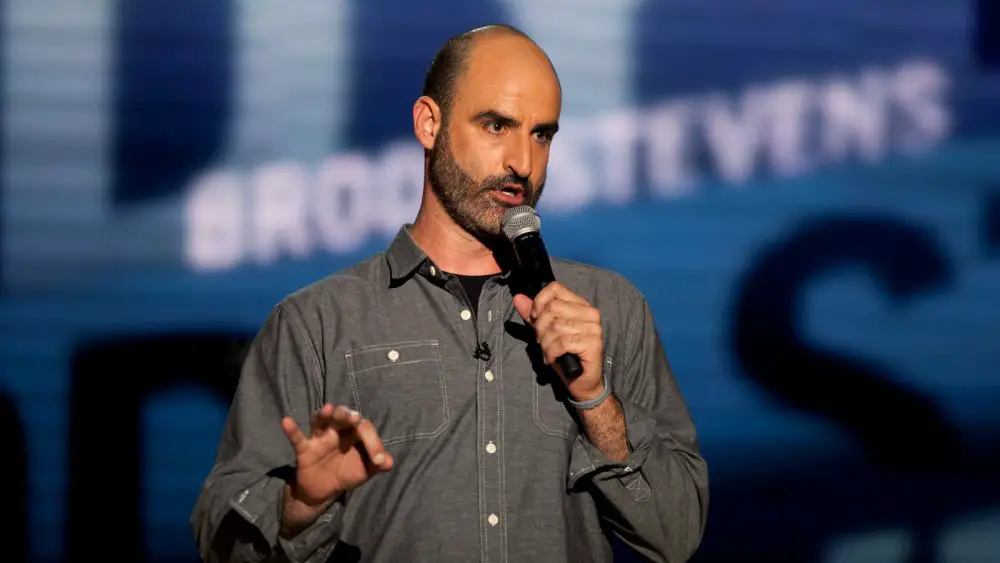 Brody talking about show Enjoy It! (Photo: AJ Marechal/ Variety.com)
Brody's marriage post wasn't enough for his doubtful followers who were speculating him to be gay in the absence of a girlfriend to fend those rumors. Well, a fellow Twitter user accused him of being a gay and tweeted back in July 2014.
"Why did you try to pass of a lady boy as a woman u went on a date with on your show. That was a dude. We all know you r gay"
But, instead of getting mad at the comment, he turned to his wacky sense of humor and wrote,
" I'm 10 percent gay. I do look at girls."
About a year later, he took to Twitter again to talk about his childhood when he used to be mistaken for being gay for smiling too much. Talking about his bullies and how they termed his smile as 'gay smiley,' he wrote,
"Btw, I was a very happy kid... I actually got picked on for smiling too much. Called "Gay Smiley". A wonderful self esteem builder!"
As of now, Brody is possibly single. And although his gay rumors were never proven, it is neither certain that he is straight as he hasn't been in a relationship lately or married to a wife. So it seems that his fans have to wait until he opens up about his romantic association.
More About Brody Stevens
Steven James Brody (a.k.a Brody Stevens) was born on 22 May 1970, in San Fernando Valley, California, USA. His family split up after his parents got divorced when Stevens was eight years old and he started living with his mother and older sister. Brody attended Arizona State University on a Division I baseball scholarship.
Brody, who has accumulated a net worth of $1.5 million, has appeared on episodes of several TV series including Late Night with Conan O'Brien, Jimmy Kimmel Live!, The Late Late Show with Craig Kilborn, Children's Hospital, Tosh.0, Coffee Shop Squatters, Tiny Commando, Tom Green Live, Kroll Show, Comedy Bang! Bang!, The Guest List, American Dad and more.
Brody has also played supporting characters in movies like The Hangover, Due Date and The Hangover Part II. Moreover, there is no sign of upcoming tour by Brody, but hopefully, he would arrange one on demand of his ardent fans!