Entertainment
Brook Lopez Busy To Be Dating and Have A Girlfriend? Has Issues To Deal With
Every star has their own preferences when it comes to the talks of "girlfriend" and "dating." While some may flaunt as much as possible, some make it too secretive that it turns too hard to figure out like that of American basketball player, Brook Lopez who plays for Los Angeles Lakers.
As Brook maintained a dignified silence over his dating affairs; a lot of curiosity arose too. Well, is it that Brook Lopez is too busy dealing with his issues of life, that he was left hardly any time for dating?
If you want to know the full story, keep reading!
Is Brook Lopez Dating His Career?
Brook Lopez is private when it comes to sharing the details of his dating affairs. So, it is hard to pinpoint Lopez's girlfriend. However, Brook gave an interview with his twin brother, Robin Lopez, and the conversation was an attempt to find out about their relationship status too.
Back in November 2015, when Robin was reportedly dating the golfer, Michelle Wie, Robin was asked his thoughts on a double date with his twin brother, Brook. Robin responded to the double date saying that he was "not single" while Brook maintained the dignified silence over his relationship status.
Till now, Brook has not introduced anyone as his girlfriend, so he remains single in the eye of the public. However, chances of him spending romantic time with a girlfriend remain valid too. But he hasn't been previously married to enjoy a conjugal life with a wife.
It might be the case that Brook's career remains a priority and is committing all his time to his career at the moment, and his budding career is apparent to everyone.
Brook Lopez's Issues: Parent's Divorce And Twin Brother's Cat!
Born to the parents, Heriberto Lopez, a Cuban baseball player and Deborah Ledford, Brook never could experience the joy of being raised by mother and father together as their parents got divorced soon after their birth.
Lopez was raised by a single mother, a competitive swimmer turned high school teacher, along with his twin brother, Robin Lopez and two older brothers named Chris and Alex Lopez.
When asked about growing up without having his dad around in the interview with Fox News, he highlighted the role of their mother in raising them as,
"Obviously I would never want that (parent's divorce) to happen. It's something I completely worked hard towards- having a strong family.In my mom's case, she did a fantastic job. She raised four well-rounded, smart boys on a public school teacher's salary. She's impressive. She was always there for us. She sacrificed for us constantly. To her credit she loved every minute of it. She was our biggest fan in the stands. She went to all our games. She would drive one brother to a practice crosstown, come back, bring another brother to practice and take care of us at the same time when we were little. It's a labor of love for her.
The 29 years old, Brook dealt with an issue in his life which lead the two twin brothers to live separately!
The youngest of four siblings, twin brothers decided to live in together back in November 2015. Brook shared his thought of sharing his West New York, NJ, townhouse with his twin brother to YES Network and said,
"It might be permissible for him to live in my residence."
However, both Brook's and Robin's cats hated each other, and Robin even stated that Brook's cat is two-faced and explained,
"Brook's cat is very two-faced. Everybody loves Brook's cat. To everybody's face, he's such a nice cat. And it may sound like I'm joking, but I am dead serious. He acts like a lazy, sweet cat when everybody is looking. But when their heads turn, he'll try to chase after [my cat] Edward. The second I lay eyes on him, he'll act like, 'I'm a cherub. I'm innocent.' I'm not buying it."
However, both Brook and Robin's love for their cats run deep even far to name them as Poupin for Brook's kitty and Prince Edward Zephyr for Robin's cat. The cats even have their own Instagram accounts.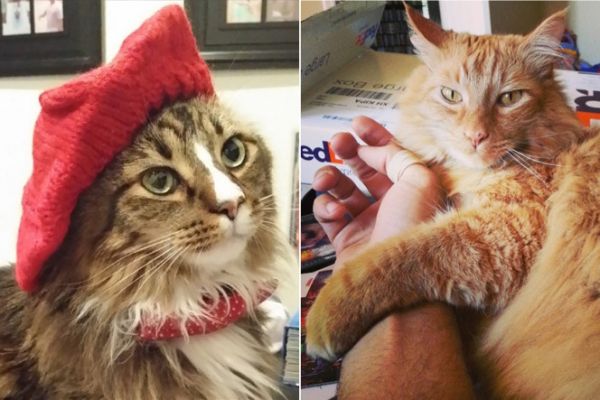 Caption: Both, Brook's cat Poupin (left) and Robin's cat, Prince Edward Zephyr (right)
Photo Credit: nypost.com
Ultimately, they decided to live separately and further, Robin landed in Westchester, near the Knicks' practice facility. Brook explained the situation to the Post as,
"We thought about it. But the cats really wouldn't get along. They just wouldn't allow it."
The twin brothers finally lived separately due to their cat issues. Brook's incident with his twin brother hints that even though he and Robin are identical twins, they have differences, indeed.