Entertainment
Is Brooke Valentine Still With Boyfriend? Her Dating Status After Surprise Revelation
Quick Information
Date of Birth

1984-10-05

Age

36 Years 5 Month(s)

Nationality

American

Birth Place

Los Angeles, California, U.S.

Profession

Singer, songwriter, model, actress

Birth Name

Kanesha Nichole Brookes

Zodiac Sign

Libra

Ethnicity/Race

African-American

Son/s

London

Daughter/s

1

Relationship Status

Married

Husband/Spouse

Marcus Black

Divorce/Split

Not Yet

Engaged Date

2018-09-03

Net Worth

$400 Thousand Dollars

Career

2004–present

Height/ How Tall?

5 ft 10 inch (1.58 m)

Weight

123 lb

Hair

Long

Hair Color

Dark Brown

Eye Color

Brown

Body Measurements

34-24-29 inch

Lesbian

No
The reality star, Brooke Valentine was hit with a surprise, more like a harsh truth, from the past about her boyfriend in the hit reality series Love&Hip-Hop: Hollywood.
Well, if you are wondering what stung the reality star in the show, then stay till the end, as we are about to enlighten you with the rumors, gossip, and the truth about Brooke Valentine.
Brooke Valentine's Dating Status After the Shocking Revelation:
It is like dropping a bombshell to find out that your loved one is married to someone else while your relationship is still on. The reality star, Brooke Valentine was hit with the similar news, as she found out that her boyfriend of one year, Marcus Black, was still legally bound with some other woman.
Brooke and Marcus debuted together in the hit reality series Love&Hip-Hop: Hollywood as a couple, who had already been together for a year in 2017. The pair was going pretty strong in the show, but eventually, the news of Marcus's unsettled marriage was revealed that caused the storm in their relationship. As per Marcus,
"When it comes to signing the papers, there's always been a distraction,"
But the couple worked on their differences for the sake of their children by putting aside their grudges.
Both Brooke and Marcus are a mother and father to their son and daughter respectively. She expressed:
I love Marcus very much, I love him very very much. It's tough with us because our kids love each other. And we love – I love his daughter, he loves my son.My son will not settle for not seeing Marcus at least every three days. He'll ask about him over and over and over again and I'm just like, "oh lord." So we definitely see each other.
The duo was doing exceptionally well together, and the viewers were expecting them to get married when they were hit with another rumor. The affair between Marcus and the reality star, Jade, made it to the news that pissed off Brooke even more.
Marcus, however, defended himself claiming his fidelity.
"...when she started telling people that I was her dude or we're going to be together, I'm like come on, we never said that. Which is kinda why I had to nip that in the bud cause you got Brooke who I love and this is who I want to be with. I'm already in hot water just how I dealt with this how she found out about the marriage. You know now that the divorce is done and here this. It's like come on, there's no truth to this."
When Brooke, who relishes on a net worth of $400 thousand, was going through the rough patch in her relationship with Marcus, it is evident that her friend would watch out for her. In this case, Brooke's long-time friend Booby Gibson stepped in.
While the viewers were assuming that the two had something romantic going on behind the camera, Brooke spilled some beans on that matter.
No, no, no. It's not what you think."Booby and I go way back to our H-town days. No one knows me like he does. So I just had to sit down and talk with him and get his take on all that is going on with this Marcus's business."
The reality star further added,
"He knows my relationship with Marcus has been up and down. Booby just cares for me and definitely doesn't want to see me get hurt again."
However, her friendship with Booby bothered Marcus a little more than everyone thought it would.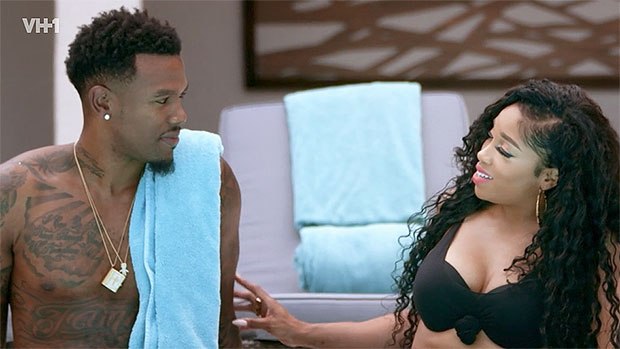 Brooke and Booby during the series Love&Hip-Hop: Hollywood (Hollywoodlife.com).
Nevertheless, Marcus was all set to pop the big question to his girlfriend and was ready to be her husband, but things kept getting on their way.
I wanted to marry her. She was pissed off at me and I think she went way too far. And it hurt her more than it hurt me. Because she put herself in the space of confusion. And here you are with a childhood friend and you guys have never explored that side of things and here you go. Now it's like, well, how do I feel? All that just to get back at me? I didn't feel like that was a good move. I said, go do that cause you want to do that. Go be with Booby if that's what you want to do. That's not what [she wanted] to do. And it backfired on her. She knows that.
On the other hand, Brooke only considered Booby as her good friend. She also explained that Marcus was aware of their friendship.
He was. Not to the extent that he is now. He heard about it. One of the first times before me and Marcus even started a relationship, early on like when I met Marcus, he saw me and Booby together in the studio. We worked in the same studio. Not in the same room, but like the same studio building. And I didn't even know who Marcus was and I would see him and he would kinda like walk into the studio to say hello or something. And I'll be sitting right there on the couch with Booby. So he was aware of the relationship. I don't think he knew how serious it was or wasn't. You know he was like "Oh, I heard that's her friend."
But the couple got separated as the differences between them kept growing further.
As of now, Brooke is single and focused on her career. The reality star/singer released her new song called 'Now' back in late 2017 and is set to release something fresh real soon!
Stay with us for the emerging updates on Brooke Valentine!