Entertainment
Bryce Hall With Gay Rumors Tailing At Age 18, Reveals Tiny Detail On Ex-Girlfriend
In the time of technology and social media, age seems just a number when it comes to fame and popularity. The social media has given a platform to showcase one's unique talent and gain fame as well as fortune.
One of the people who has been able to utilize the benefits of such platform is musical.ly star, Bryce Hall. Along with increasing fame, he has intrigued the curiosity regarding his personal life; so, this segment is dedicated to his curious fans. So, without further ado let's get started!
Bryce Hall's Personal Life
Bryce Hall has preferred to keep his love life obscure following which his ardent fans have remained ignorant about his romantic life. Well, it's difficult to believe that the good-looking lad like Bryce is single. So, he could be dating secretly far away from the scrutiny of media. One of his tweet back in February 2018 supports the possibility too. However, he has still kept the identity of his girlfriend a secret while claiming that his girlfriend is hot!
my girlfriend is so hot
It seems fans would have to have for a while before he chooses to share more details regarding his love life.
Previously, during a twitter conversation with Musical.ly star Mark Thomas, Bryce confessed a tiny detail regarding his ex-girlfriend.

(Photo: superfame.com)
Despite mentioning about his romantic union, he has concealed the details regarding the ladies involved which suggests his preference for privacy in his personal life.
While keeping suspense over his love life, he could not escape from the gay rumors. But could someone be speculated to be gay over his preference of privacy in his life? Further, he hasn't commented on the matter so arriving at any conclusion would not be fruitful.
Furthermore, he also appeared shirtless with Mikey Baronean emerging Youtube star on his Instagram which would have been a bonus for all his fans.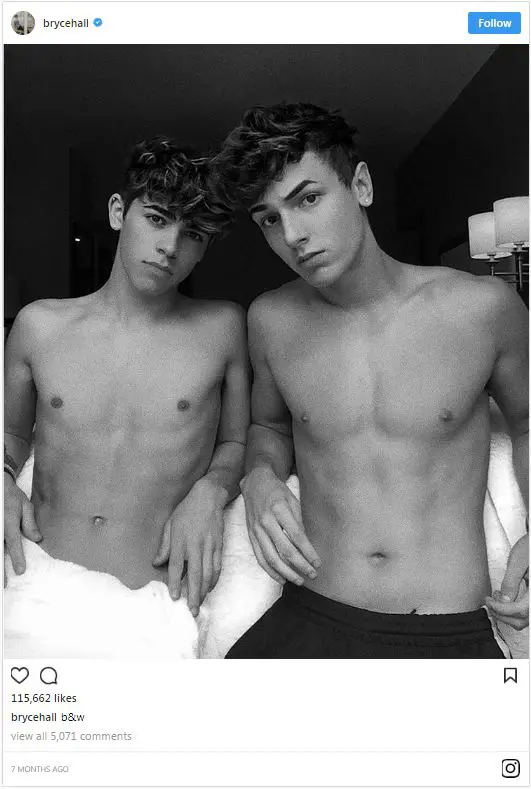 (Photo: Bryce Hall's Instagram)
Well, many would have drolled over these young boys!
More About Bryce Hall
Bryce Hall was born on 14 August 1999 in Maryland, United States of America and is 18 of age. He has a dog named Cici too.
Bryce is close to his mother and loves her very much. In February this year, Bryce Instagrammed a picture with his mother while wishing on her birthday. The caption read,
i surprised my mom in maryland for her birthday, hopefully my presence was enough of a present this year haha
happy birthday to my fav girl ??
Bryce Hall gained popularity on various social media accounts since 2014. He is most popular on his Instagram, Musical.ly and Vine accounts. Bryce also runs a YouTube channel, where he posts various fun videos collaborating with other internet celebrities. He also interacts with his fan holding Q & A sessions on his channel.