Entertainment
American Idol Finalist Caleb Lee Hutchinson Aspiring For Glory At Age 19; The One?
Caleb Lee Hutchinson is one of the finalists of Ameican Idol 2018. 
Caleb, who was rejected from The Voice during the blind auditions, gained the ultimate redemption through the American Idol. For a guy, who chose music as his solace in his childhood, the country singer has found fame through his hide.
The Dallas native is flanked by supportive parents and an original voice that might prove the best bit of armory in his quest for the top. 
Music Provides Escape Route, The Voice
The teenage singer was a chubby little kid from his early days. Despite having enough motivation to tone himself down, unmanaged eating habits led him to gain more weight rather than lose it. And his weight was the source of ridicule to his friends. 
Caleb took up guitars and started music to find solace from the taunts about his young age, and he was brilliant at it. Likewise, Caleb earned special exemptions from the teachers to carry guitar to school and even was allocated the last 5 minutes of school to sing.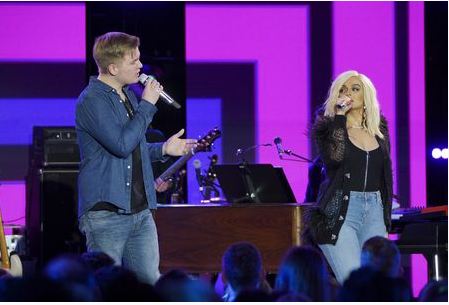 Caleb Lee Hutchinson performs a duet with Bebe Rexha on the American Idol (Photo: disneyabcpress.com) 
Even his pastor, Keith Stell spoke of his surprise when he first heard Caleb singing an 11-minute medley "Weird Al" of Yankovic song at a tender age of 11.
The only persons who were not acknowledged by Caleb's talent were the judges of the 9th season of The Voice. Caleb auditioned for the show in 2016 and sang The Dance by Garth Brooks. With an original brazen voice defying his age of just 16, Caleb failed to force the judges to turn their seats. 
American Idol, Weight Loss, Is He The One?
Despite the rejection from The Voice, Caleb did not give up on the dreams of becoming a singer.
Caleb took up his guitar again three years after his failed audition in The Voice and this time chose a little-known song by the Steel drivers as his go-to song. 
And his authentic voice managed to woo the judge of American Idol this time, with Luke Bryan, Lionel Richie, and Katy Perry all impressed by the 19-year-old's voice. Whats more, he was called to Hollywood for the next round. 
Choosing the singer, with the height of 1.90 meters (6 feet and 3 inches), proved to be the right choice as he was a gift that kept giving. With his husky, original voice and acoustic guitar by his side, Caleb mesmerized both the audience and judges and kept on going to the next rounds.
It was, however, not just fame that Caleb achieved through the Idol, his long-standing wish of losing weight came true. He transformed himself during the airing of the show from an obese teen to a slim fit country singer. One thing that remained constant, however, was the aspiring singer's voice. 
Caleb's country twist of megastar Prince's hit When Doves Cry, won him standing ovation from the judges, and plenty of votes from the audiences. And that voting was reflected in the last round of 13 May's episode when Caleb was announced as one of the finalists of the 16th season of the American Idol. The singer has already been compared with country legend George Strait.
Moreover, singing legend, Lionel Richie gave him the ultimate compliment of having such a recognizable voice that he could detect it was Caleb after just two notes.
With an original voice, and his favorite guitar producing melodious tunes there is every chance that Caleb could be pronounced the winner of the latest edition of the American Idol. 
Non-Musical Family's Support Led Him To Top
Caleb has not only wowed the audience with his singing, but he also provided one of the most emotional incidents in this year's singing gala.
Caleb wrote an emotional letter to his mother, Piper for supporting him in every facet of life including his singing career and playfully wrote that all he wanted his whole life was to live in the basements of his parents home. 
And his song Stars in Alabama was a tribute to his mother that left everyone in the audience with their eyes wet.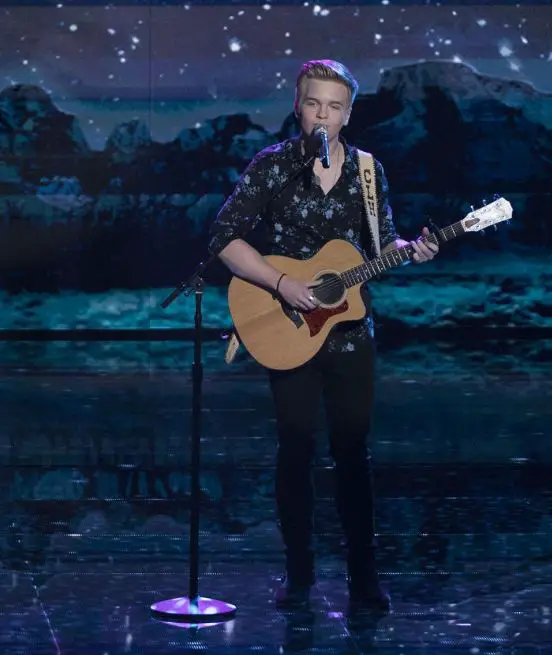 Caleb Lee Hutchinson sings Stars In Alabama in tribute to his mother (Photo: douglascountysentinal.com)
The singer is grateful for his parents allowing him to pursue his dream despite not being in the music, his father William works in construction, and his mother juggles between many jobs. He also has a big brother Tyler, and the siblings get on big time.
His family, which Caleb acknowledged had been his biggest source of inspiration, has been nothing but supportive of his passion. 
And now, however, their support has been vindicated with Caleb on the verge of winning The American Idol, the Hutchinson family must be gleaming with pride.  Despite his flaunting love to his parents, he has an absent dating life probably because he is busy achieving his dreams