Entertainment
Cameron Dallas Dating Shortly After Beginning A Girlfriend Search! Meet His Queen
The digital era we live in today has given stardom to many people through the platform of social media, which can turn a normal person into a celebrity overnight.
We are here to talk about the social media star turned actor Cameron Dallas, who rose to fame from YouTube and Vines and has more than fifteen million followers on Twitter as of now.
Despite being a social media star, Cameron has managed to keep his fan at the edge wondering about his dating affairs. Well, if you are a fan on the hunt for information of his love life, you are in for a feast, as we are about to shed some light on his romantic life!
Cameron Dallas Dating Affair: Meet His Queen
Cameron Dallas gives a hard time to his 15 million followers on Twitter as he rarely reveals anything about his romance and love life to his fans. But recently, he tweeted expressing his desire to have a girlfriend.
His female fans were very excited to know that Cameron, who is very low-key about his love life, shared the news about him being single. But soon, those fans were hit with the announcement of Cameron Dallas being officially taken.
The actor shared a picture of him kissing a girl on his Instagram, claiming that he is off the dating zone.
He also uploaded a video of the couple kissing in the street, calling the girl his love in the caption.
Like posting a video and photo was not enough, Cameron flaunted that picture in his Instagram story with the huge bold caption saying,
"The Search is over. I found my Queen"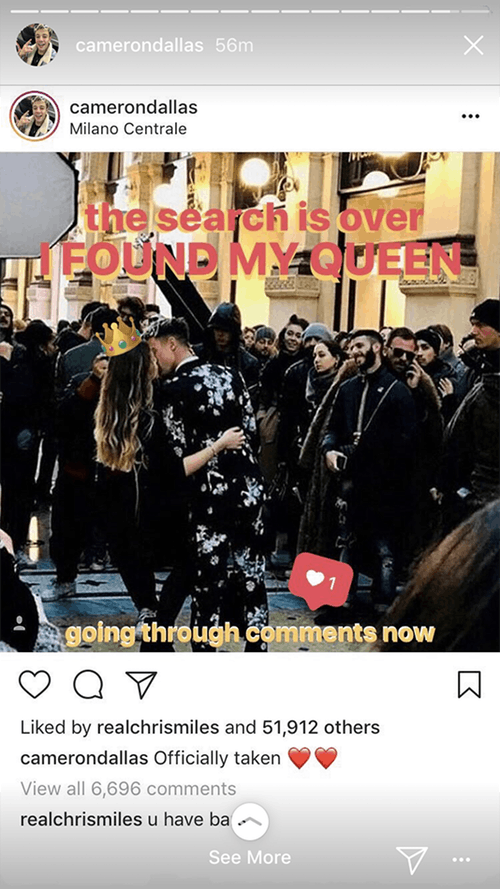 Cameron gives a peek at his dating affair (j-14.com)
Well, hold your horses, it turns out that the actor was just doing a photoshoot with the Italian model Giorgia Caldarulo for 'Dolce&Gabbana' in Milan. If you think about it, the staged scene and cameras around were enough to figure out that they were kissing for the camera. 
Just a few days after all the hustle and bustle of claiming to be taken officially, Cameron took to Twitter to acknowledge his relationship status, giving rest to his hyped romance with the Italian model.
I just need a girl from the 909

— Cameron Dallas (@camerondallas) January 23, 2018
Calm down, ladies! Cameron is single. And if you live in the 909 area, you are in for a competition to be the social media sensation's girlfriend!
Given his lack of dating affairs, various speculations raised about him being on the gay side. But the social media star cleared that out via Twitter.
I'm definitely not gay, but there's nothing wrong with people that are

— Cameron Dallas (@camerondallas) May 30, 2013
Perhaps, Cameron is just focusing on further building his career. The Internet personality has managed to gain 15 million followers on Twitter, 20 million on Instagram, and 5.7 million subscribers on Youtube. That is one whopping number of followers to live up to, don't you think so?
Born on 8 September 1994, in California, Cameron rose to fame through Vine videos back in 2012. The Vine star was raised by his mother, Gina and he also happens to be the brother of Sierra Dallas, who is also a social media star. 
Think we're missing something? Do let us know in the comment section below!