Entertainment
Camille Grammer Separated With Husband; It Did Not End Till The Divorce Bumped Her Net Worth
Camille Grammer Separated With Husband; It Did Not End Till The Divorce Bumped Her Net Worth. Going through a failed marriage is devastating! But, is it the same when you get alimony worth millions of dollars? Talking about 'The Real Housewives of Beverly Hills' reality star, Camille Grammer is a celebrity who just enhanced her finance after getting a divorce. But, besides that, Camille has been through peaks and valleys in her life.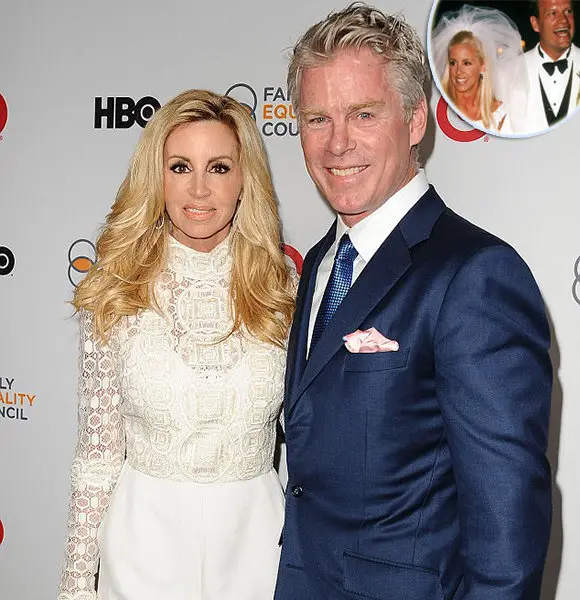 Quick Information
Engaged Date

October 2017

Lesbian

No

Body Measurements

33-26-35 Inches

Eye Color

Black

Hair Color

Blonde

Hair

Long

Feet (Shoe) Size

6.5 (US)

Weight

54 kg (119 lbs)

Height/ How Tall? 5'6" (168 cm)
College

Montclair State University

Career

1980s-present

Net Worth

$50 Million

Dating/Affair

No

Ex-Husband

Kelsey Grammer (m. 1997–2011)

Date of Birth Sep 02, 1968
Wedding Date

October 20, 2018

Divorce/Split

Yes (Once)

Husband/Spouse

David C. Meyer (m. 2018)

Relationship Status

Married

Daughter/s

Mason Olivia Grammer

Son/s

Jude Gordon Grammer

Brother/s

Joseph Donatacci

Ethnicity/Race

Italian

Religion

Christianity

Zodiac Sign

Virgo

Birth Name

Camille Donatacci

Profession

Television Personality

Nationality

American
Going through a failed marriage is devastating! But, is it the same when you get alimony worth millions of dollars?
'The Real Housewives of Beverly Hills' reality star, Camille Grammer can answer to that better, as her finance enhanced after getting a divorce as well. 
Well, today in this article, let's get acquainted with Camille's personal life, including her struggles like, abuse, battle with cancer and her divorce that hitched her net worth!
Camille Grammer's Divorce That Gave Her $30 Million:
Rewinding to Camille's life before her divorce, she was married to American actor/producer/director/writer Kelsey Grammer in 1997 in Malibu, California. They were also blessed with two children, a daughter, Mason Olivia (16) and a son, Jude Gordon (13) who were born via a surrogate mother.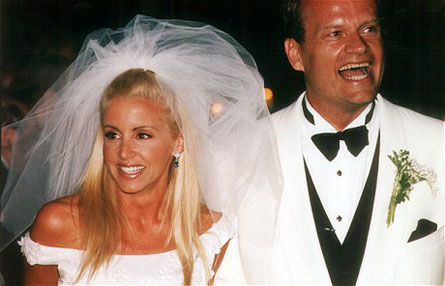 Caption: Camille Grammer and Kelsey Grammer during their wedding in 1996. 
Photo Credit: dlisted.com 
However, their married life started falling apart when Camille was in the middle of filming "RHOBH, " and Kelsey was involved in an extra-marital affair with a British flight attendant, Kayte Walsh.
After finding out her husband being unfaithful to her, Camille filed for divorce on July 1, 2010. She demanded primary physical custody of their children and spousal support as well.
In the divorce papers, Camille accused Kelsey of physical and verbal abuse. Later on, in an interview with PEOPLE on October 29, 2010, she revealed how she found out about her husband cheating on her. She stated,
" In June I got a phone call from a mutual friend in New York who was upset by behavior of his that she'd seen. I asked, "Is he leaving me?" and she said, "Yes." I called him but couldn't get through, so I texted him and asked him to please call me. Nothing. An hour later, I texted him again and he wrote: "I don't want to talk." I wrote, "We've been together for 14 years; I deserve an explanation." Finally, three hours later, he called me. He basically said, "I don't want to be married anymore."
She further disclosed that Kesley was a difficult man to have a relationship with and that she is excited about her future.
" I was scared at first, and there's still fear. But I'm excited about my future. That sounds weird, I know. But Kelsey was a very difficult man to have a relationship with. I miss him, but I don't want to look back anymore. Everything is new. I'm excited about rediscovering myself and becoming independent again. " 
The divorce was finalized on February 10, 2011, and just after two weeks, Camille's ex-husband, Kelsey got married to his new love, Kayte. 
However, the divorce not only set Camille free from an unhappy marriage but, also hitched her bank account. According to TMZ, she received a whopping $30 million in her divorce settlement with Kesley in September 2012.
The total rough value of the assets in their marriage was around $60 million, which included their three homes, and thus, Camille got 50% portion of the whole property. TMZ further stated that Camille deserved the money, as she was the one who helped Kelsey from bad decisions and drug problems to rise in his career.
Besides that, recently in early November 2017, Camille was awarded 50% of Kelsey's retirement fund as well. As of now, Camille enjoys a net worth of $50 million.
Shifting lights from her failed marriage, on November 2011, Camille moved on and started dating a new boyfriend, attorney Dimitri Charalambopoulos.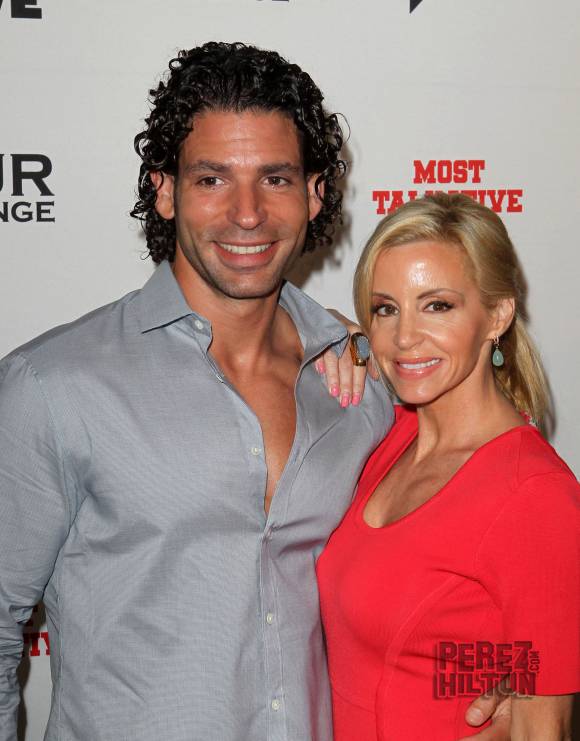 Caption: Camille with Dimitri Charalambopoulos
Photo Credit: Perezhilton.com
On September 2011, the couple also shared romantic moments at Camille's 43rd birthday party. Camille further opened up saying she was 'very happy' with her new romance. She expressed, 
"I am very happy. He is just an incredible person. We met after filming, so you won't see him on the show. We have been seeing each other for about four months now. He is also a wonderful father, he has a son. I am just so happy and grateful!"
Although they seemed like a happy couple, Camille faced a lot of struggle when Dimitri turned out to be an abusive boyfriend. According to sources, Dimitri left her with bruises on her face, hands and also smashed her phone in a Houston hotel room.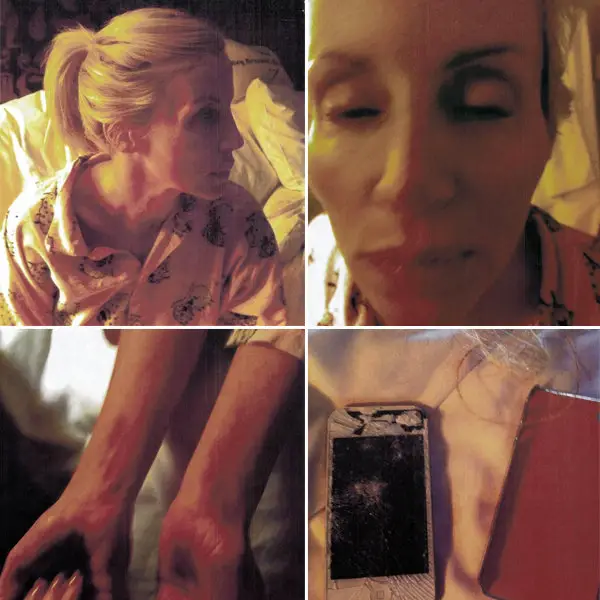 Caption: Aftermath of the abusive incident initiated by Camille's then-boyfriend Dimitri.
Photo Credit: Nydailynews.com
However, in October 2011, Camille filed a protective order against him, and after a long battle in court, she won $121,000 legal victory against domestic violence with her ex-boyfriend in March 2016.
Camille found new romance the same year with attorney David C. Meyer in Malibu. And after dating for more than a year, David got on his knees to propose Camille, on October 2017. Since then, they have remained a happily engaged couple!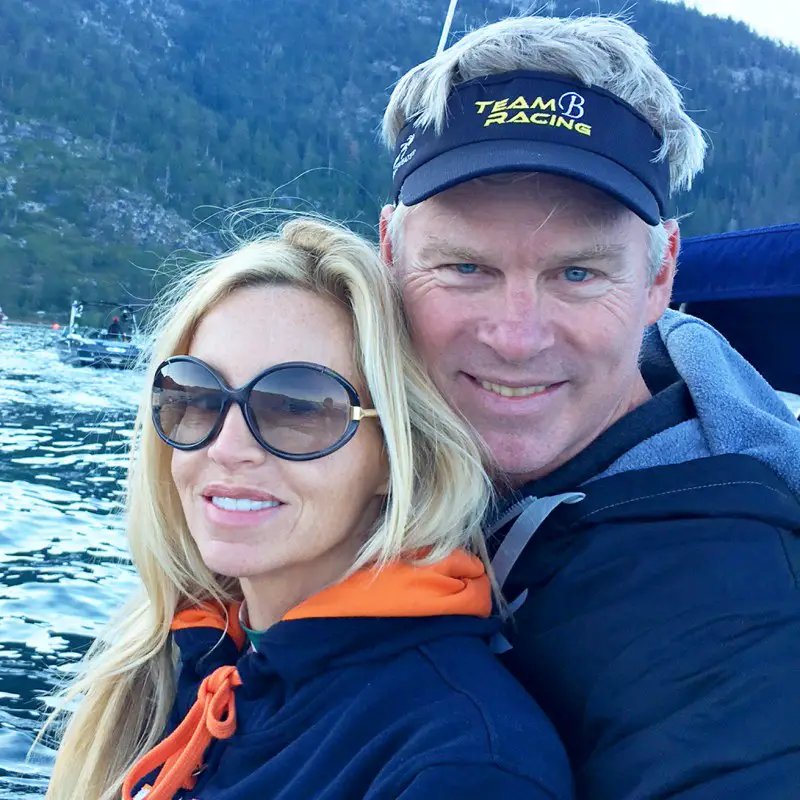 Caption: Camille Grammer and David C. Meyer, a happily engaged couple. 
Photo Credit: Usweekly.com
However, recent reports have come forth saying David is still legally married to his estranged wife, Wendy Meyer who also accused him of assaulting her as per court documents.
Additionally, the Los Angeles County documents also mentioned that David and his estranged wife were not legally divorced as of November 21, 2017. 
Camille is yet to respond on the matter, so the big question still remains as to what impact it will have on her relationship with David! 
Camille's Battle With Cancer:
Besides living through a failed marriage and abusive relationship, Camille also faced a major physical illness, cancer. Back in September 2013, she got diagnosed with stage 2 of Endometrial Cancer, and on October 11 of the same year, she underwent radical hysterectomy for the treatment. 
Talking to LifeScript, Camille revealed about the day; she found out she had cancer as,
" I was shocked and numb. That day was surreal. Cancer had always been in the back of my mind because I had the genetic mutation. But I had still always hoped I wouldn't develop it. I was alone when I got that news and just sat there in disbelief. I didn't want to cry in front of the doctor and I tried to listen to him as he told me he didn't know what stage I had. That couldn't be determined until after my surgery."
Although the diagnosis of cancer had her shocked; she was doubtful beforehand that she would catch the disease from the genes of her mother. In 2012, she opened up about her mother being diagnosed with ovarian, colon and bladder cancer as well. She gushed,
My mom was diagnosed at the age of 46 with ovarian cancer and she was in late stage two, heading into stage three, and had a tumor about the size of a small grapefruit. So they opted for the full hysterectomy and during the surgery they realized that the cancer had spread to some of the lymph nodes on her abdominal region and area, so they had to remove that. Then she went through months of chemotherapy and radiation.
But, both of them were fortunate enough to fight the terrible disease, becoming cancer survivors! But on the other hand, Camille's grandmother, unfortunately, couldn't win the fight against stomach and colon cancer!