Entertainment
Camryn Manheim's Dream Life With Son; Dating Or Getting Married Just Options
American Actress Camryn Manheim is a well-known actress in the industry for her roles in the famous TV series; The Practice; and Ghost Whisperers. 
The Caldwell native, who has undergone a substantive weight loss, is living a fit life and inspiring her son to be a better person physically and mentally. Not only is the actress helping her son towards his stardom, but she is also enjoying her acting career which is hitting newer heights every passing day. She is proud of her actor son who was born through an unconventional method.
Proud Mother Supports Son's Career
Away from her famed professional persona, Camryn is a loving mother who shares heartwarming posts on her social media depicting her love towards her son.
She Instagrammed her son a birthday message with his young-age picture on 7 March 2018 and wrote he she would always see him as a small kid with wide-eyes despite him being 6 feet and 2 inches.
In the same month, she posted a throwback image of her son sitting on her lap on her Instagram. In the post, she wrote that he would never outgrow her heart despite outgrowing her lap.  
The Newyork University MFA  graduate loves her son, Milo, and wants the best for him. She has been supporting her son in his acting career, in every way possible, whether that be getting a private acting tutor or rooting for him in his first ever Broadway appearance.
However, she has not always been just a loving mom. She hits her son with constructive criticisms to make him a better actor. She wants her son to have an accessible path to success than the one she had to pass.
How Camryn's Son Milo Was Born?
After her high school, Camryn, 57, was required to master two languages, and all she knew was English. Many others would have gone for French or Spanish, but she chose American Sign Language as her linguist alternative.
Not just that, her love for asymmetry led her ears pierced so that she could dangle earrings. She got herself 12 holes in one ear and only a one on the other. 
Her fondness was not just confined to earrings though; she always wanted to have a child before she reached her forty. And Camryn's devotion to her career meant that she never found time for a serious relationship.
Finding a right partner to get married was probably the last thing on her mind. With time running out, the famous actress decided to adopt an alternative approach.  In 2000, news out of the blue came that the actress was pregnant and expecting her first child at the age of 39, a year ahead of her self-imposed deadline.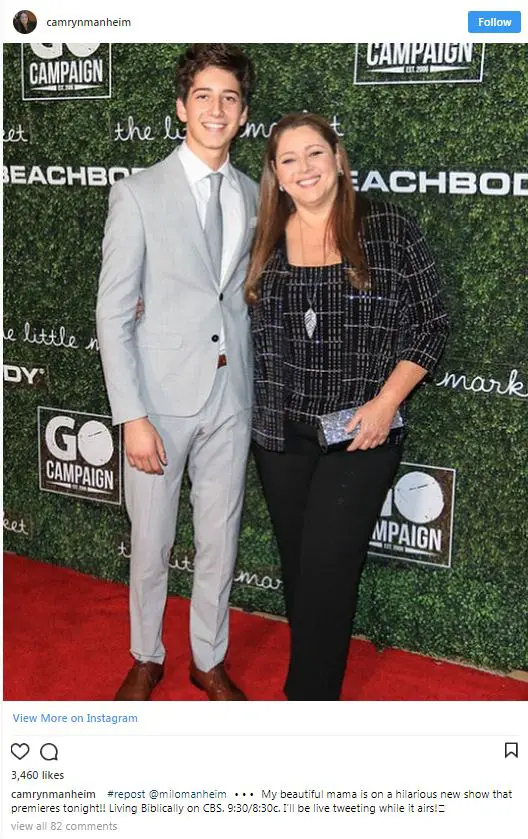 Camryn Manheim poses with son Milo during launch of TV show Living Biblically in 2018 (Photo: Camryn Manheim's Instagram)
Her son, Milo Manheim, was born on 6 March 2001 just two days after her 40th birthday. Milo's biological father was non-other than her friend Jeffrey Brezovar, a gay model. Her love for asymmetry had extended to her child's birth; she had chosen to get pregnant through a sperm donation.
Did Camryn Manheim Undergo Weight Loss?
Despite being successful both professionally and in her personal life, she has not always earned adulations for her choices in real life. Her remarks about not going through an orchestrated weight loss regime and loving yourself drew the actress flak in various quarters.
The actress always had been a plus size woman. However, she underwent loss of 80 pounds after her graduation in the hope of landing innocent girl next door characters in the film industry. Later, she quickly regained weight and aspired for roles that depicted her as herself, not as a slim fit lady tailor-made for Hollywood. 
Her decision to stay true to herself led her to portray Ellenor Frutt, an oversized attorney in the ABC legal drama The Practice in 1997. The role won her reputed awards such as Golden Globes and Emmy.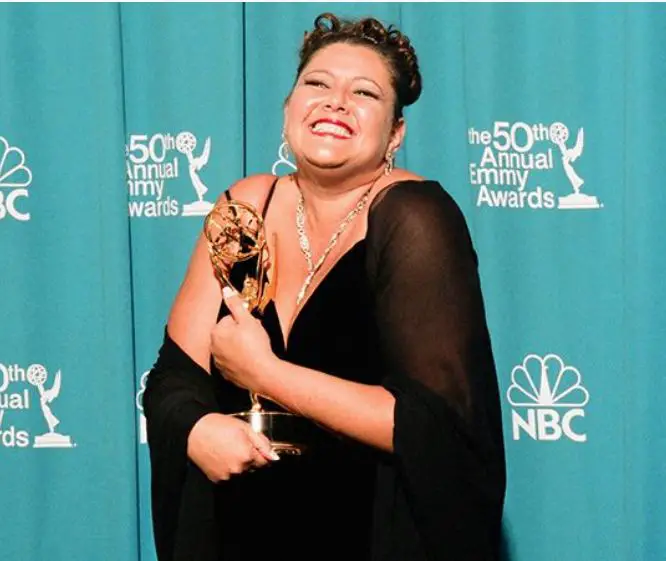 Camryn Manheim poses to the camera after winning the Emmys in 1998 (Photo: Nbc.com)
In her book Wake Up, I am Fat in1999, she had spoken of the great pride she had in her body and said that she would never be found getting on a bike or taking medication in the pursuit of weight loss. A year earlier, she had even dedicated her Emmy, which she won for outstanding supporting actress in a primetime drama, to "all the fat girls."
Contrary to her beliefs, the actress was accused of undergoing a weight loss surgery in 2007 after she was spotted sporting leaner look. In her defense, the actress rubbished the reports that she had undergone a weight loss surgery but admitted that she had been taking healthy foods and bike thrills to lead her son to live a healthy lifestyle. PEOPLE quoted the actress as saying:
"We ride bikes, play a lot of sports. [He] has become my exercise. It was really a change in lifestyle, wanting to have healthy food in the house so my son learned how to eat well. It was a decision I made to give my son a better head start than I had. I can go into Old Navy and buy things. I'm still a major proponent of accepting yourself as you are."
The Ghost Whisperer actress did not like symmetry from her early days, and that is evident by the choices she has made in her life. As of 2018, she has remained mum about her relationship status.