Entertainment
Candice DeLong, 67, Married And Separated! Personal Life Status Now
Candice Delong had a successful career working for the FBI as a criminal profiler, where she served for nearly two decades. Candice who is often considered as real-life Clarice Starling from the movie Silence of the Lambs has worked on some high profile cases throughout her career. 
However, being a law enforcement officers has it's own setbacks, as it is likely for the people in this profession to face difficulty in maintaining personal relationships since they may have to work at odd hours and are around criminals most of the time.
But was that the reason behind Candice's failed married life? You are about to find out!
Candice's Personal Life: Married Woman With Law Graduate Son
Candice, who worked as a psychiatric nurse at Northwestern University Hospital in Chicago, Illinois before joining the FBI, is raising a child as a single mother after divorcing her husband whose identity is still under wraps.
Though the details of both her marriage and divorce remain confined, Candice often talks about her son Seth who is a law school graduate. Candice, 67 has even expressed, of Seth having troubles after watching Deadly Women.
A tweet from Discovery ID showed Candice talking about her son,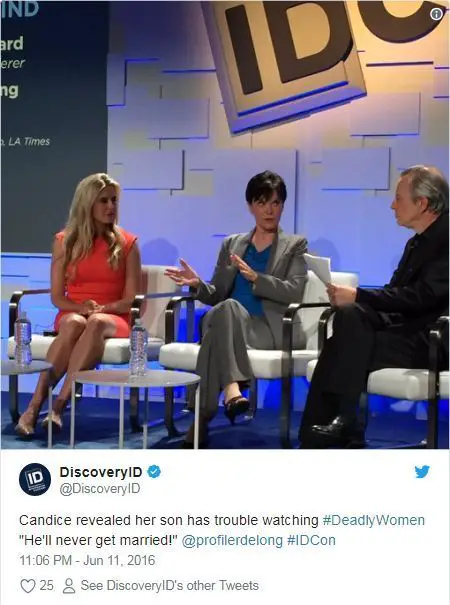 Candice talks about son Seth (Photo: Discovery ID's twitter)
Furthermore, Candice doesn't have much history of dating, as she was busy focussing on her professional career and taking care of her son.
While raising her kid, she taught him some defense mechanisms including locking the windows and doors when no one was home except Seth. The father of her son protested her methods claiming that Candice was trying to promote fearfulness and paranoia in their child. But, she argued that it was common sense as many convicts tried to invade homes without any adult supervision.
 "His father accused me of promoting 'fearfulness' but it's basic common sense. You'd be amazed how many assailants simply waltz into unsecured homes."
Candice, who has worked in child kidnapping cases, also taught her son some extra techniques to escape from any ongoing abduction. For instance, she told Seth to shout "Fire" instead of "Help" as the former term attracts more attention than the latter one and to make eye contacts with individuals rather than whole crowds.
After Candice split up with her baby's father, she didn't involve in any longterm relationship; however, she revealed of receiving a marriage proposal from a co-worker after her divorce. While Candice was working in the San Francisco field office in late 1990's, she was tasked with surveilling the cabin of the infamous Unabomber, Theodore Kaczynski along with a fellow agent, who had apparently fallen in love with her and wanted Delong to marry him. Although she considered it initially, it didn't work out later.
Later in 2001, she came forth admitting that her latest boyfriend then was also an FBI agent. However, nothing more about their relationship later surfaced in the media. 
Meanwhile, the current relationship status of Candice remains concealed, as she hasn't been recently tagged along with a possible boyfriend, neither has she talked about her love life in the social media or interviews. In addition, Candice is a fan of drag queens and considers them a source of entertainment in her otherwise monotonous work-life. So, this could also be a reason she is not dating.
More About Candice Delong
Candice was born on 16 July 1950 in the USA. Candice is the daughter of a building contractor father, and her mother is a homemaker. After working as a psychiatric nurse, Candice went to Quantico, Virginia in 1980 to attend the FBI training academy, where she was one of only seven female recruits. Candice worked in the FBI's Chicago office after graduating from Quantico.
After her retirement in 2000, she went on to author the Amazon's best selling book "Special Agent: My Life on the Front Lines as a Woman in the FBI". Besides that, she has performed in a handful of shows, namely Killer Instinct: From the Files of Agent Candice Delong (2003), Erin Burnett Outfront (2011), From the Files of Agent Candice Delong (2003), Erin Burnett OutFront (2011) and Nancy Grace (2005). 
Candice, who appeared regularly on Deadly Women, a series based on female killers, has returned to the small screen for the 12th season of the show. Candice plays herself (an FBI criminal profiler) in the show, which started its twelfth run since 3rd September 2018.
Earlier in June 2018, Candice had posted a tweet after the shooting wrapped up announcing the release date.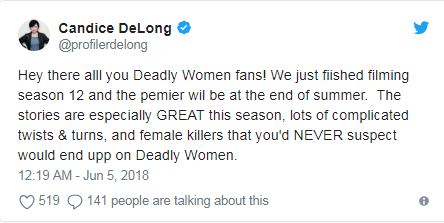 Candice announces the premiere date of Deadly Women's Season 12 (Photo: Candice DeLong's Twitter)
Candice currently also works as the hostess of KGO Radio's Crime Time and is blessed with sound health and finance, with a net worth of $3 million. 
Think we're missing something? Do let us know in the comment section below!