Entertainment
Carlos Correa Engaged To Girlfriend Is Dream Come True! Wife-To-Be Biggest Fan
Puerto Rican professional baseball shortstop Carlos Correa, who plays for the Houston Astros of Major League Baseball, is a former number one overall pick. While he previously showed why he is expected to become the next big thing at his position which he is now, he has also been blessed with love in his life.
As his ability in the baseball pitch is A-class, his off the field game is just as great as his on-pitch game. He has been romantically involved with his girlfriend, who is the epitome of gorgeous. 
Well, Carlos has been blessed with the woman he loves dearly is already taking the next step as they have already been engaged and are looking forward to tying the nuptial knot. 
Loving Romance With Girlfriend; Proposal Came Unexpectedly
Carlos Correa, who is also the winner of Rookie of the year in the American League in 2015, is romantically involved with the first former Miss Texan Teen USA, Daniella Rodriguez. 
who also won the Miss Texas USA title in 2016
Carlos and Daniella, who is also in the Miss Texas Hall Of Fame, have been dating for a while now. Even though when the couple met and fell in love with each other is still not known, their first public photo surfaced the media on 7 October 2017. 
The couple attended a Kanye West concert that held in Chicago back then. Since then, their social media is flooded with their display of love for each other. They have attended various concerts and Daniella has even attended Carlos's game being his biggest fan.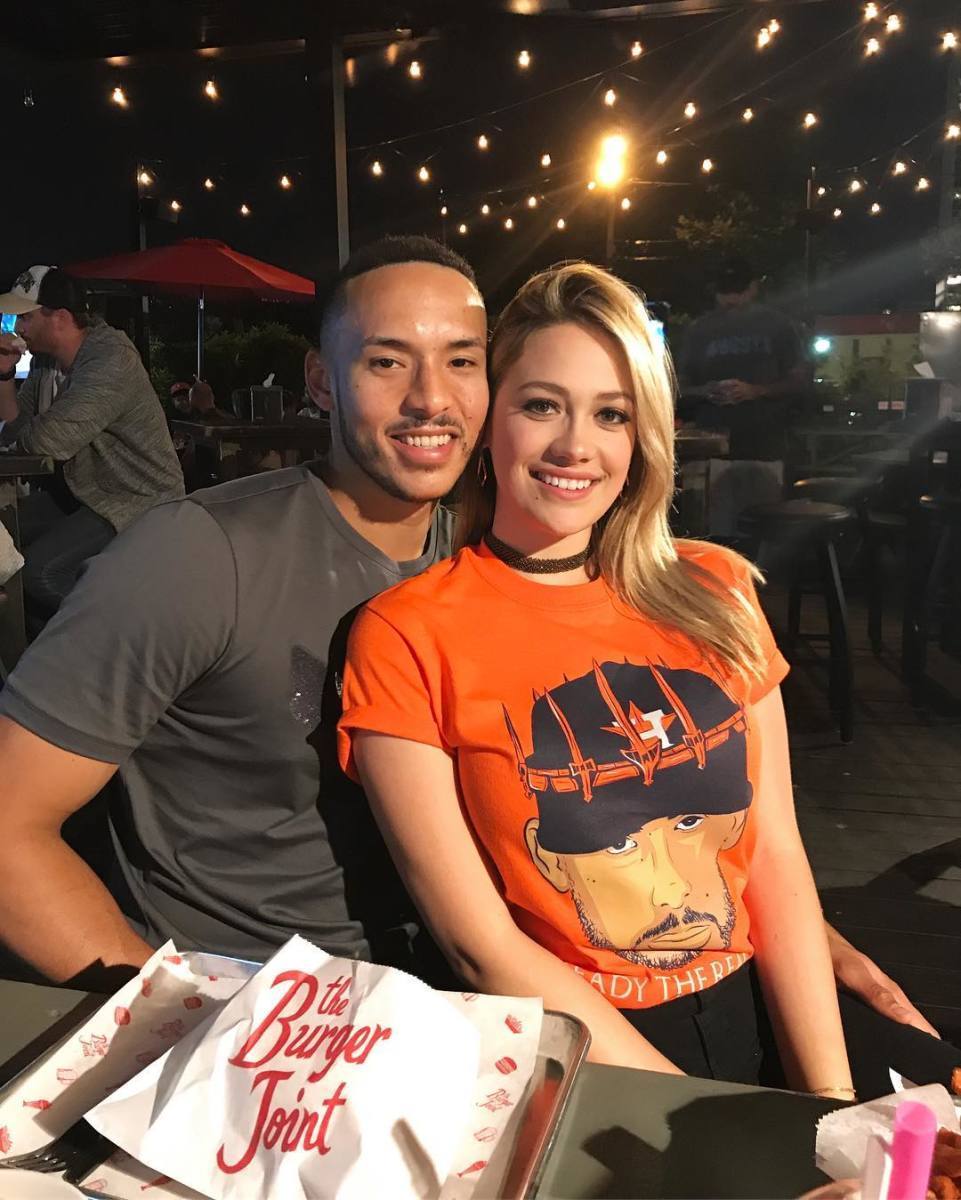 Carlos Correa with girlfriend-turned-fiance Daniella Rodriguez. (Photo: chron.com)
The pair even lives together with Carlos and Daniella share a home in Houston and have two pets - Groot and Rocket -  whom they regard to as their son. 
Well, the sure share an unbreakable bond and after more than a year of dating Carlos presented his girl with an engagement ring. Carlos got down on one knee and proposed his girlfriend on a live television moments after his team Houston earned it World Series title. 
The proposal came on 1 November 2017 after an urge from Carlo's mother. Turns out Carlos was plotting for the scheme for several weeks which even involved some of his teammates.
 Well, the proposal came as a surprise to his girlfriend Daniella who could not deny the proposal.
Wife-To-Be Caught By Surprise, Getting Married Soon?
After the proposal, Daniella came forth with the media and revealed that she was totally caught by surprise. Prior to the proposal, Carlos, who has a salary of 535,000 USD, was much focused on the game as they were playing the World Series Championship.
According to Daniella, all Carlos talked about was the game and winning the World Series and she did not even have the slightest clue of the proposal coming along her way. She said,
"He had been so focused on the game. All he ever talked about was winning the World Series, so I never really thought something like this would be on his mind, so when it all went down, I was just shocked."
However, despite their engagement, the couple has not yet taken the wedding vows. Adding to it, they haven't even set the wedding date for the ceremony but the couple was offered with a free wedding if they were willing to have it at Sans Souci Ballroom in Tomball.
Few weeks after their engagement the duo was spotted at David Yurman in the Galleria where seemed like they were picking out their wedding bands.
However, the pair has not had their big day yet even though it seemed like they were preparing to have one right after the engagement.