Entertainment
Carly Pope Dating? Actress Who Tried To Start Boyfriend Rumors
Canadian actress Carly Pope is known for her diverse movie and television roles that she has been portraying since 1996. With over two decades of her contribution to the film industry, Carly has apparently earned massive fan following.
However, apart from that, Carly once gained significant limelight for her act of trying to start a dating rumor. Well, while many celebrities try dodging such rumors, Carly opted otherwise, which in return had her followers curious to know her actual relationship status.
Well, if you are here for getting to know about the same, tag along!
Sneak Peek On Carly Pope's Love Life
For someone like Carly, who possesses a beautiful look, followed by a mesmerizing smile and incredible acting skills, she should be no short of people wanting to date her. Well, she indeed dated few men in the past and was linked with few others.
But, in 2016, she created the rumors of her dating status with an American actor Jesse Bradford. Through a tweet, Carly stated that she did her best to start rumors and convince everyone including Jesse Bradford that they were dating. Well, her intention behind doing that wasn't made clear, but she might have tried to hint that she was single!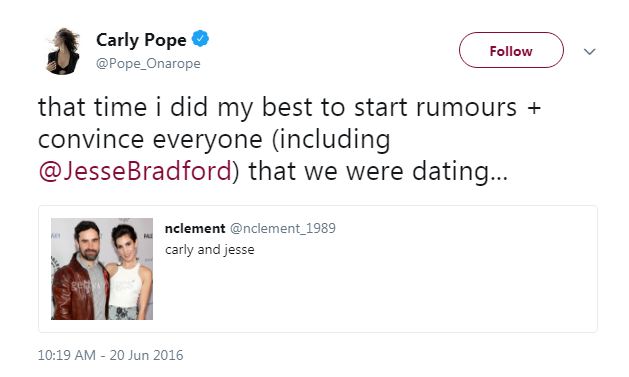 Carly Pope tweet on dating rumors (Photo: Carly Pope's twitter)
Meanwhile, apart from the tattle, some sources have noted that the actress was in a romantic relationship for a year with the Canadian actor, Brendan Fehr from 2002-2003. Similarly, reports had it that; back in 2005, she dated American actor, Patrick John Flueger but after their three years of being in a relationship, they parted their ways in 2008. 
Also, she had once confessed that she has a crush on talk-show host Conan O'Brien.
However, as of now, neither there are any rumors, nor there is any evidence of her dating life since Carly has not revealed anything on the matter. Well, she could be dating someone away from the limelight or could even be married already veiling the details from the media. But since Carly is yet to shed lights on her love life, we should wait for it to happen. 
Carly Pope's Career Glimpse
The Canadian born actress made her Amercian Screen debut in 1998 with the movie, I've Been Waiting For You.
The only sister of two brothers, Carly traveled to Hollywood after six months of her graduation from Lord Byng High School and immediately starred in the 1990's WB's series, Popular. Aside from her role as "Sam McPherson" in Popular, her noticeable role includes "Molly White" in Trapped in a Purple Haze.
Moreover, Carly doesn't miss out on opportunities where she gets to learn further regarding her profession. In an interview with TV insider, Carly who portrayed the role of an architect, Tara in the series, Suits, stated that she watches the show and learn from her co-actors.
"You have to watch where it all goes. I've met some incredible people on this season so it'll be fun to watch. Between Malcolm-Jamal Warner and having Alan Rosenberg come through and Erik Palladino and Paul Schulze, there's just so many people to watch and learn from this year." 
Meanwhile, Carly has also worked in some films including Snow Day, Orange Country, Everyone, Eighteen, Beneath, Elysium among many others.
Also, for her tremendous hard work and performance, Carly who has a net worth of $2 million, was nominated for the Teen Choice Awards back in 2000 for the TV series, Popular. Similarly, she has won the Leo Awards for, The Collector in 2004 and Sandra Gets Dumped in 2006.