Entertainment
Carol McGiffin And Her Fight With Cancer; Soon-To-Be Husband Helped To Overcome The Illness?
English broadcaster of radio and television Carol McGiffin has been courageously fighting with fatal disease cancer for years. Now, it seems that she has finally recovered from rigorous treatment regime. In the way to eradicate cancer, who has been on her side? Is that her soon-to-be husband or there is another character involved. Let's dig the fact on that topic in our story.
Soldier throughout her battle with cancer!
The former Loose Women panelist is rejoicing eight years of relation with her long time fiancé Mark Cassidy. The pair first met in 2007 and started dating. A year after dating, Carol McGriffin and Mark Cassidy got engaged in 2008.
Caption: Carol talked about her engagement with her toy-boy Mark Cassidy, published on Jun 1, 2009.
Undoubtedly, the love birds were sharing a happy relationship and were planning their wedding for 2016, but there comes a high point in relation when Carol got diagnosed with an aggressive grade 3 tumor on her left breast in April 2014.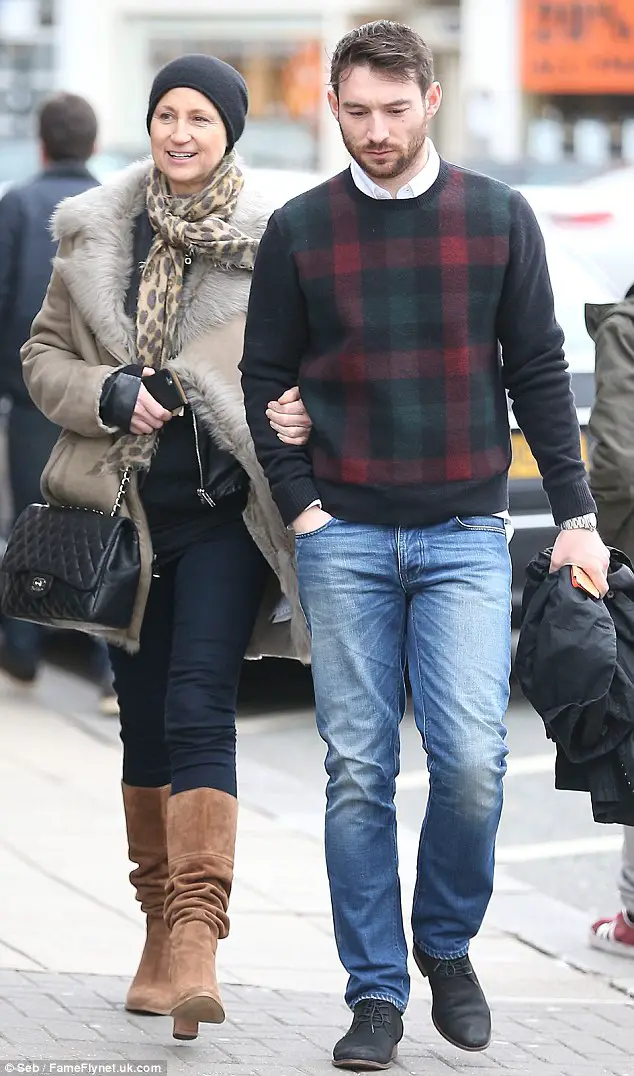 Caption: After getting cured of Cancer in December 2015, Carol enjoys romantic dinner with her soon-to-be husband, Mark.
Photo Credit: dailmail.co.uk
She confided the news first with her fiancé. Going back to the day of diagnosis, Carol talked in an interview,
"I told Mark not to come to the hospital. But when I came out he was waiting in the reception area for me."
She continued,
"I thought he'd gone to work as ­promised. I looked at him and said, 'Yep, it is breast cancer.' We just went straight to the pub and got absolutely plastered."
Known for hardened character and candid opinions on the daytime panel show, showed her courageous and brave nature during her battle with cancer. She proclaimed,
"But there weren't any tears. Cancer is not the death sentence it used to be, if it's caught early because there is loads of good research. You just have to get on with what life throws at you."
During her hard times, the person who walked just beside her was her longtime fiancé Mark. Mark has been incredibly supportive, loving and caring during the battle. On that very topic, she said,
"The cancer has not fazed him at all. Mark is very matter of fact and said, 'It is what it is and we will deal with this. He has been unbelievable really. I've got a right good 'un there."
For the cure of Cancer, Carol has endured a mastectomy, six rounds of ­ grueling chemotherapy and 15 sessions of radiotherapy.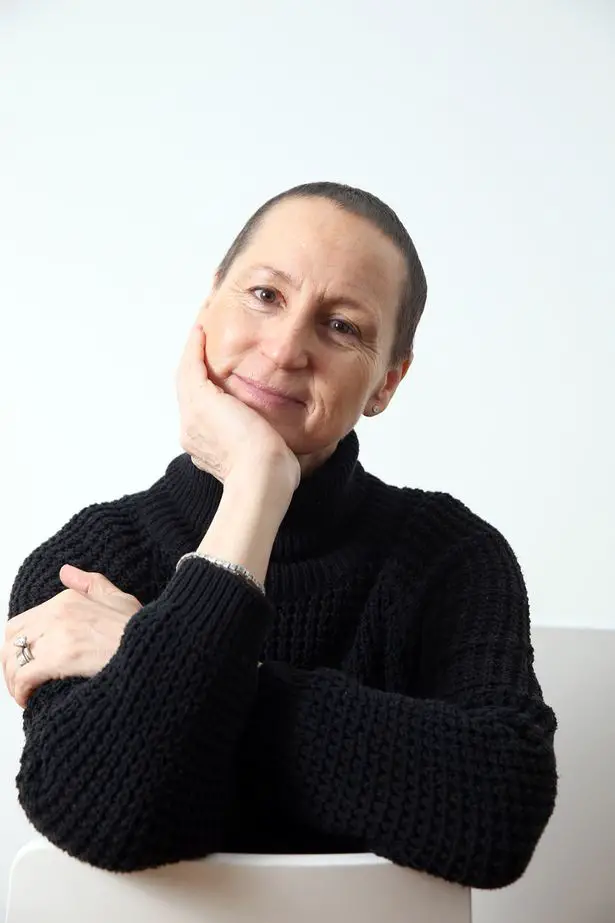 Caption: Carol, after she lost her hair due to chemotherapy which she went for the cure of cancer (2015).
Photo Credit: mirror.co.uk
While in an interview, she revealed the hardest part from all of these was losing her hair and eyebrows. She shared,
"Mark constantly told me it didn't matter, I was still me but it didn't really sink in,"
Further, she added,
"He also made sure I knew how much he loved me and that he still fancied me. But deep down I didn't believe him. But he did and although I loved him before, I love him even more for that now,' she said. 'Over the past year he has been there at my side for every moment, good and bad, from the very beginning."
Appreciate that totally. We have to say; Mark has been incredibly good who has always walked beside his woman.
Thanks all for such lovely messages, I'm knocked out by the response to my news. But hopefully I'm ok now. Fingers crossed eh? x

— Carol McGiffin (@McGiff) February 15, 2015
As of now, Carol has triumphantly beaten the disease and is getting back to her normal life.
Carol is best known as a regular panelist on the TV daytime talk show has also been the part of in Channel 5 reality show Celebrity Big Brother in 2013, in which she got fourth, following her departure from Loose women.
Previously, she wedded to Chris Evans in 1991.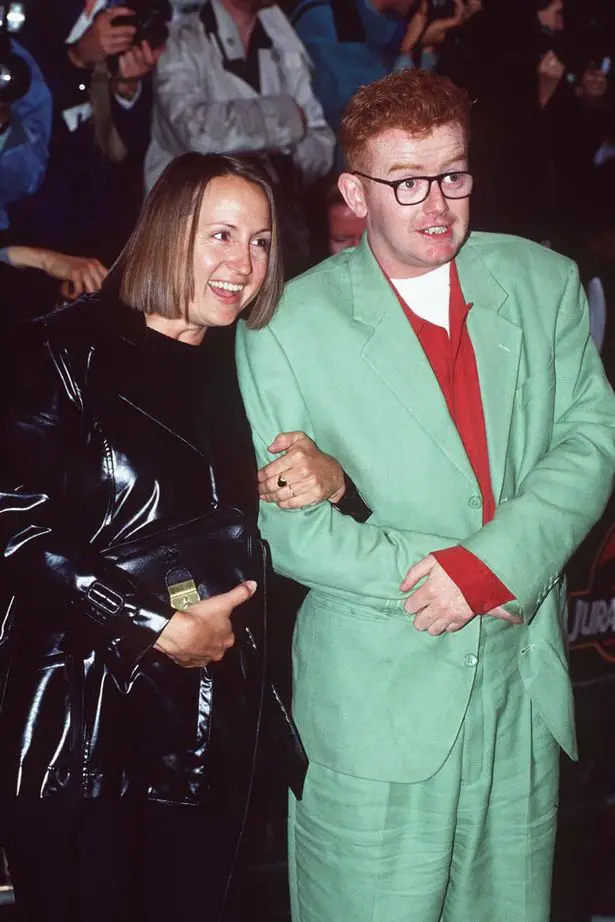 Caption: Carol and Chris together in an event on 1993, they got married in 1991 and got separated in 1998. 
Photo Credit: mirror.co.uk
The two first met in 1998 when Carol was a producer at Cable TV channel Music Box. The confidence of Chris Evans was the thing which got the attention of Carol. Their relation has been quite bumpy throughout their marriage tenure which officially ended on 1998.   
McGiffin is an avid fundraiser for Cancer Research UK since losing her mother to lung cancer in 2003.
In addition to that, Carol's younger sister Tracy lost her battle with cancer, just four months after the diagnosis in 2016. After all, these, what we can say is, cancer got into her genes due to heredity. As Carol has talked about her mother's cancer, she confirmed that in one way or other she was ready for upcoming in her life. For that she stated,
"My mum had cancer and she'd brought us up to be tough about illness. I thought, 'So what if I've got breast cancer? Thousands of women get it every year. I'll get through this."
And undoubtedly she has triumphantly come out with flying colors too. Talking about her career, her broadcasting career began in 1988 as co-host of the Chris Evans show on GLR and in 1995 became the founding member of the Talk Radio UK team.