Entertainment
Caroline Fleming: Dating Anyone After Extravagant Divorce with Husband?
Being in love is a bliss but to be able to maintain that spark throughout can be quite challenging. This can be related to the Caroline Fleming and her ex-husband Rory Fleming, who is the nephew of James Bond creator Ian Fleming. Carline and Rory is a parent to two beautiful children: Alexander and Josephine.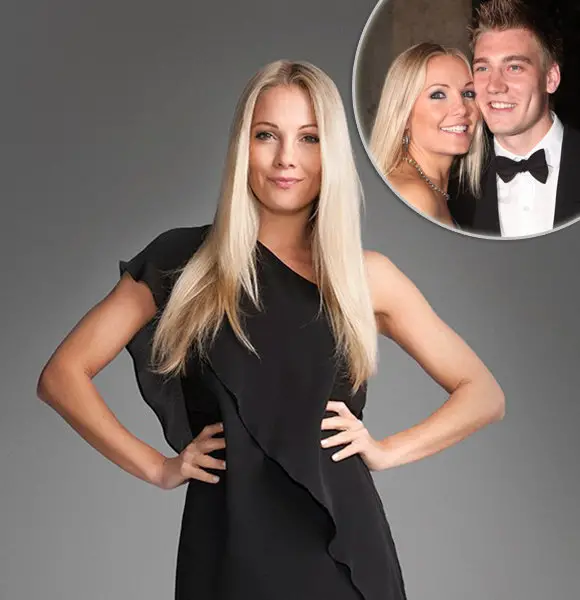 How often does one get an opportunity to grow up with the Royal title and live in a castle? Yes, very few people are fortunate enough to get that. 
Among those few is Caroline Fleming, a Danish noble entrepreneur, who has a life of a fairytale princess.
The Danish Royal has much more in her life than just the castles and jewels, as she has been in the spotlight for her high-profile personal and professional life incidents.
Without any further delay, let's find out about the Royal Caroline Fleming.
Caroline Fleming's Dating Affairs:
Being in love is bliss but to be able to maintain that spark throughout can be quite challenging. No one knows this better than Caroline Fleming and her ex-husband, Rory Fleming, the nephew of James Bond creator Ian Fleming. 
Caroline and Rory are parents to two beautiful children: Alexander and Josephine.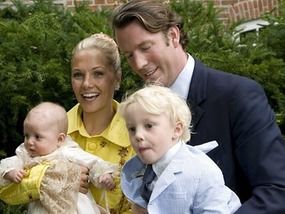 Caption: Rory and Caroline Fleming with their two children.
Photo Credit: Express.co.uk.
Just like how every relationship is put to the test, so was theirs. But the couple who became reality stars in Denmark, could not hold on to the marriage and chose to get divorced. 
The reason behind the divorce might amaze you because according to the sources,
 "Rory's attitude is that she's welcome to the money. He certainly didn't want a prolonged wrangle in court. What makes it more incredible is that it's not as if he did anything wrong and is paying a penance – Caroline simply said she was bored and wanted a change."
Because of the couple's association with the Danish Royalty and James Bond franchise, their divorce was a much talked about topic as there was a huge amount of money at stake.
Rory, whose family has a net worth of estimated  £1.05 billion, handed over more than £400 million to Caroline without merely a hint of struggle. And Caroline had to stick with the last name Fleming because she had to abandon her baroness title when she married a non-royal.
But the socialite, Caroline, who had gained immense spotlight post-divorce made it to the news after she was linked with then Arsenal striker Nicklas Bendtner. Caroline had met her then boyfriend, Nicklas, during a Danish reality show, in which she was featured for renovating her family castle, Valdemars Castle.
Bendtner was a guest on her show, and they also did a photoshoot together to promote his appearance. After her first encounter with Bendtner, she shared her thoughts about him long before the couple dated each other.
 "He is charming and bright and he's very willing to help other people.You never know when our paths will cross again."
Just two years after that the couple started dating each other. The couple got engaged back in 2010 and also announced their pregnancy.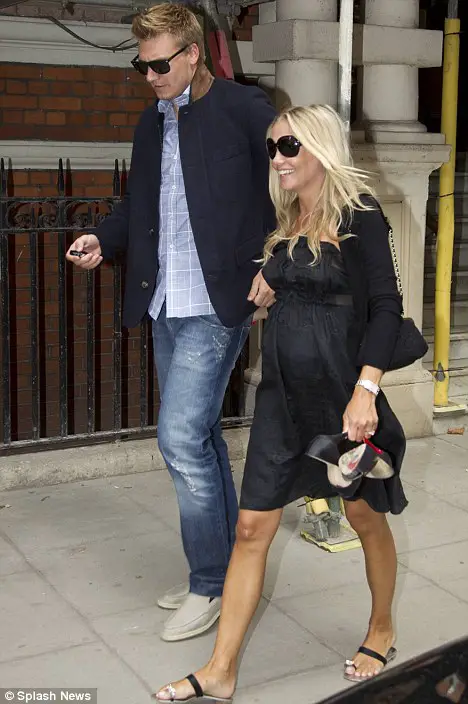 Caption: Caroline and Nicklas take a stroll around the city.
Photo Credit: Dailymail.co.uk.
 When everyone was eagerly waiting for the couple to walk down the aisle, they got split only seven weeks after giving birth to their baby and according to the sources,
'It was a whirlwind romance and they were madly in love – perhaps they did realize in the end they were poles apart in age and outlook .The birth of a child can put a strain on any relationship but there seems to have been more pressure on them both recently in the last couple of weeks.'
However, the ex-couple chose to stay in touch for the sake of their child.
Now the mother of three is busy juggling her personal and professional life.
The former host of Danmarks Næste Topmodel is now the judge of the hit reality show Ladies of London. Besides, she is also the author of two best-selling cookbooks in Danish.
One is called Baronessen Går I køkkenet which means "Baroness Going in the Kitchen", while the other is called Baronessens sunde fastfood which translates to "The Baroness's Healthy Fastfood."
The model has a net worth of $400 million and spends her lavish life in the most luxurious way possible along with her friends and family.
Caroline has always managed to land herself in the spotlight for one reason or another. However, she has not revealed anything about having a boyfriend recently and does not seem to be linked to anyone at the moment.