Entertainment
Television Personality Caroline Manzo's Husband Spanked With Third Tax Warrant!
People who hate tax put your hands up in the air. That was almost a song right there but there were many hands up in the air and we can see Caroline Manzo's husband's hand too. Well, it's no wonder why he hates taxes because if you were to be slapped with a tax warrant for the third time, you would feel the same way. Well, let's know more about them.
On May 7, 2013, the famous television personality Caroline's husband Albert Manzo came face to face with a third tax warrant of $1,624.05 and now, he owes $1,809 in total. Prior to this, the family had a lien, another name for a tax warrant, addressed to them with huge numbers of $105,983 in 2004 which they managed to pay within a year. He owes $208,012.77 in the New Jersey state taxes since 2015.
Even before this, her husband Albert was ordered to pay $13,075 for the Brownstone and also paid $6,132 to an elevator company. It already looks like the family has been getting money off their hands pretty easily but lord knows how many are there to come.
Caroline Manzo and her husband Albert Manzo married in 1984, and share three children together, son Albert Manzo, daughter Lauren Michelle and another son Christopher Thomas.The couple has now been married for about two decades and there have been times when there was news about her husband cheating on her.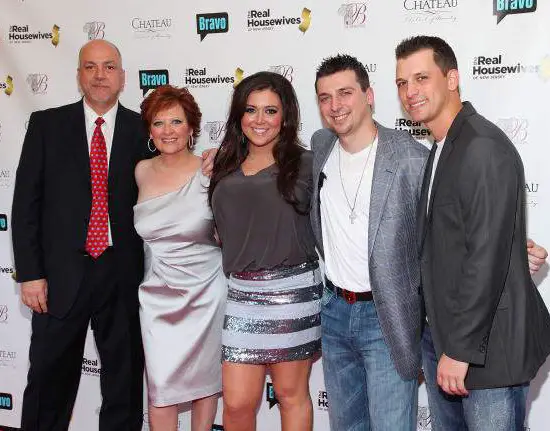 Caption: Caroline Manzo and Albert Manzo with their three children during an event of RHONJ (2010).
Photo Credit: heavy.com
Her husband Albert was accused of allegedly cheating on Caroline with Jillian, Albert's longtime mistress. In that matter, she said,
"I'm 52. He's 53. For me to think for a moment that he has been completely faithful for 32 years, I think that's a foolish way to think."
In an interview with In Touch, she said,
"If Al cheated on me 25 years ago, one night, that was then and this is now,"  "No one on this planet could say with 100 percent certainty that their partner never cheated. I have no indication that he has, but if it didn't happen yesterday, last week, a month ago, I'm not worried about it."
She continues,
"If your husband is a good guy and a provider and you have a tremendous connection, you can't throw your marriage away over a one-night stand. My husband is my best friend. Marriage is worth the fight. I would go to hell and back for him and he would do the same."
As happy as she seems to be with the family life, there are some other glitches going on. She has, as what people call it, a feud with her sibling Dina Manzo who is married to Caroline's husband Albert's Brother Tommy Manzo.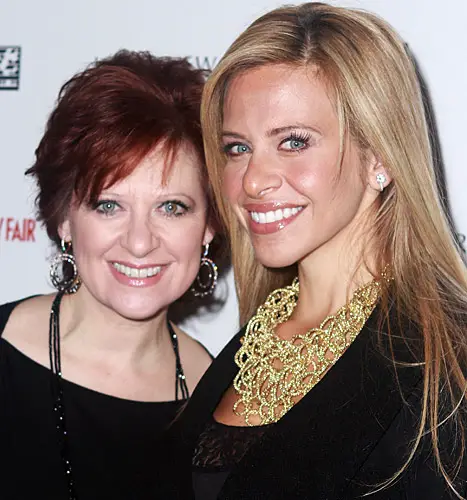 Caption: Caroline Manzo with her estranged sister Dina Manzo.
Photo Credit: allthingsrh.com
The siblings were believed to have a well-balanced relationship but after the Season 2 of Real Housewives of New Jersey, they both became estranged from each other. Caroline said,
"Well, unfortunately, we don't have a relationship anymore, so it doesn't really affect me"
However, the reason is not yet explicitly discussed as Caroline is much of a 'sushhhh' type of person when it comes to revealing about her personal life.
She has also not revealed her net worth till now but is currently living in a house in Franklin Lakes, New Jersey. The people who reside there normally have an annual income of $150,000 which gives a pretty rough idea of her income.
Despite the news of her husband having an extra-marital affair and receiving tax warrants frequently, the couples have not contemplated on getting a divorce and don't actually seems to do so anytime soon.