Entertainment
Carter Oosterhouse's Beautiful Wedding With Wife Amy: Romantic Holiday in Italy, Children?
The most blessed moment for any lovebirds must be when they finally tie themselves in a marital relation. From then, they can share every small and big moment together. Similar to this here we have a lovely couple who got married some years ago and now living the bliss of married life.
Wedding, Married Life, and Wife:
An American television personality, Carter Oosterhouse married Amy Smart, an American actress, and former fashion model, on September 10, 2011. The ceremony was conducted in Traverse City, MI where Carter grew up, and Amy coincidentally lived. The gorgeous bride was dressed in a Carolina Herrera along with her Ann Taylor-clad bridesmaids.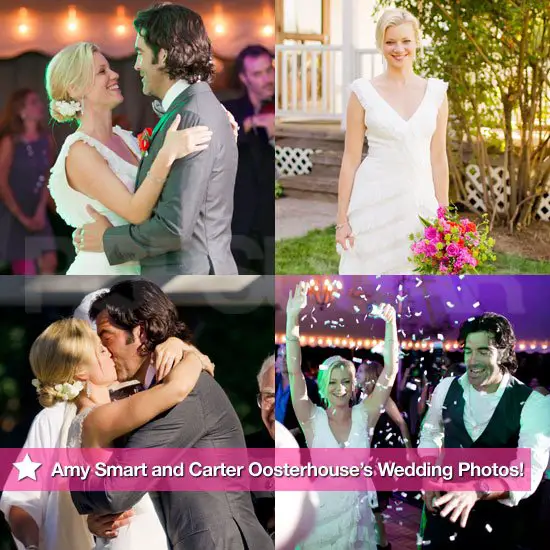 Caption: Carter Oosterhouse and Amy Smart's wedding at Traverse City, MI in 2011.
Source: popsugar.com
After the wedding was over, the couple shared their experience releasing a statement on popsugar.com in 2011 they said,
"We feel so excited and blessed to celebrate this happy day with our family and friends."
Carter Oosterhouse was a complete stranger to Amy before they met first. Amy confessed with the dailymail.com that since she did not watch many movies, she did not know him unless they met. And it was their love for the environment which brought them together for the first time.
Then, the couple shared a friend relation first and later stayed in an affair. Amy shared about their relation before the marriage in an interview with people in October 2011. She said.
"We got assigned to adopt a school garden together. We met, and we were both in relationships, so we just remained friends. And then we both got out of relationships around the same time, a year ago this summer. And then a year later we got married.'
Carter's Romantic Holiday With Wife:
The lovely couple, Carter Oosterhouse and Amy Smart was spotted having a pleasant time in the streets of Rome in May 2016. They were seen in casual wear with stunning bouquets of flowers in Amy's hand. The couple was also seen sharing a lovely kiss in the street during the romantic holiday.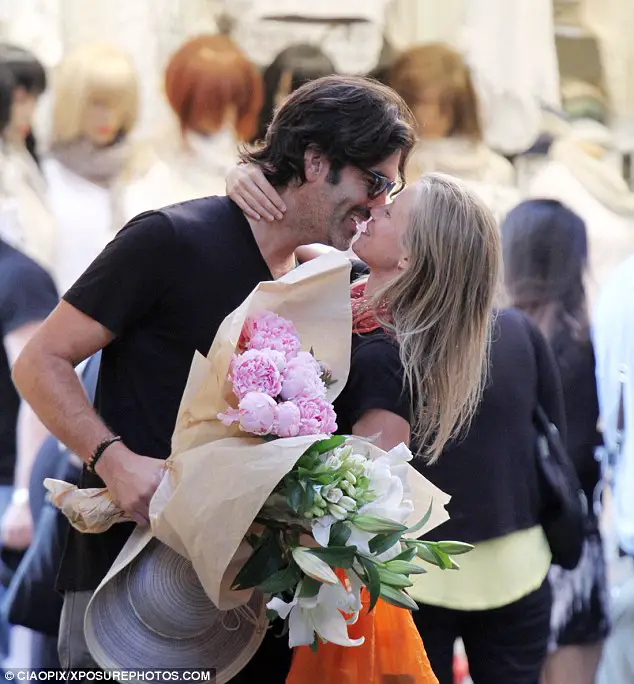 Caption: Carter Oosterhouse and wife, Amy Smart spotted canoodling in the street of Rome in 2016.
Source: dailymail.co.uk
The Duo Loves Doing Charity:
Carter and his girlfriend turned wife; Amy owns a non-profit organization Carter's kids that aims to encourage the teens and children to step out of the house building and developing community parks and playgrounds in their neighborhoods.
The couple is trying to promote awareness of fitness and self-esteem for American Youth. The organization has already established 50 play spaces across the USA.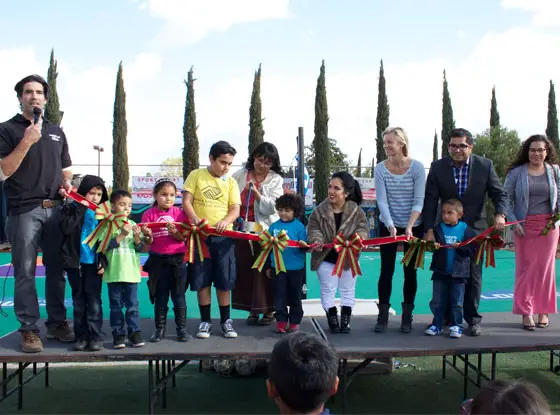 Caption: Carter Oosterhouse with the children of Caster's kids in 2015.
Source: eonline.com
Carter's Short Bio:
Born on September 19, 1976, Carter Oosterhouse is a television personality and model. He became popular first as a carpenter on the TLC series Trading Spaces then; he conducted other home improvement and how to TV programs. He also hosted other programs like Carter Can, Red Hot & Green, and Million Dollar Room.
He earned a bachelor degree in nutrition and communication from Central Michigan University.
According to his wiki page, he was also named as "Sexiest man on TV" and "Sexiest Man Alive" by people magazine. His television programs and modeling contracts have contributed in the dazzling net worth of $2 million.
He has recently appeared in some TV series namely "Home & Family, Hollywood Today Live," "Rachael Ray"( since 2009), "FabLife" and "Home Grown Makeover with Frederique and Carter"(also produced).