Entertainment
Actor Casey Simpson Making Parents Proud At Surprisingly Young Age! He's A Gem
American actor Casey Simpson is a child superstar, who has rocked the Musical.ly world by his hilarious videos.
Young age was never a barrier for Casey for he made his hands dirty in the entertainment world early! For his early success, he enjoys not only the fame and name but also the feeling of the proud son to his parents.
Well, it's a different story whether his stardom also helps Casey find a dating partner.
Wanna get familiar with Casey on a personal level? Follow us in!
Star Since Three!
The Los Angeles native may have come to major limelight for his latest projects and videos but he was in the entertainment world since the age of three.
At the age of three, Casey starred in Frank TV's comedy skit titled 'Santa' following numerous commercials. Later, in 2011 he landed his first major break through the movie Five, which established him as an actor.
Later, he also voice dubbed one of the characters in the movie, Despicable Me 2 in 2013 before getting starred as Ricky Harper in Nickelodeon TV series 'Nicky, Ricky, Dicky & Dawn' in 2014. Casey's role, Ricky pushed his fame to a new height.
Later, his fame got fortified after making various appearances like ABC's 'The Goldbergs.' In 2017, he also starred in the movie Escape from Mr. Lemoncello's Library.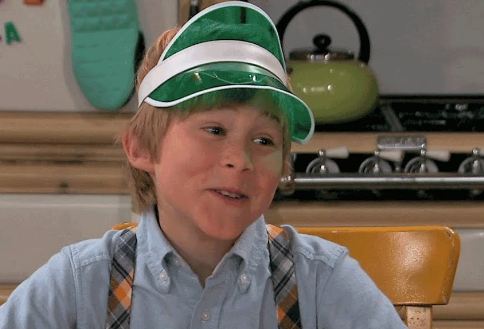 Casey Simpson as Ricky Harper in Nickelodeon TV series 'Nicky, Ricky, Dicky & Dawn' back in 2014 (Photo: YouTube)
Later around in 2015, Casey turned to social media entertainment after he opened own Musical.ly account and started posting funny contents. With his consistent and qualitative videos, Casey succeeded to earn more than 5 million fans and became an internet sensation in the different field too.
Debuting at the tender age, he has carved success in acting and became a child celebrity.
Already at the age of 14, Casey has achieved so much fame and fortune, that many adult people dream of. Being such a huge success example, he indeed has made his parents proud.
Loves Family
Social media is not the only place Casey places his funny content as he timely features his family and shares his affection for them. One of such instances is when he wished his mother a Happy Mother's day via Twitter on 8 May 2016.
He also Instagrammed a picture with his sister, Sabrina on the occasion of her birthday on 22 March 2018. Via the caption, Casey wished his older sister and welcomed her to her 21.
happy burfday ya oldie, welcome to ur third decade of lyf
Moreover, Casey shared a slideshow of old pictures of himself with his mom in Instagram on May 2018, and captioned the picture as,
HAPPY MOTHERS DAY MOMMMMMMMMMMMM❤️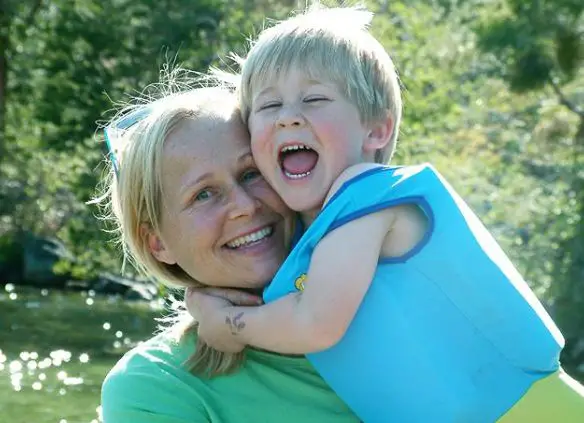 Little Casey Simpson hugs his mother in excitement (Photo: Casey Simpson's Instagram)
Although the active social media personality often flaunts his relationship with his mother and sister, surprisingly he has not done so, for his father. He has left his relationship with father a rest as he hardly mentions father in his social media posts.
Dating Anyone?
As for dating, Casey's social media lacks the presence of any girl that can be speculated as his girlfriend. It would not be surprising as the actor is too young in age.
But that doesn't keep Casey away from searching a perfect girlfriend for himself. Back in May 2017, he tweeted stating that he needs a girlfriend.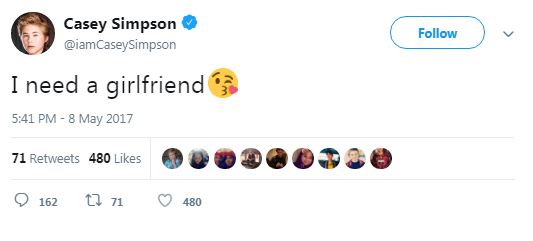 Casey Simpson announces the need of a girlfriend via Twitter in 2017 (Photo: Casey Simpson's Twitter)
Also, he made a collaboration with the GEM Sisters to produce a hilarious content in regards to girlfriend and dating. The funny video, where Casey auditioned girls to be his girlfriend was published in YouTube on 11 September 2017.
While Casey is busy focusing on his career and his stardom, it appears as he doesn't have time to get tangled in love relationships. Hopefully, he will share information regarding his love life as soon as he gets tangled in one.