Entertainment
Casper Smart After Accused Of Being A Gay Has Recently Called It Quits With His Singer Girlfriend; A Rumor Turned True?
If you are in the entertainment industry and you are single, then there is a high probability of being accused as gay. But talking about the American dancer Casper Smart, despite his relationship, there is speculation of being him gay. In our story today, let's discover more about his preference.
If you are in the entertainment industry and you are single, then there is a high probability of being accused as gay. However, being in a relationship as well doesn't eternally defends the rumors as the American dancer Casper Smart, despite having an affair, there is speculation of him being gay. 
In our story today, let's discover whether the accusation has any ground to stand or not, as we all know his high profile relation with Jennifer Lopez.
Fluctuating Relationship Along With Gay Rumors!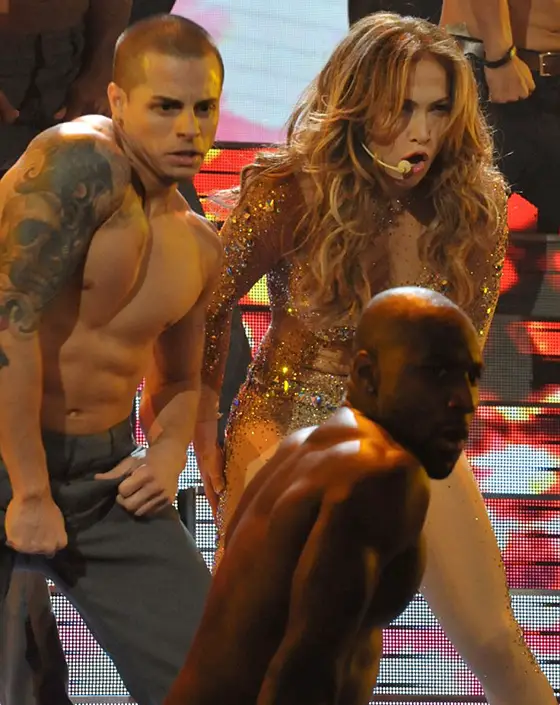 Caption: Casper and Jennifer performing on American Music Awards 2011.
Photo Credit: dailymail.co.uk
Casper Smart got into the limelight in the industry as the boy toy of hit American singer and dancer girlfriend Jennifer Lopez. The two started dating in late 2011 after Caper performed alongside JLo.

In March of 2012, Casper had a little chat over Jennifer Lopez in which he revealed that his relationship with JLo was not very much public. Despite the 47 years old's fierce fame and stardom, both of them managed to keep their relationship out of the radar and were rarely seen together out in public. While talking about JLo and his relationship with her, Casper
in his statement
to People said;
"She's sweet, funny, nice, easygoing and gracious- You can't ask for anything more. She's beautiful."
He further continued,
"We don't really go out very much,-We both don't drink, we don't do any drugs, smoking, pills or any of the craziness. We don't get wrapped up in the Hollywood life that can chew you up and spit you out. I've seen it happen a million times."
Caption: Casper Smart talking about Jennifer Lopez supporting nature on the premier of his new movie The Perfect Match on 2016.
While the love between Casper and JLo started getting visible, rumors about Casper sharing a gay sexual preference started surfacing the media. 
In the year 2012, Joshua Lee Ayers who is a former pal of Casper accused him of being an opportunist for everything that could get him to the spotlight. However, the gay accusation first came from Joshua in 2012, when Joshua wrote,
"Check out Ur boy… And his low key **** ways.'
However, it is not strange for Lee to accuse Casper of being gay because once anybody sees Casper in sparkling golden undies, it is obvious for to assume that Casper has a gay side in his personality.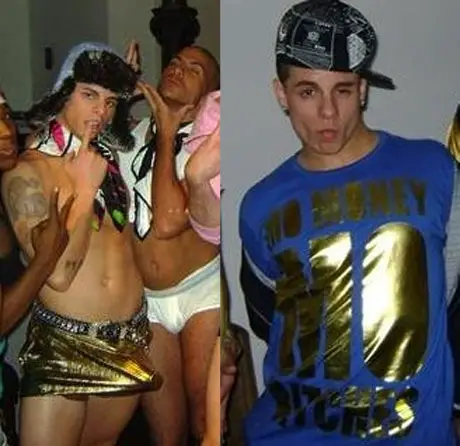 Caption: The picture that awarded Casper with the gay title.
Photo Credit: x17online.com
Later Mark Young, the couple's representative cleared the rumors to be an act of defamation caused by jealousy. Mark said,
"Casper is not gay. These comments are born from envy and jealousy,It must be a slow news day."
In May of 2014, Joshua again came front and revealed about Casper's intimacy with a Transexual model named Sofia Vissa, and that Casper is just using JLo for fame in his statement he said; 
"I don't put nothing past the kid. He's an opportunist. It's all gonna come out eventually,"
For the gay accusation, Joshua took the support of Casper's resume,
"Half of his resume, he worked for gay choreographers and dancers. He flirts with them to book work and add it to his resume. It's really just him going that extra mile to be in the limelight,"
he added;
"He's gay for opportunity, gay for the spotlight, whatever gets him in front of the camera. He'll do it."
Despite the couple did not talk publicly about the scandal related to his trans-sex and the accusation of being gay, there were disputes that kind of shook their relationship. 
However, after an edgy meeting at the dance rehearsal with JLo's publicist in which Casper vehemently denied all the accusations, the couple were good to go again but still Ayers stood up to his accusations and said,
"Casper Smart has a lot of haters who know him and he's trying to prove them wrong by becoming famous."
A sudden halt to dating: 
Just when the gay rumors and accusation started fading, Casper and his singer girlfriend again made the headlines after splitting in 2016. The split followed after Casper crossed word of JLo to join her in a charity event in The Hamptons. 
Despite JLo telling Casper about the importance of the benefit, Casper went to Las Vegas to watch the UFC fight between Conor McGergor and Nate Diaz where he was joined by singer Kanye West and announcer Bruce Buffer.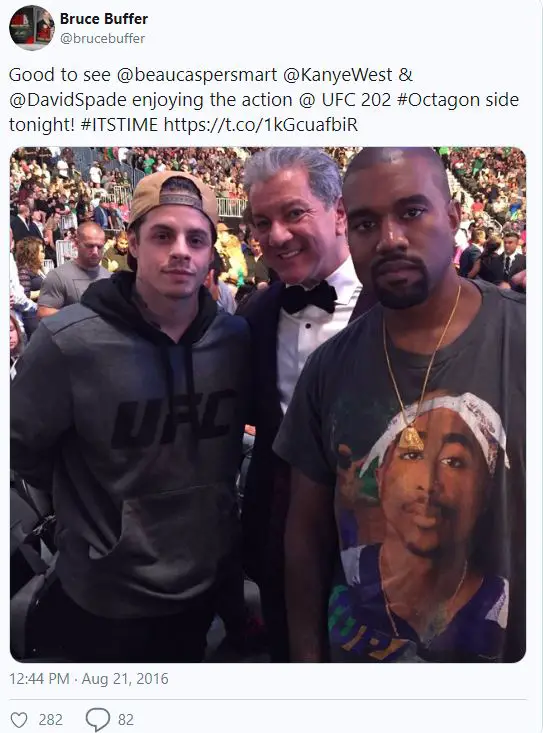 Contradicting update to the split:
Months after the amicable split of Casper and his singer girlfriend, a separate reason for the split caught media's attention after a source had a talk with People.
Caption: Jennifer Lopez split with Casper Smart because of his cheating reveals the source on October 17, 2016.
The source revealed that JLo and Casper split because of Casper's infidelity issues which forced JLo to kick him out of her life. The source said, 
"The truth is, he was cheating and now that it's over he's been begging to come back."
The source further continued with the revelation, 
"She kicked him out because he cheated on her and he got caught. It happened two years ago, and he promised he would never do it again and once he did, she was done."
Despite Casper wanting to get back with his music sensation beau, his actions were totally sideways. The source said, 
"He says he's changed and that he is a new man but recently, on a video shoot for Wisin in Mexico, he was posting videos with bikini-clad dancers and not acting like a guy trying to remedy old habits. He was kicked to the curb not because he did not attend a party with J. Lo but because he was caught having parties of his own," says the source. "No one has time for that, especially J. Lo."
Later, a representative of Casper made it all clear that everything was 'Strictly work, nothing personal.'
An amicable end to dating?
Even if the spark of the split was caused by the denial of the invitation to The Hamptons, Casper, and JLo came to an amicable break-up where they decided to remain friends. An insider made a statement on the couples' split and said;
"It wasn't anything dramatic and they were on good terms.'It just came to a natural end.'
They will remain friends and they see each other, but they are not together. It was very amiable."
Though many questions over Casper's sexuality over the past years, there is no solid evidence that can claim that Casper is a gay man but to the dilemma, he has not cleared off the rumors. Taking Casper's activities into the account, he is possibly single at the moment whereas, on the other hand, the thrice-wedded singer Jennifer Lopez is currently dating fellow singer Drake.
According to sources, the net worth of Casper was growing during his relation with JLo working in several videos of Jennifer. But also after his split with Jennifer, his work as choreographer and dancer in several music videos, commercials and in several shows like: 'So You Think You Can Dance,' 'X-Factor' and 'The Lottery' made a sizeable figure of a net worth which is estimated to be of $1 million.