Entertainment
CBS Sports' Allie LaForce: Former Beauty Pageant, Newport Beach Wedding. Meet her Boyfriend-turned-Husband
Model cum journalist Alexandra Leigh "Allie" LaForce is a reporter as well as an anchor for CBS Sports till date. 2011 Emmy Winner for anchoring FOX 8's 'Friday Night Touchdown' high school football show, Allie also worked as a broadcast sports anchor for Cleveland, Ohio FOX's affiliate, WJW.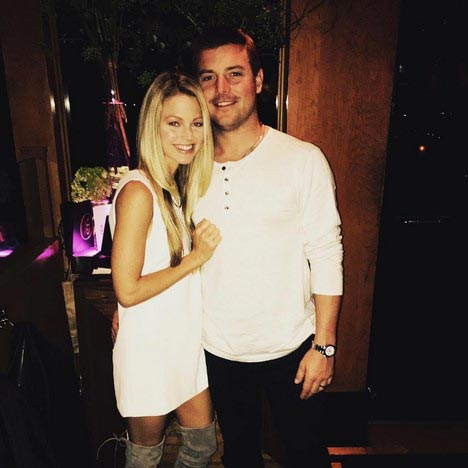 A beauty with brains, Allie Laforce, has a lot of common with the guy who is a high prolific baseball player, and she married her love of life in January of 2015.
Allie's boyfriend turned husband, Joe Smith:
Allie recently married Joe Smith, WSW most valuable athlete on January 17, 2015. Allie LaForce of CBS Sports and Los Angeles Angels pitcher Joe Smith married at University Circle United Methodist Church, and the wedding reception was held at old courth house in Cleveland, Ohio, United States of America.
With marriage comes emotional attachments' with families. Allie's mother even cried at the day of Allie's wedding. But then who doesn't love their daughters? No photographs or autographs were allowed with a couple at the ceremony because Allie said that for Joe's benefit. And rightly so as Allie's limelight was way more than that of Joe's. What love that from Allie? At least we can say Kudos, to both Joe and Allie.
Many people, as well as celebrities, had shown interest in beautiful Allie. But she admitted that after meeting Smith, she found her prince charming. Right decision? Only time will tell.There's One incident where one of UCLA celebrity, Tony Parker tried to flirt with LaForce. UCLA's Tony Parker is got to be a fan of women's jewelry. During NCAA Tournament's Sweet 16, he stopped to chat with LaForce. After going through few questions, he made his move saying "Nice bracelet" and LaForce in return saying "Thank You." Tough luck mate, LaForce is married to Joe Smith, and they are living a happy married life.
Allie's meeting with Joe
Allie played basketball during her high school days at Ohio University. There's passion for sports which drives her as well as her man who is himself a sportsman. Both of them has huge fan following and are of course celebrities. 
LaForce's athleticism along with beauty helped to make apple of an eye to now-husband, Joe Smith, a pitcher for the Angels.The couple first met in Cleveland in 2013.In 2012, she twitted a challenge that anyone could beat her in hoops. Joe tweeted her back, and the pair twitted and retweeted several times on air. (She beat him in the segment; he won in best of three.)The pair soon discovered they had a lot in mutual including that their fathers used to have a jam together at Ohio's Miami University. Allie looked into Joe's eyes and said "I Love you" and Joe looked back and said "Thanks." This implies how serious Allie was with her relationship with her then-boyfriend Joe.
In July 2013, he proposed on an Ohio beach during a cookout where both family members gathered and then celebrated in restaurants. 
"He nailed it!" she said in an interview recently.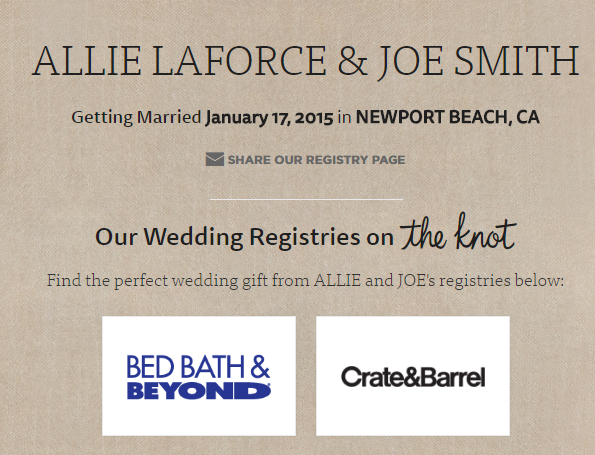 Caption : The couple's Wedding Card. Beautiful, isn't it?
Source: registry.theknot.com
More about Joe Smith:
Talking about prince charming, Joseph Michael Smith plays in Major League Baseball (MLB) as a professional baseball pitcher for Los Angeles Angels of Anaheim. This handsome hunk earns 5.25 million USD per annum. That's the best part being a top baseball player, isn't it? His net worth is than that of 76 million USD.
Smith's professional career began with Brooklyn of New York-Penn league in 2006. He was named one of top 20 prospects in the NY-Penn league by renowned Baseball America. It took him a year until Smith earned his major league win on 2007.
Apart from his professional career, there's a dark secret hunting him. In 2012, his mother was diagnosed with inherited disease 'Huntington's disease'. Nerve cells of the brain die and it worsens the condition of the patient. For a matter of fact, Smith has 50 percent chance of inheriting the condition. That's something to worry about, Mr. and Mrs. Smith fans.
In Smith's own words, he says:
My mother, Lee Smith, is 56 years old.  She was diagnosed with HD in February 2012.  Prior to Beginning in 2012, we saw symptoms of nervousness, coughing spasms, mind racing and deteriorating motor skills, making it harder for her to speak and move smoothly. Her symptoms continue to progress since her diagnosis.  This was a very difficult and sobering experience for my family, as we had watched my grandma experience similar symptoms caused by HD. My sister and I had watched our grandma suffer through the latter stages of HD and saw her lose her ability to drive, take a shower, get dressed, prepare meals. Eventually she was unable to even enjoy a simple walk on a beautiful summer day.
When my mom's test results came back, it was hard for her to accept her new reality of living with HD. She had devoted so much of her life to caring for her mother as she struggled with the disease, and the diagnosis was a harsh blow for all of us, particularly my mother. The first few months were difficult for my mother and she struggled to cope with the fact that she had inherited this terrible disease for which there is currently no cure.   She had to confront the fact that her life would change… and change fast. Our family and close friends came to comfort her and the support from them was overwhelming. Everyone was willing to help.
Both couples have been vigorously fighting 'Huntington's disease' and has been running website helpcurehd.com, the same website that has planned to raise more than 2 million dollars to improve those lives of peoples who have been infected with Huntington's disease. One for the noble cause, I guess.
What can women do? That's the wrong question today. The right one is what can't women do? And that of Allie LaForce's caliber. This former pageant winner played basketball at Ohio University, and it won't surprise when you come to know that it's in her genes-her both parents also played sports in college. A long list of her multitalented personality goes on as she, now at CBS has already covered biggest sporting events on the planet (March Madness, NFL playoffs, and SEC football). Along with it, Allie's part of trail-blazing women's sports talk show. Quite a lot in her young career, I Wonder.
'Beauty with brains,' that's the exact phrase to describe this beautiful diva and former Miss Teen USA(2005), Allie LaForce. If you watch CBS Sports channel and are interested in college football and basketball games, you certainly know who she is? Yes, my folks, we're talking about the same Allie Laforce who is co-host of 'Lead-off' and 'We need to talk'. If you don' know, she is someone who has covered some of the most hyped sporting events in the world from the NFL playoffs to March Madness to Sec Football. This level of achievement is a compliment for someone like her who is just 27.