Entertainment
Celina Jade On Getting Married! Competing With Husband - Of Future
The Hongkong-born Actress Celina Jade has spanned her career from the Hongkong film industry to Hollywood. 
She is best known for portraying the role of 'Shado' in The CW's superhero TV series titled Arrow for the three consecutive years (2013-2016).
Well, with her rise in popularity, her fans are more curious to know behind the camera. On her road to acting, she has found the love of her life in the same field but has maintained a very low-key personal life.
So, the question is, has she got married or still lingering on to the dating life?
Celina Jade's Boyfriend 
Also known for her singing skills,  actress Celina Jade is currently dating the actor, Hangeng. 
In accord with the records of the Chinese media outlets, the couple first met at an award ceremony, when they attended the event as presenters.During the event, Hangeng assisted Celina Jade with walking up and down the stairs, and the actress expressed her gratitude on social media, to which he responded, it was his honor.
Well, the celebrity couple had maintained a low-key personal life until Hangeng disclosed about it. On the 34th birthday of the actor, earlier on February 9, Hangeng officially claimed his relationship with the actress via Weibo. He linked to his girlfriend Celina's Weibo account and posted that,
"Hello,34. Hello, my lady."
Celina  also made an instant reply,
"Hello, my man."
Shortly after this, the actor shared the adorable pictures with his actress-girlfriend Celina Jade on the occasion of Valentine's day.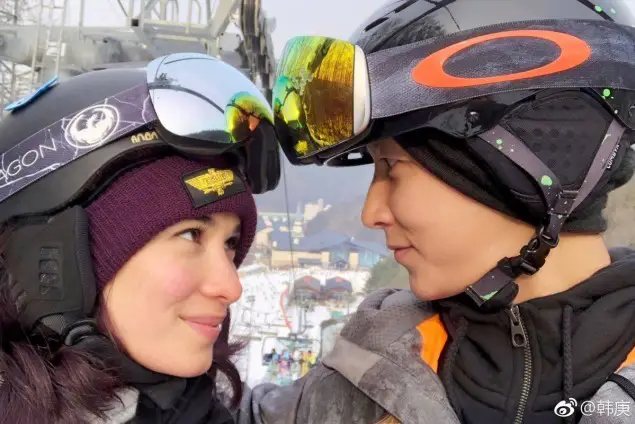 Celina Jade  with boyfriend, Hangeng (Photo: allkpop.com)
Well, Celina has not mentioned anything about making Hangeng making her husband, but hopefully, soon the wedding bell rings for them. Most probably, they are just too concern for their career. 
More About Celina Jade
Celina Jade was born as Celina Horan on 10th June 1985 is a Chinese-American actress who was born in Hong Kong to the American Kung Fu star Roy Horan and Chinese mother Christina Hui. And talking about her other family, she has a sister which she had mentioned on her tweet back in 2017.
She started her acting career in Hongkong and China in 2007. She was starred as the lead character in her first feature film, 2008's Legendary Assassin, and she also sang the film's theme song. She also played the lead in hit Chinese film 'Wolf Warrior 2', the highest-grossing Chinese film ever. 
Likewise, as per wiki, at the young age of 14, she won an Asia-wide singing competition. And at the age of 15, she gave her first number-one hit with the song, "Kwong Ying Zi Gan" in Taiwan.
Well, Celina has appeared in many movies, including, All's Well, Ends Well 2009, I See You, Wolf Warrior, A Sweet Life and Triple Threat among others.
For her performance, she was awarded the 'Kineo Anica International Icon Award' and as well 'Most Popular Actress' of China 2017 by Instyle Magazine.