Entertainment
'Dog Whisperer' Cesar Millan Wife, Girlfriend, Kids, Net Worth Details
Cesar Millan is a reality star, also known as The Dog Whisperer, for his series Dog Whisperer with Cesar Millan that ran from 2004 to 2016. Throughout the nine-season run of the series, he rehabilitated hundreds of dogs while simultaneously dissimilating knowledge regarding canine behavior to his viewers. 
Cesar has also turned into a pop culture phenomenon after guest-starring in Ghost Whisperer. He has been referenced in Comedy Central's animated series, South Park. Also a renowned dog behaviorist, he is a New York Times best-selling author. 
Fiancee
Cesar is engaged to his long time girlfriend, actress Jahira Dar. They started dating in August of 2010.
The dog whisperer proposed to his girlfriend on 24 March 2016 on top of Mount Lycabettus in Athens. The reality star and his flame were vacationing in Spain and were supposed to head to Italy next when Cesar changed the destination to Greece to surprise Jahira.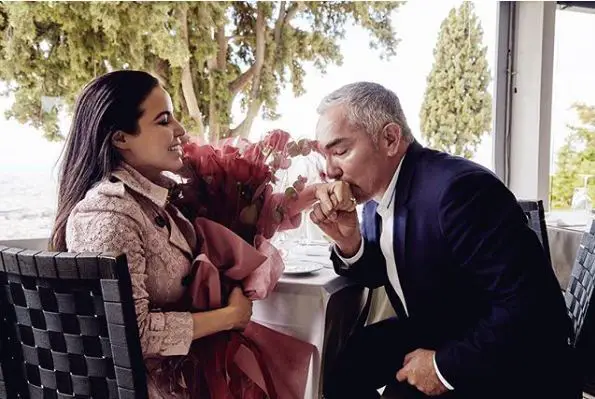 Cesar Millan with fiancee Jahira Dar in April of 2016 (Photo: Cesar Millan's Instagram)
The couple had dinner, and Cesar popped the question as they overlooked the Acropolis.
More On The Proposal:- Jahira Dar Wiki: Bio on The Dog Whisperer's Engaged-to-Get Married Beau
A violinist was playing behind them to set the mood, and the actress said yes. 
Cesar Millan's Past Marriage
The dog whisperer was married to Ilusion Millan from 1994 to 21 April 2012. Cesar separated from his wife in 2010 when she filed for divorce, but the split was finalized in 2012. The reality star had to pay a one-time amount of $400,000, a spousal payment of $23,000, and an extra $10,000 a month for child support. 
Kids
Cesar has two children with his ex-wife Ilusion Millan. They are Andre Millan (born 1995) and Calvin Millan (born 2001).
Calvin is a TV actor who was cast in the Nickelodeon series Mutt & Stuff in 2015.
Nickelodeon's All That Star:- Josh Server Wife, Gay, Dating, Net Worth
As for Andre, he hosted Pet Talk (2016-) for Nat Geo Wild. He also launched his web series on Cesar's YouTube channel in 2015 called What's Up Dawg.
Age & Bio
Cesar Felipe Millan Favela was born to Felipe Millan Guillen and Maria Teresa Favela on 27 August 1969 in Culiacan, Sinaloa, Mexico. Cesar is the second oldest among his siblings. The dog whisperer has a brother, Erick, and three sisters, Monica, Nora, and Mireya.
Cesar came to the US illegally when he was 21, with a total of $100 in his pockets. He couldn't speak English at the time and worked at a dog grooming store. His expertise gained recognition slowly,, and he received national attention after the Los Angeles Times wrote an article on him. 
As of February 2020, the dog expert has published 11 books and has worked on multiple reality series focused on dogs.
Nationality
Cesar is Mexican-American. He was born in Mexico and later became a permanent resident of the US in 2000 and eventually a citizen in 2009.
Net Worth
According to celebritynetworth.com, Cesar Millan has a net worth of $25 million.