Entertainment
Chanelle Hayes Who Once Whinged About Guys Is Already Planning To Get Married With Her Teacher Boyfriend
Chanelle Hayes, one of the stars of Big Brother, is no single anymore. Hayes has been seen with a guy, and the pairs are already planning for their marriage. Chanelle Hayes went public with her romance in spring this year.
After lots of rants on social media about her failed life, the reality star has finally found her love and the relation looks serious as both the couple are committed to making their relationship work for good.
Planning to tie a knot?
2016 has been a mixed year for Chanelle Hayes, but at the end of the day, she went public with her romance with PE teacher Ryan Oates. It looks like finally, Hayes has found the love of her life after troubled love life earlier.
It only came to limelight as Chanelle Hayes appeared on a TV show, Loose Women on 31st May 2016 along with her new boyfriend, PE teacher Ryan Oates where she made it official that she is indeed dating Rayan.
Caption: Chanelle Hayes talking about her weight gain and current boyfriend on Loose Women on 31 MAY 2016.
The mom of one kid/ kids gushed over her new boyfriend PE teacher Ryan Oates who was at backstage with her son Blakely as he supported his girlfriend.
Hayes was asked by one of the panelists Coleen Nolan about what Ryan thought of her weight gain and she replied:
"Oh he doesn't care. He met me anyway when I was this size. I met him since I was bigger."
More interestingly, the couple were spotted together at jewelers and couldn't keep hands off each other as Chanelle happily tried sparklers on her ring finger during their trip to Scunthorpe on 20th July 2016.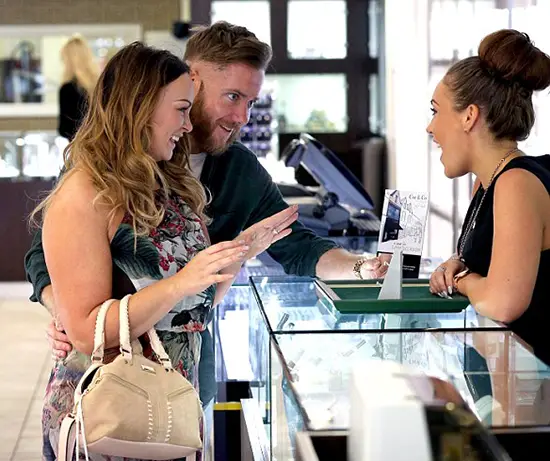 Caption: Chanelle in the jeweler's shop as she tried various rings and also tried for few size along with her boyfriend, Ryan Oates.
Photo Credit:dailymail.co.uk
Chanelle spent time in the jeweler's shop as she tried different rings and also tried for few size. Ryan, on the other hand, wrapped his arm around Hayes's waist. The speculations have already been blown about the couple getting married, and the rumors just might be true.
Chanelle first revealed about Ryan, whom she met on Tinder in April 2016 in an interview with Closer Magazine:
'He always tells me how good I look. It's a nice change because I've been in some bad relationships. Whenever I'm unhappy, I turn to food, which I why I put on a bit of weight in the past. But now I'm eating normally because I'm happy,'
Chanelle along with her son and boyfriend is also spotted having a fun time together as she mentioned it on her Twiter account.
Troubled love life!
February is supposed to be a month of Valentine but former Big Brother contestant, Chanelle Hayes, 28, took to Twitter on February 11, 2016, to rant about her failed love life and admitting her single status is getting her down.
She tweeted:
"I have lost my head today. The last 3 people I have dates have literally wanted nothing but an easy life, all about money. F***ing c****."
The former glamor model has five-year-old son Blakely from her previous relationship with footballer Matthew Bates, although couple never got married and was hurt by her last boyfriend Josh Singleton last year.Chanelle Hayes joined Tinder in December of 2015 after her breakup with Josh Singleton in
August.She did gain weight after the incident and had admitted herself on Twitter.
Soooooo it's pretty clear I have put on weight again. 4st to be precise ????????????. Thinking of doing a blog updating the next 6 months of me...pt1

— Chanelle Hayes (@chanellejhayes) November 29, 2015
...trying to lose it again. Would that be something any of you guys would be interested in reading? Pt2 #toblogornottoblog

— Chanelle Hayes (@chanellejhayes) November 29, 2015
All is well that ends well! Finally, Hayes found someone whom she could rely upon the whole life, Ryan Oates.
Chanelle Hayes being singer, model as well as English television personality has earned net worth from modeling and appearing on television reality show such as Big Brother, Wannabe, Chanelle: Wannabe pornstar. Moreover, she has also made net worth from her albums such as Hayes, Club Junkies Club Mix; I want it and so on. Her net worth is that of $20 million.