Entertainment
Charlie Dimmock Happy For Not Being Married And Having A Husband; Is it Because She Shares A Lesbian/Gay Sexuality?
Time flies by, and it changes everything whether it be someone's look, feelings or hobby. It happened in Charlie Dimmock's life as well, who was known as the gardening expert and a TV presenter.
She has done outstanding work as being a great tv star and showed her phenomenal hosting skills in the gardening segment. She remains single till date and does not want to get married. Is it because she belongs to the lesbian side? Or is it something else? Let's find out.
The Sought For Love Life of Charlie Dimmock. Has A Husband?
Charlie Dimmock is a successful woman, and many people adore her for her work and success. She also has many male admirers and used to get lots of marriage proposals, but she discarded the opportunity, as she was happy being busy in her work. Rather than getting engaged with someone, she enjoys spending time with her pets. As per Charlie,
'I'm quite happy as I am with my cat, my dog and my horse. They're all the company I need. I think that if I did meet someone I'd prefer a partnership to marriage. That's terrible, isn't it? Very selfish, that's what they say, isn't it? But I like being able to do what I want.'
Moreover, she even claimed that she is way past her age to get married
'I'm too old now, certainly too old for marriage, there's no point,'
'You're obviously too young to be cynical. I do think I'm too old now. I can't see anything happening when it comes to romance; somebody would have to really bowl me over. I am quite content without a man in my life.
Not showing interest in marriage often leads people to assume Charlie to share lesbian/gay sexuality. However, those speculations can be termed as just a misunderstanding as Charlie was previously in a dating relationship with various men.
She once had a long-term relation with her boyfriend named 'John.' He used to denote her as his missus though they were never married and got split in 2001. The reason behind the split was her being spotted having a good time with Ground Force microphone operator Andy Simmons.
But she said she don't regret the affair that ruined her relationship. Then she also had a relation with an another crew member, a sound technician named Barry Smith. Charlie Dimmock has been single ever since she split with Barry.
Charlie's Family and Career
Charlie Dimmock is a child of Terry, a merchant seaman and Seu who had her own clothes shop. She was born on 1oth Aug 1966, Romsey, Hampshire. She has been living in her hometown Romsey, and she loves spending time with her best friend, Tracey.
As she has been engaged in this gardening field from her childhood, it turned out to be her career. She used to spend most of her time helping her grandfather in the family vegetable garden. 'Family is where life begins and love never ends,' but she always denied talking about her parents as it was one of the tragic moment for her to lost them in Asian tsunami.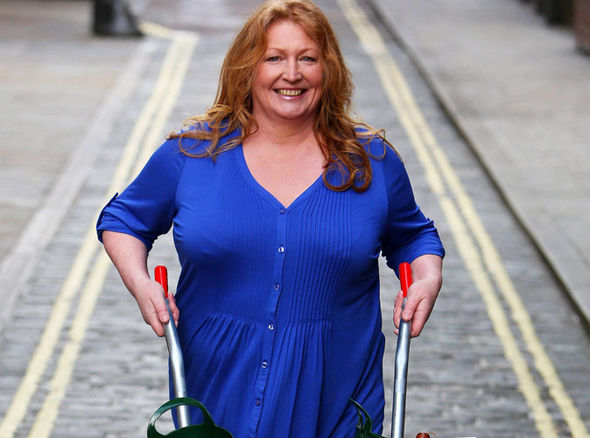 Charlie Dimmock is launching a new range of gardening equipment for Poundland
photo credit: express.co.uk
On her 21st birthday, Charlie Dimmock was given a return ticket to New Zealand by her dad. That was the time where she met John Mushet, TV researcher and got opportunity working on how to make a garden pond for the first time.
She was nicknamed as 'horticultural Viagra' after she hosted in the US; a gardening segment for CBS's breakfast show. She worked as a calendar girl as well. And she was also involved in programs like Charlie's Garden Army, The Joy Of Gardening, and hosted coverage of the Chelsea Flower Show.
Charlie was never fond of wearing bras, and that has been the biggest issues in her working context.
The TV presenter Esther Rantzen said her:
"You'll be labelled the bra-less one for the rest of your life."
She also competed on Celebrity Masterchef in 2006. Now and then she has involved in the gardening field, and she also started launching the new range of garden equipment for Poundland. Well, recently she is working with the rich brothers 'Harry' and 'David' and is about to release a book named 'Love Your Plot'.
In starting phase of her career, she was called as the sexist woman, but now people are commenting on her body structure only because she has gained some weight. But that never affect her; rather she said it's better to be healthy.
Without bothering about people's opinion, she continued successfully carrying her work. So, it shows that work does not depend on someone's physical appearance rather it's a part of determination and hardship.