Entertainment
Chosen Jacobs Has Girlfriend? Amazing Young Actor's Dating Status Now
American actor Chosen Jacobs rose to fame after starring in the most acclaimed horror film adaptation of the Stephen King novel IT. With a swift rise to stardom, Chosen is already living the dreams of Hollywood star at a young age.
The aspiring actor has already brought home the success in his acting career, but what about his dating?
Like that of his career, does Chosen has a beautiful girlfriend on his side or still lingers around with his "single" tag?
Follow the preface to know Chosen Jacobs' relationship status along with his parents' information!
Parents, Siblings, Family Life
Chosen has a lovely family, which he makes evident on his social media too!
He introduced his father to his Twitter back on 13 May 2015 sharing an image of him, his father and his friend.
Similarly, he expressed his affection for his mother on social media on the occasion of Mother's Day. On 14 May 2017, Chosen Instagrammed a picture of him and his mother and via the caption praised her mother as "smart and beautiful." He also added "I love you MOM. Happy Mother's Day."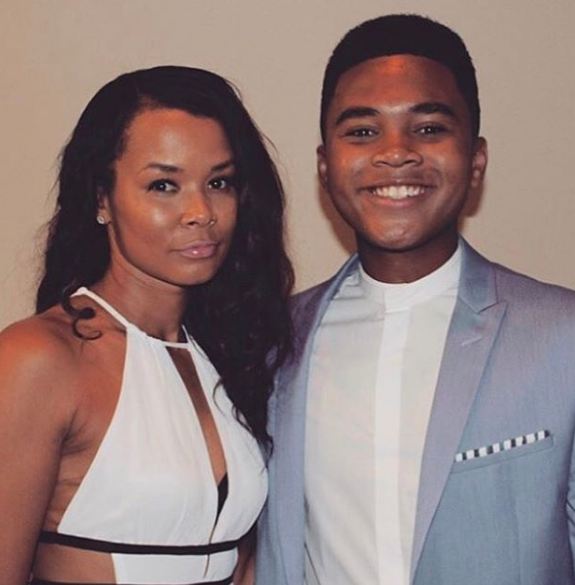 Chosen Jacobs wishes mom on mother's day via Instagram on 14 May 2017 (Chosen Jacobs's Instagram)
The Springfield, Massachusetts native also did not miss his mother's birthday as he took the occasion to social media by sharing a tweet and wished his mother a happy birthday on 30 January 2018.
Uploading an image of both mother and son, he expressed his gratitude for his mother and quoted:
"I luv you ma."
As for siblings, his social media talked about his older sister, Dasia Back on 18 Aug 2015. He shared a picture of his older sister, Dasia on her first day at school on Twitter. Chosen also celebrated 2017's Siblings Day uploading a vintage throwback picture of himself and his sister on his Facebook.
By the looks of it, Chosen, who has not disclosed his net worth, seems to possess a lovely family and shares a beautiful bond with them.
Co-Star Talks About Girlfriend; Dating His Passion
Known mostly for the portrayal of Will Grover in the CBS series Hawaii Five-0, Chosen Jacobs also garnered a lot of female fans' attention along with fame. However, the 16 years old teen seems to have no intention of turning female fans to his girlfriend.
That's not all!
Whenever the talk shifts to dating, Chosen prefers to dodge rather than speaking about it. In September 2017, both, Chosen and his co-star Nicholas Hamilton gave an interview with JustJaredJr., where they talked about their relationship and inspirations.
While Nicholas openly talked about his past relationships and revealed his single status, Chosen chose to talk about his love for music and his inspirations. He hardly mentioned anything regarding his love life throughout the interview.
Chosen's act may indicate he is focusing on his acting career and seems to be possibly single. It might also be that he is waiting for the perfect partner to flourish the romance in his life.