Entertainment
Chris Brown's Documentary Trailer Is So Problematic I Don't Even Know Where To Begin — VIDEO
Over the weekend, a trailer was released for Chris Brown's upcoming documentary, Welcome To My Life. The not-quite three-minute video spends the majority of its time building up a 2006-era Brown as one of the greatest newcomers in the music industry, until an incident occurred that marred his career ever since. That moment, of course, is his 2009 assault on Rihanna, which is inexplicably presented in the trailer as something that happened toBrown, not an attack that he himself did to someone else. The attack — for which Brown pled guilty to one count of felony assault — caused the singer to go from "being kind of like America's Sweetheart," as he claims in the trailer, "to being Public Enemy No. 1." (After his arrest, Brown released a statement to CNN via his spokesperson, which read, "Words cannot begin to express how sorry and saddened I am over what transpired. I am seeking the counseling of my pastor, my mother and other loved ones and I am committed, with God's help, to emerging a better person.")
But don't worry, folks, that sympathy you feel for the domestic abuser can be put on the back burner, because Chris Brown isn't going anywhere, as he makes sure to state at the end of the trailer, complete with inspirational music interspersed with clips of Brown performing for adoring fans.
Honestly, this trailer is so problematic to me that I don't even know where to begin, but let's start with the presentation of Brown as a victim. The narrative of the trailer, which is produced by Riveting Entertainment, is as follows: Hot young star on the rise enters a relationship with an equally hot young superstar, an incident occurs between the couple that leaves Brown suicidal and feeling like a "f*cking monster," said "moment" has a noticeable and negative impact on his career and public image, Brown rises from the ashes amid hardship and adversity to continue to have a successful career and a legion of loyal fans, despite his violent behavior and the many, many legal troubles he has dealt with since.
Bustle has reached out to Riveting Entertainment for comment on Brown portrayal in the trailer, but has not yet heard back.
It seems the trailer is meant to elicit sympathy from viewers and fans, to see how difficult the assault was on Brown and to realize just how much he has had to overcome to get his career to where it is now. How sorry we all must feel for the singer, who attacked his girlfriend but then felt bad about it afterwards. To see Brown admit to feeling suicidal in the trailer — and his own mother, Joyce Hawkins, state that she felt like she was afraid she was "gonna lose my child" — does nothing for me, particularly after he recently spoke out against singer Kehani's own alleged suicide attempt in one of the most blatantly horrific tweets I have ever read:
There is no attempting suicide. Stop flexing for the gram. Doing shit for sympathy so them comments under your pics don't look so bad

— Chris Brown (@chrisbrown) March 30, 2016
A clip shows him laughing and talking about the beginning of his relationship with Rihanna — he literally uses the description "like a fairytale" — until things went wrong. But we don't even hear about those things in the trailer, instead there are news clips about Brown being arrested, DJ Khaled talking about how "that was his girl" and even Rihanna telling Oprah that "he made this mistake because he needed help." The "poor Chris Brown" narrative is atrocious, especially because in this trailer his assault on Rihanna is portrayed as some kind of passive incident that happened to him and made him feel bad. There is no ownership — or even description of any kind — of the actual assault; instead it's just something that occurred because Brown needed help and then he felt sorry and sad afterwards.
Interspersed between the news clips and interviews with Brown are clips of interviews in which celebrities like Usher, Jennifer Lopez, and Mary J. Blige commented on Brown. Outrageously, the trailer includes a clip of Mike Tyson saying, "The more light we get, the more we have to hide our demons." This is a man, who, according to his 1989 biography, once declared that the "best punch" he ever threw in his entire life "was when I fought [wife] Robin [Givens] in Steve Lott's apartment. She really offended me and I went BAM. She flew backwards, hitting every wall in the apartment."
At the crux of the trailer is the idea that Brown has overcome all the hardships and all the adversity stemming from his Rihanna assault charge and is still determined to be successful in his career. The trailer wants you to root for Chris Brown, to root for his comeback, to feel inspired.
"If there was ever a doubt in your mind that Chris Brown was done, he was finished? I wouldn't bet on it," he declares boldly as the trailer starts to end. It is at this point that the music swells and you're supposed to feel excitement because hooray Brown didn't let his career completely tank after he beat up his girlfriend. What perseverance he has shown! What determination! Congratulations, Chris Brown! You did it!!!
But he hasn't. And I don't just mean in terms of his career; I mean in terms of learning from the assault. In fact, Brown has proven time and time again — in the seven years since he beat Rihanna in February 2009 — that he still doesn't get it.
In addition to pleading guilty to punching a man in a D.C. parking lot, Brown, who was on probation for six years following his attack on Rihanna, tweeted his exuberant joy when the case was finally closed in 2015.
"IM OFF PROBATION!!!!!!!!" he wrote, in a tweet that has since been deleted. "Thank the Lord!!!!!!"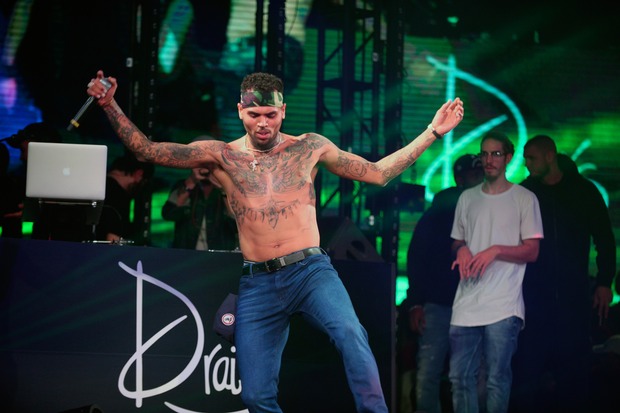 Where is the remorse? Where is the acknowledgement that the reason he was on probation in the first place is because he violently beat another human being? No matter how many interviews Brown has done since the assault, this tweet (coupled, of course, with his other assault arrest and time spent in rehab and prison) is proof positive that Brown is missing the point.
As recently as January 2016, police were investigating an incident in which Brown allegedly assaulted a woman during a New Year's celebration (charges were later dropped due to lack of evidence). Though Brown denied the assault, he did so in a video that refers to the woman as "ugly" and a "b*tch" as seen in a video obtained by TMZ — extremely misogynistic language that should never be tolerated.
The trailer is problematic because it glorifies abusers. It is problematic because it is sweeping the abuse under the rug, twisting it so that Brown is portrayed as victim — interestingly enough, a manipulation tactic that is common in domestic violence. It is problematic because fans will see this propaganda piece, complete with interviews from some of the most revered stars in the entertainment industry, and will see Brown as an artist who triumphed in the face of adversity, even though that "adversity" was due to his fists.
And that is not, and never will be, something that is acceptable — despite what the trailer tries to get you to think.