Entertainment
On-Screen Gay Chris Bruno Makes Subtle "Married" Gestures To Potential Wife
American actor, Chris Bruno is famous for playing Sheriff Walt Bannerman on the TV series, The Dead Zone. Also a professional MMA fighter, Chris garnered fame from his well-known role as a gay man in the TV series, All My Children.
His on-screen role brought the gay speculations among his fans, and he has the perfect answer for the rumors and speculations. He weaves a dating history with his co-star, and moving on from his past breakup, is now enjoying dating life with his new girlfriend.
Let's follow the love life of Chris Bruno in one go!
Gay Role, Brother Reveals College Lover
In 1995, Chris played a gay teacher, Michael Delaney in the ABC's series, All My Children. Michael, who gets fired subject to social prejudice, was the first established regular cast in any television show. 
The actor has not returned to any gay roles since the show and is straight as an arrow in real life. 
Chris' dating affair help to claim his straight sexuality as he developed a romantic relationship with his Numb3rs co-star, Diane Farr back in his college days. Chris' brother, Dylan Bruno was the one to confirm the duo's dating in a 2007 interview with TV Guide.
The Numb3rs star further revealed that he met Diane through his brother. Dylan told in the interview that as his brother and Diane were dating, she used to visit regularly to their home at the beach in Connecticut. He mentioned that the three even slept together on their big outdoor sleeping porch.
However, Dylan told that there was no awkwardness between Chris and his ex-lover as they were accustomed to running into each other due to their involvement in the same professional field.
The 52-year-old has come a long way from his college days and has thus moved on from his past girlfriend. 
New Girlfriend As Valentine Forever
Chris is currently dating a girl named Christine.
Their dating life first came to light in 2015 after Chris spent a day in the sea with his partner and her parents to celebrate his girl's birthday. The Connecticut native even shared a picture of the happy couple on 9 March 2015.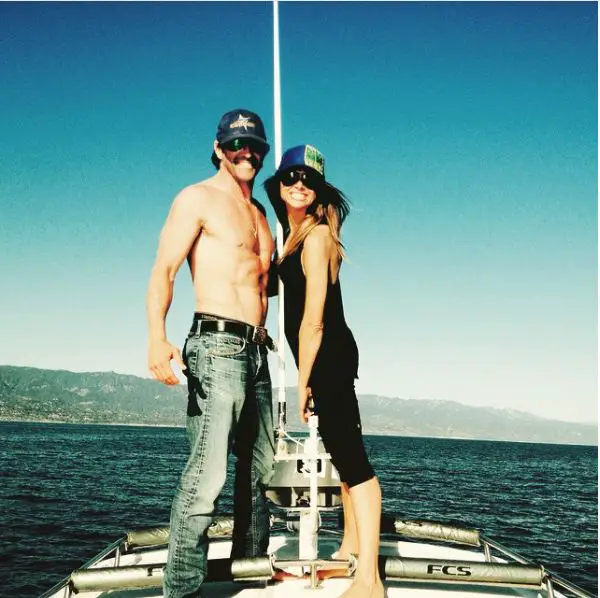 Chris spends a day with girlfriend Christine in the sea for her birthday (Photo: Chris Bruno's Instagram)
Later in October 2015, Chris brought Christine as his date to the Long Beach Independent Film Festival, which hinted towards the couple getting serious in their relationship.
Further, the Grendel actor also shared an Instagram post on 19 September 2016, in which he flaunted the outdoor bed in his home and mentioned having a new bedroom for his girlfriend. 
Most recently, he celebrated Valentine's Day with his partner and even shared a photo on 15 February 2018 of the loving couple enjoying the occasion. In the post, Chris described his Valentine forever.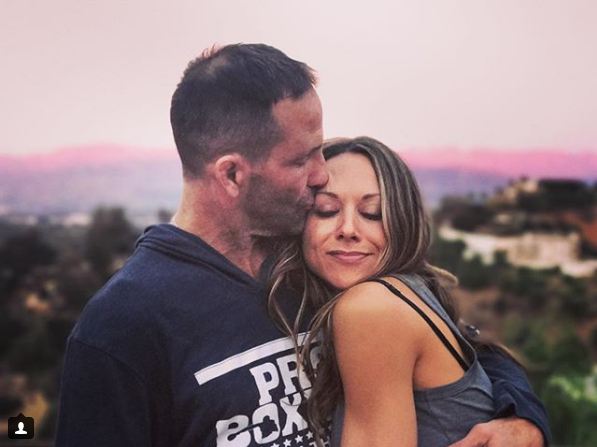 Chris Bruno celebrates Valentine's Day with girlfriend Christine (Photo: Chris Bruno's Instagram)
The couple is moving swiftly in their relationship and even though they haven't revealed any wedding plans, seems like marriage is on the cards and they could soon get married pronouncing each other as husband and wife.
Apart from his succesful love life, Chris also maintains a healthy relationship with his family.
Actor Brother, Parents
Chris is the brother of American actor, Dylan Bruno, who has played in some noteworthy movies including Saving Private Ryan and Taken 3. Further, Chris is also close to his parents.
On 7 July 2017, Chris shared an old picture of his late mother, Nancy, clothed in a baseball dress. He further mentioned that his mom was dressed up as Mariano Rivera, the former baseball pitcher, and even wished for her birthday on 4th July expressing his sweet remembrance.
Chris shares an old picture of his mother dressed as Mariano Rivera on 7 July 2017 (Photo: Chris Bruno's Instagram)
Previously on 19 June 2017, Dylan had shared a photo of Chris with their father, Scott Bruno, taking a boat ride together.