Entertainment
Chris Hardwick got Married! Get to Know How his Long-Time Girlfriend Turned Wife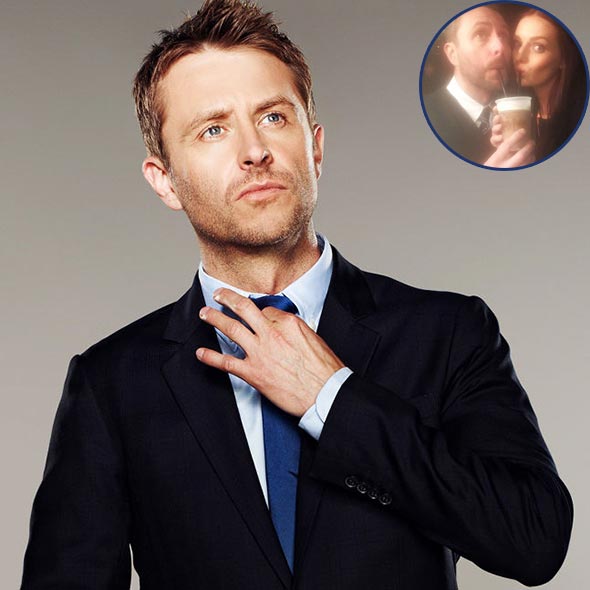 It sure is pretty amazing to be finally with the person you've dreamed of. For couples who has been dating since a long time to get finally engaged is just one more beautiful step towards getting married and to be a married couple finally is a blessing. Chris Hardwick seems to be experiencing the same feeling these days. Let's find out.
His Wedding, Married Life and Wife:
Chris recently got married to Lydia Hearst on August 10, 2016, at the luxury resort, 'The Langham Huntington' in Pasadena, California. The wedding was witnessed by around 450 guests. The Bride wore a stunning custom-designed Christian Siriano gown and the groom, on the other hand, fancied a custom Prada suit.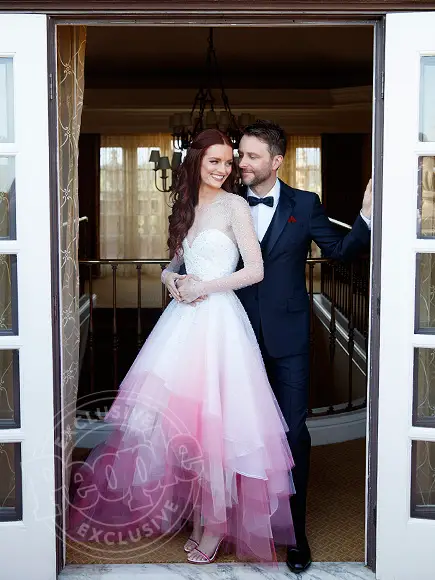 Caption: A wedding pic of Chris Hardwick and Lydia Hearst
Source: people.com
The couple had blissful and the most memorable moment of their life. In an interview with PEOPLE, the fairy looking bride said,
"I could never have envisioned a more perfect wedding day. It's better and more magical than I could have ever dreamed of ... It's going to be perfect, and even if it isn't that's how it was meant to be. I'm more excited than anything else!" 
Well, the wedding was not the only thing that was special for the couple as the couple got engaged in a different way. Thanks to Chris for that. Let find out.
Chris Hardwick Engaged with Long-Time Girlfriend:
Caption: Chris Hardwick with fiance Lydia Hearst.
Chris Hardwick proposed his longtime girlfriend Lydia Hearst and got engaged to her and this news automatically fended off all the news of him being a gay. They had been together since 2014. The famous television host proposed his girlfriend in a very, very romantic way. In an interview with PEOPLE, she says how Chris proposed her.
"Hardwick opened the door and the whole floor was covered in purple rose petals and there were bouquets of wild flowers and orchids all over the room," Hearst said. "It was dimly lit with candles and he proposed. He got on one knee and gave me a candy ring." 
She further said,
"Honestly, I'm over the moon and I'm still in shock. I'm so fortunate to be marrying the man of my dreams," she said. "I knew that I was completely in love with him and he's the love of my life, but who knew what the future held? Then he swept me off my feet and asked me to marry him." 
Chris shared his moment with his fans through his Instagram post where he posted a picture of a ring which belonged to Lydia's grandmother which she passed to down to Chris to give it to Lydia.
Caption: The ring that belonged to Lydia's grandmother.
Lydia also posted a picture of her and Chris kissing on the picturesque tower where she had a caption.
Caption: Chris Hardwick with fiance Lydia Hearst at the picturesque tower.
As the couples are engaged and ready to get married; we think everyone won't have to wait much longer. In an interview with Wonderwall in February of 2016, she said that they were six months away from their wedding which finally arrived. She also said that her dress would be designed by Christian Siriano who has been friends with Lydia for many years. 
Chris Hardwick's Short Bio:
Chris Hardwick was born on November 23, 1971, in Kentucky, United States and currently ages 44 years old. He attended UCLA where he studied Philosophy and graduated in 1993. In the 90s, he worked as a DJ in Los Angeles radio station named KROQ-FM and was later starred in the UPN comedy Guys Like Us. Besides acting, he also does voice-over and has voiced Green Arrow/Oliver Queen on the Batman, Glowface in the X's.  In 2011, Chris started hosting Talking Dead for which he is widely known till now.
He also went on a tour, "The ID10T Tour" starting June with the first chunk of dates in NY, NJ, PA & ME including the annual San Diego Comic-con shows in July (ID10T and Nerdist Podcast Live). Currently, he is hosting his show, "@midnight with Chris Hardwick", which is a comedy game show.