Entertainment
Former SNL Member Chris Kattan A Gay Man? His Short Lived Relationship Has Raised The Rumors
Former SNL Member Chris Kattan A Gay Man? His Short Lived Relationship Has Raised The Rumors. Hollywood is a place where you either have to be dating or be married; as a man in avoiding all the gay rumors that get created in a snap.However, for Chris Kattan, well, he became an exception to all the points we just mentioned. The man had a relationship with a woman, he married her and that too ended but the gay rumors did not.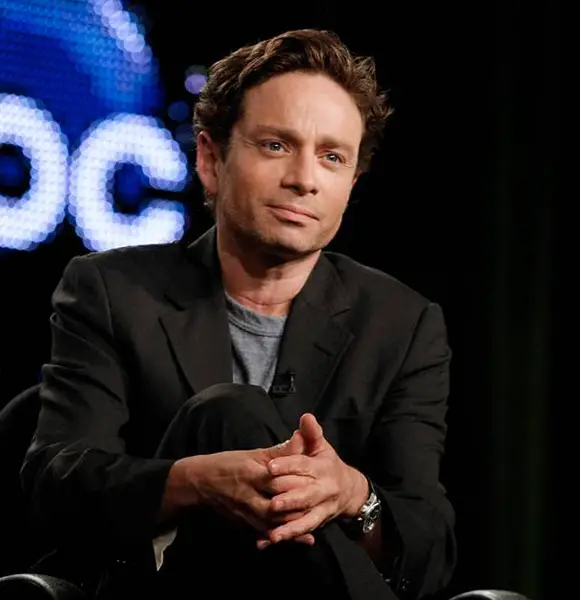 Hollywood is a place where you either have to be dating or be married as a man to avoid all the gay rumors that initiate in a snap.
However, for Chris Kattan, he became an exception to all the points we just mentioned. The man had a relationship with a woman and he even married her. However, his married life ended, but the gay rumors did not.
The primary reason for all the gay rumors must be his short-lived relationship with wife, but is that legitimate? Let's dig in to find out!
Kris Kattan's Short-Lived Relationship.
Kris Kattan, who has also been associated with SNL impersonating dozens of other famous personalities, was once a married man.
Chris met model Sunshine Tutt in 2005. The couple gave their relationship some room to grow before getting engaged on December 24, 2006. This being the first reported engagement for Chris and Sunshine, the actor tried his best to make it memorable.
He tried to bring Bono of U2; that did not happen. He then approached Justin Timberlake; which was a no go as well. He tried asking for the presence of one of the Hanson group members, but that wasn't a yes as well.
"Originally, I was going to do something very special, I tried to get Bono of U2 to serenade her. That didn't happen. Then I asked Justin Timberlake. No answer. After hundreds of phone calls and text messages, I finally ended up asking one of the members of the Hanson group. He didn't want to get involved."
Well, at least he tried. Moreover, do you think a man who made such effort to make the day even more special for his then-girlfriend be a gay man? If you ask us, the answer is no.
After about two years or so, the couple finally took their relationship to the aisle on June 28, 2008; a wedding that his former cast member Jimmy Fallon also attended.
The couple got married only to split after eight weeks. This was a shock to everybody else. However, the couple did not do anything to ease all the curiosity and remained zip-mouthed.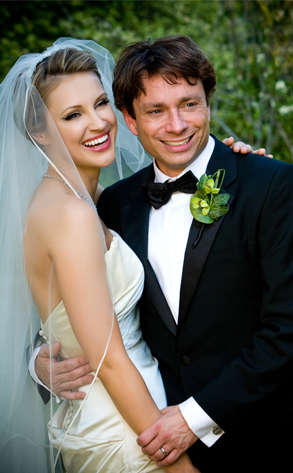 Caption: Chris Kattan with then-wife Sunshine Tutt.
Photo Credit: eonline.com
The divorce papers stated the reason for divorce to be irreconcilable differences and the relationship saw its dawn in February of 2009. However, neither of them had any say in their decision to part ways.
According to TMZ, the couple had a prenup agreement, but still, came to an accord where Chris allegedly provided Sunshine with a low six-figure amount. Sunshine's lawyer stated,
"My client is very relieved that she can leave this two month marriage with some resources that will allow her to rebuild her life."
What's Worse? A Broken Relationship or A Broken Neck?
Well, you can always move on from a broken marriage, and by the looks of it, Chris seems to be doing well on his own as he recently put his best foot forward and danced on the most recent series of Dancing with the Stars. However, maybe that wasn't the brightest thing Chris did.
After a round-off, Chris got verdicts that he was a little stiff than usual and only got 17 out of 40. Perhaps, the stiffness was not because he doesn't know how to dance, but because of a neck and back injury that has been tormenting him for at least 20 years now.
"I was doing a stunt and I knew something was wrong but I didn't think it was serious. It wasn't until, maybe, two days later — when my arm started to atrophy — that I got checked out and the doctor told me that I'd broken my neck."
He continued,
"I broke my neck and I had four surgeries regarding that the last 20 years basically. One in my back, one through the throat … I had to be careful for a really long time." 
And as the pain and suffering weren't just enough, the medications for the injury once had him arrested for suspected DUI. However, he said that he was not an alcoholic and that it was the result of his prescribed pills.
"I'm not a drinker. I don't drink. But I was on my meds and I drove — like an idiot — to see a friend late night."
The meds that got him the DUI charges also provided him with people's judgment regarding how sick he was looking, but it did not stop him from being polite to them and just say that he was doing just fine.
As for participating in DWTS, Kattan says,
"They asked me twice. At that time I wasn't ready for it yet, physically. I had to be at the right level of health and spirit and all that. [Now] it's perfect timing. I wouldn't have been able to do this 5 or 10 years ago."
Caption: Chris Kattan on Dancing with the Stars.
Published on Mar 27, 2017
Well, the horse did get his chance and sadly lost. Chris and his dancing partner were voted off just after the first round in week 2. Chris said after the elimination,
"I wish that my surgery and all that was noted before, but it wasn't, and that's okay. But I had an incredible, incredible time."
However, he got eliminated doing what his heart wanted and is happy that he stepped on the dance floor and had; we phrase his words, 'a blast.'
Stay with us with for further updates on Chris Kattan!