Entertainment
Christian Collins is Not Gay! He's Affair with Girlfriend at 21 Proves It
Every star from the entertainment world has their own opinion about sharing their personal life out. Some celebs don't hesitate to share their private life with their fans while some go the otherwise.
And those celebrities who don't share their love life out in public are likely to be labeled as gay or lesbian.
Well, in that case, Christian Collins has saved himself away from those accusations as the Canadian Youtuber has officially revealed that he is in a relationship.
So, wondering who the lucky girl is and how their chemistry is going on? Join us in the following context to know about his love life!
Christian Collins Love-Life!
The Canadian Youtuber Christian Collins (age 21) has been dating the beautiful Courtney Saint for a quite long time. Well, he has been flaunting his relationship with his girlfriend, Courtney all over the social networking sites. 
However, Christian officially revealed about his girlfriend, and their love story through his YouTube video posted back on March 24, 2017. In the video, Courtney tells that she met Christain on October 15, 2015, through their mutual friends. Well, she didn't hesitate to say that Christian initiated the conversation during thier first meet whereas she was the one who uttered the words 'I love you' first.
Caption: Christian Collins makes a girlfriend tag with his beau Courtney Saint (Published on March 24, 2017)
Undoubtedly, the couple is enjoying their relationship. The pair even attended the '24th Annual Race To Erase MS Gala' at Beverly Hilton Hotel on May 5, 2017, in Beverly Hills, California.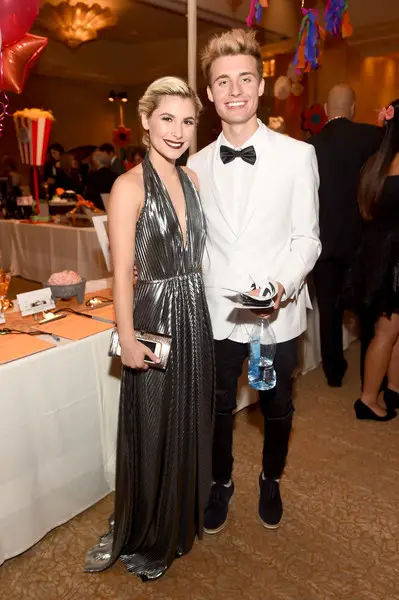 Caption: Christian Collins and his girlfriend, Courtney Saint at the Beverly Hilton Hotel on May 5, 2017
Photo Credit: zimbio
The couple, who looks adorable together, has a beautiful bond. And in the case of sharing the feelings for each other, both the lovers are not any hesitant. They can be seen uploading their pictures and mesmerizing their fans with them.
Back in July 2017, Courtney uploaded a photo of herself and her bae saying that the Christian is the light of her life. The couple looked cute together when Courtney kissed Christian on his cheeks. 
Taking their relationship to Instagram, Christian uploaded a picture of himself and his bae along with his white hound. Christian hugging his hound and Courtney posing as if to kiss the dog, looked undeniably cute. While sharing the picture, Christina wrote that he loves both of them.
The duo seems to be very happy while being with each other. The cute pictures of the pair uniquely hint how beautiful their bond is. The love-birds indeed have a blissful relationship, and it would be pleasuring for their fans to see them together till all the coming years.
A Little More to Know; Christian Collins Bio!
The Canadian Youtuber Christian Collins, born in 1996, celebrates his birthday every 18th April. He is the second son of his parents John Collins and Stacey Collins. He has three siblings including two sisters  Karisma and Kirsten, and a brother named Crawford.
Christian picked up his camera and started filming videos at the age of 10.  And by 2010, he created his own YouTube channel "WeeklyChris." Due to his passion and spontaneity for making videos, he soon got renowned and garnered more than 2 million subscribers on his youtube channel.
Christian has also done a cover for various songs including "Chains" by Nick Jonas and The Weeknd's "I Can't Feel My Face." However, he released his very first original song, "You Don't Have To Go" in December 2015.
Caption: Christian Collins' very first original song, "You Don't Have To Go" released on December 13, 2015  (Published on Dec 13, 2015 )
Christian, later gained popularity via his songs like Gonna Get Burned; She Makes Dirt Look Good, Too Much You For Me, Drive You Off My Mind, and Hey Girl.
At the young age of 21, Christian already has a huge fan following. He also has earned a good amount of fortune through his YouTube channel and his music career. Well, his net worth is believed to be $1 Million.