Entertainment
Christian DelGrosso, Story Behind Dating; Girlfriend - His Better Half & Family
Youtube star Christian DelGrosso, who gained popularity through his vines at a young age, is already booked. The Canada-born star lives a perfect love story with his high school sweetheart.
First Met Girlfriend At High School
Christian DelGross, who is the eldest child in his family, shares a fairy-tale-like love story with his girlfriend, Kristen McGowan. She is a Youtuber, Instagram star, and lifestyle blogger.
DelGross has been in a committed relationship with him for a long time. The best friends-cum-couple first met seven years ago.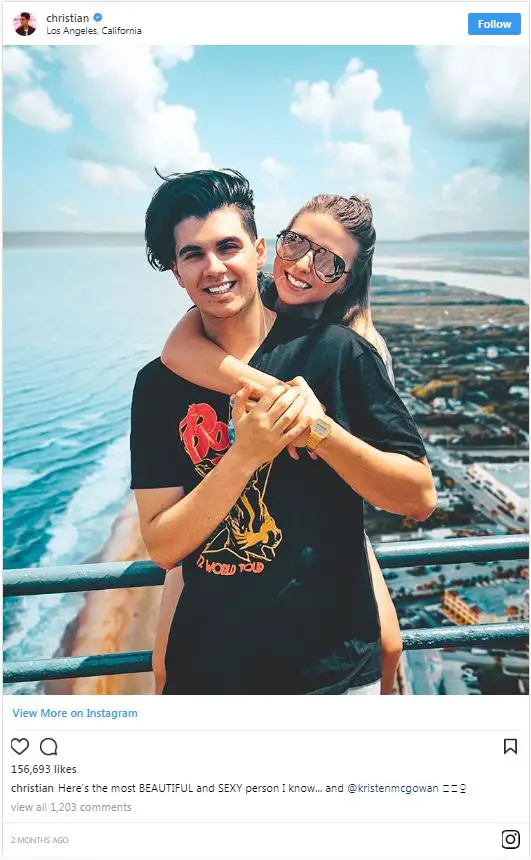 Christain DelGrosso with girlfriend Kristen McGown at Los Angeles, California (Photo: Christian DelGrosso 's Instagram)
Christian, who celebrates his birthday every year on 24 May, first met his girlfriend Kristen in his high school, but both of them weren't available at the time. Kristen was a year junior to him at the same high school.
But in 2010, when Christian reached the senior year, the two started hanging out. They were never an official couple but were more like best friends. The pair stayed friends for a year until a year later; they started dating.
Later, Christian and Kristen both figured out what they wanted from each other, which just happened to be the same thing. The duo ended up being romantically involved leaving their friendzone behind.
For nearly two years, the couple shared numerous memorable moments together. But then, it was not always sunshine for the couple. Kristen moved to a school to Toronto located outside of the town, and Chris started working on weekdays. The pair would only get to see each other on the weekends.
Adding to it, Christian moved to California while Kristen was halfway through her school in Toronto. The couple shared the long-distance relationship while still going strong with their relationship. However, after three or four years of going through troubled times, the duo moved in together in California.
Dating Life With Girlfriend
Christian DelGrosso, who possesses the height of 1.80 meters, lives in with his girlfriend while filming videos for his channel along with hers. Christian does not miss out on spending memorable times with his high-school sweetheart. Moreover, he believes Kristen to be his "other half."
Christain, 24, does not hesitate to flaunt their love on his Instagram. The love-birds regularly post their romantic pictures on Instagram. Likewise, the pair even celebrates festivals together, be it Halloween, Thanksgiving, Christmas or New Year. The two are enjoying the times of their lives after all the countable days they were apart from each other had deepened their young love.
Nevertheless, the pair loves creating memories together. Christain went on kayaking with Kristen. Not only Kayaking, but the couple also enjoys vacations together. They have gone to Europe, Dominican Republic, Scotland, and numerous other places together.
As of 2018, the couple hasn't revealed about their future relationship goals, however, the couple is likely to stick together given their strong chemistry and years-rich friendship.