Entertainment
Christine Elise and Her Food Chemistry: Previously Engaged to Boyfriend; Not Married?
It doesn't matter if you are a celebrity or an ordinary person. If you love food, you're a foodie. The chemistry between this actress and her favorite foods is better than her chemistry with other actors on-screen. Amazed, aren't you? Well, so am I.
Eggplant-Pasta-Veggies Spicy Groupies:
An American film actress, Christine Elise, a Beverly Hills '90210' legend, is deeply in love with clean and healthy vegan foods. Her Instagram profile is filled with pictures of her favorites.
Well, she is deeply in love with Spicy Vegan Eggplant and Mushroom Bolognese Pasta Sauce. She always includes "#food porn" on her social networking 'Food' posts.Amazing !
Cheesy Pasta Orgy!
Here's another one. It is called "Mac and Cheese along with Vegan Creamy," which takes only 10 minutes to be prepared as per Chef Christine Elise.
Pasta with spicy Asian beauty Sesame
Moreover, her chemistry with Vegan foods especially seems to be top of all. "Vegan Vegetable Pasta Salad with Spicy Asian Sesame Peanut Dressing," sounds Yummy!
Vegetarian or Vegan!
Yes, her 6-Ingredient Wheat Berry Salad with Peas, Mint & Feta (Vegetarian or Vegan)!
And, she thinks a pie a day keeps the doctor away. Foodie Spotted!
Married, Engaged or Dating Relation?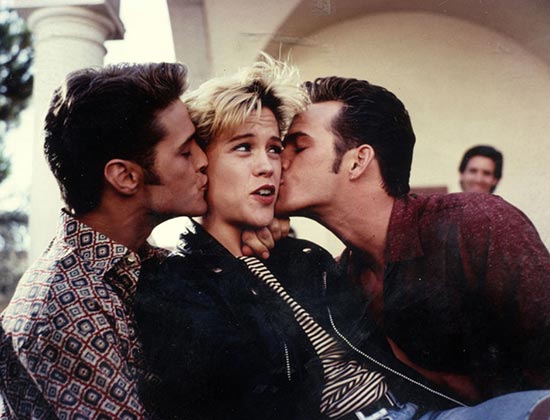 Caption: Jason Priestley, Christine Elise and Luke Perry in a set of Beverly Hills, 90210 back in days, around 20 years ago.
Source: complex.com
Canadian actor and director Jason Priestley started dating Christine Elise in 1992. The couple dated and even lived together from 1992 to 1997.
In an interview with hollywoodreporter.com in 2014, Priestley went into full pledge about his five-year long live in relationship with the actress who played the bad girl 'Emily Valentine' on the show, Christine Elise.
"Christine was my first full-fledged adult relationship," he recalled how Elise was mentioned by media as his inspiration to party hard when the interviewer said, "The cast of 90210 did indeed hook up with each other."
Christine Elise was Jason's live-in girlfriend for five years. They had even shared a home together. However, their relation of boyfriend and girlfriend didn't convert into that of husband and wife. They reportedly split because they didn't want kids.
She said of their relationship:
"Fans hated me, but only in those silly Yahoo fan groups and AOL message boards. Remember, the internet was very new back then, and there was no social media, so I had no real experience of the kind of hating that is rampant these days — for which I am very grateful."
Christine Elise is single as of the date and is not married to anyone. Information about her net worth has not been revealed yet, but as she had a long career, she appears to be a rich celebrity.
Caption: Christine Elise's photo timeline.
Creepy note!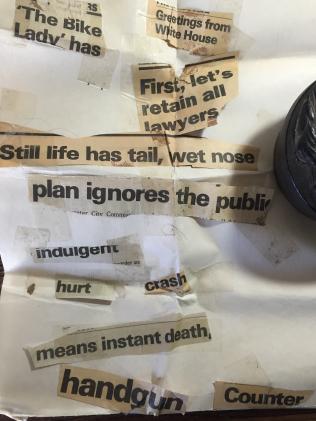 Caption: This note is one of the most disturbing Else has ever received!
Photo Credit: news.com.au
Some young Priestley fans co-wrote a particularly mean letter, and it remains her favorite thing. Elise still has it framed in her house till date. On the other hand, a more disturbing missive in the style of a cut-out ransom note and also included an ominous mousetrap included.
She kept the letter in the form of evidence, in case things took a darker turn, but nothing further came of it.
A Short Bio of Christine:
Christine Else (Born on February 12, 1965), an American movie and TV actress, is best known for her role on Beverly Hills, 90210 as Emily Valentine (1991-1994). Else graduated from Boston Latin High School. Else is also a writer having written three episodes of Beverly Hills, 90210.
Else also maintains food porn blog called delightfuldeliciousdelovely.com in which she provides recipes and some details about foods and its varieties. "Bathing and the Single Girl" was her directorial debut movie and was accepted in more than 100 film festivals. She appeared on Ken Reid's TV Guidance Counselor Podcast on February 11, 2015.
Currently, she successfully maintains a food porn blog called Delightful-Delicious-Delovely at "Delightful Delicious Delovely."