Entertainment
Christine Marinoni Age 50 Wiki: Post Pregnant Bliss To Family With Cynthia Nixon
The prominent LGBTQ advocate, Christine Marinoni, who previously served as senior advisor for community partnerships in New York City, is policy wonk when it comes to LGBTQ society.
Christine rose to fame being the wife of famous American actress, Cynthia Nixon, who best known as lawyer Miranda Hobbes on Sex and the City. Christine and Cynthia have been married for a long time and their love has been blessed with their son.
Turns out Christine is the first woman Cynthia fell in love with. Prior to her relationship with Christine, Cynthia never kissed or date any woman. Well, as revealed by the wiki-like-bio of Christine, the couple does share a long-lasting love and has still been going strong with their romance. 
Cynthia Nixon Falling For Her; Dating After Divorce
Christine Marinoni, who previously used to report directly to the City's Deputy Mayor Richard Buery back then, resigned so that she could help her wife in the campaign. Well, that's the kind of bond that Cristine and Cynthia shares. 
Christine and Cynthia first crossed path back in 2001 while Cynthia was campaigning in New York City to reduce public-school class size. Back then, Christine was working as an education organizer.
The pair shared some intimate connection but both of them remained friends for a few years. Later, the two started working on political projects together and started growing on each other. They became very close.
During that time Cynthia was tied in a marital bond with her ex-husband Danny Mozes, with whom she shares two children; a girl, and a boy.   
However, after the end of the marital bond, Cynthia and Christine started dating. The couple were official with their relationship since 2004 and did not come forth right after they started dating.
With Cynthia's fame, Christine was just waiting for another bomb to drop and for Cynthia to get panicked of their lesbian relationship. But later when Christine got to meet Cynthia's mother everything went normal and she stopped worrying.
The pair went on with their relationship and finally got engaged in 2009. During that time, gay marriages were not legalized and the couple just waited for the right time to tie the knot.
Big Apple Wedding; Prefers "Wife" Rather Spouse
As the couple was waiting to exchange the wedding vows, the wait did not seem long as Christine was pregnant and they were soon blessed with a baby boy. Christine gave birth to her first child back in Februaray 2011 whom they named Max Ellington Nixon-Marinoni.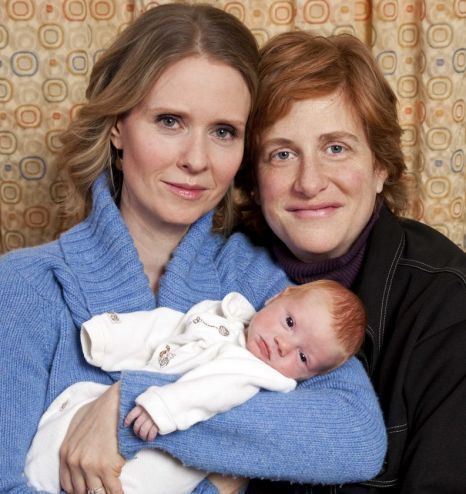 Christine Marinoni with wife Cynthia Nixon and son Max. (Photo: metro.co.uk)
A year later after the birth of the first baby boy, the pair finally tied the nuptial knot in wedding surrounded by their designated guests. The ceremony took place in New York and till then gay marriage was legalized.
In May 2012, the women finally got married in the Big Apple.
The actress then married Christine in 2012, she and Marinoni wanted to get married in New York and said that they'd wait for gay marriage to be legal in the state before tying the knot. In May 2012, the women exchanged vows in the Big Apple.
On their wedding day, Christine appeared in a dark suit with a green tie and Cynthia wore a green Carolina Herrera wedding gown. As Cynthia had never planned to get married to Christine, she was the first on to feel comfortable being called a "wife" instead of something gender-neutral term as 'my spouse.'
Well, the couple is still going strong with their love and as of they currently raise their family in a $3.25 million home in Noho.