Entertainment
Christopher Mintz-Plasse Shares A Kiss With Guy Best Friend; Keeping Girlfriend Low-Key Or Is He A Gay Man?
When talking about the life of a celebrity no matter how hard they try to keep their life private but with the swarming paparazzi and media detective they often get caught or surrounded by the rumors. Actor Christopher Mintz had faced the similar scenario when he swarmed in the story for kissing his guy best friend. The incident not only has inclined suspicion on his sexual preference but also forced his followers to investigate on his prior relationship.
So for now, we shall be unleashing the existing relationship with his guy man followed by his low-key relationship life.
Kissed A Man; Gay? If Not Follow His Dating History:
In the year 2012, in the online video "Funny and Die" Christopher has shown some hilarious stunt with Dave Franco where both the men had spoken about hilarious stuff in a very horny and intimated manner which since then had created a speculation on his sexual preference.
Caption: Christopher with David Franco in the skit "Funny or Die" streamed in 2015
Similarly, he also opened up about his shared relationship with actress Chloe Moretz when working in the movie Kick-Ass (2010) followed by their togetherness in the movie. While the duo shared no off screen bonding as a couple but maintained their relationship as friends.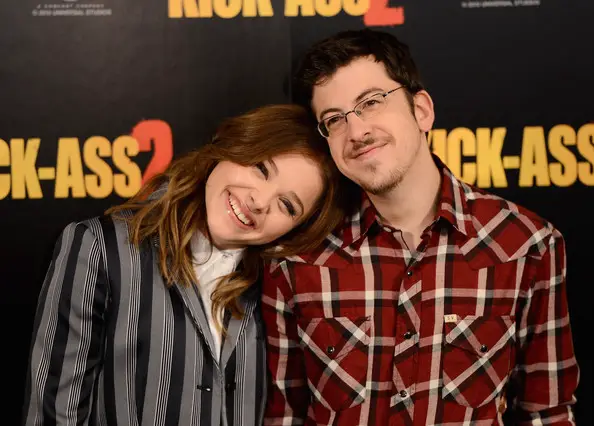 Caption: Chloe Moretz with actor Christopher while promoting Kick-Ass 2 in London (2013).
Photo Credit: zimbio.com
In an interview with GQ Christopher admitted about getting beaten by his co-star in every interview they faced. He said:
"In almost every interview, Chloe would beat me up. She was in fight training for months, and she was freaking high. All we would do was sing Paparazzi. The beautiful harmony of that chorus."
The pair had worked on the sequel of Kick-Ass 2(2013) while there is an illusion regarding the singularity of Christopher as after his image with an unexplained woman he has not further posted anything while he has posted several pictures with his male fellows.
Followingly, in the year 2016, Christopher got spotted with a man enjoying a peaceful moment at the Bronson Island.
While in the same year of 2016, American actor Christopher Mintz surfaced in the story after he uploaded an image of himself kissing the same man with whom he was seen in Bronson Island and acknowledged as his best friend. The actor captioned the picture as," I kissed my best friend in the face of hatred, insecurities, and anger. Love everyone and each other to the fullest. Much love much respect."
The kissing event and the vacation have undoubtedly created a turmoil while at the mean time Christopher uploaded an image with a lady at Las Vegas where he has stated themselves as two love birds.
Though the name of the girl was mysteriously kept hidden, the suspicion on his sexual orientation somewhat got resolved for the said pictures, and video might have got uploaded for the entertainment purpose. So there is a likely possibility for him to still be in the relationship with his girlfriend or he might have broken up and is enjoying his bachelorette life.
While currently, the source reports him to be single with no dating history in past which might have made him focus on his acting career and eventually landed him with the net worth of $12 million. The wealth will enhance as he is involved in movie projects like The Disaster Artist (2017) and several other comedy videos.