Entertainment
Claire Coffee And Her Casual Life With Husband After She Finished Up With Her Pregnancy
Claire Coffee And Her Casual Life With Husband After She Finished Up With Her Pregnancy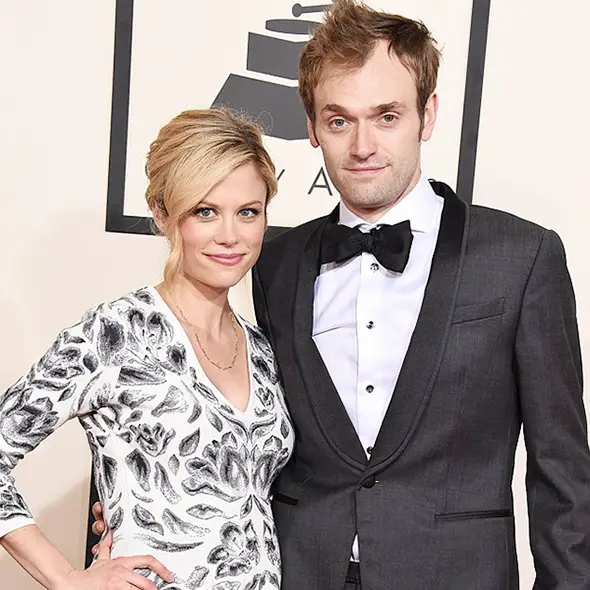 "Pregnancy" though it gives every woman a gift of motherhood it also brings a drastic change in the physical and emotional appearance of a woman. Actress Claire Coffee who recently went through her pregnancy seems to be enjoying her casual life with her husband and her child along with her career.
At present let's survey the happily married life of the actress followed by her career progress.
Exhilarating Motherhood Experience! How Did She Share It?
On 15th May 2015, Claire Coffee got blessed with her first child Calvin Eugene Thile with her musician husband Chris Thile with whom she had tied the knot in December 2013 at Blackberry Farm in Walland, Tennessee after dating for around two years in 2011. The new mother had shared her baby boy's picture through her Instagram.
Similar to an interview with People.com Claire had shared her excitement of her freshly motherhood where she spoke about falling in love with her baby boy. She said:
"Cal has already made great strides in the arts of eating, sleeping, and pooping. We are heads over heels in love. "
While the delivery date got closure, Claire shared about her baby kicks and baby movements inside her body. She said:
"This morning, when I woke up, I was about to get in the shower, and I just saw this knee or something swing across my abdomen, which, for Grimm, is very appropriate and eery, but it's a little weird. Instead of just little kicks, it feels like a serpent there's a torso. Is that a hip? Is that a tiny butt? Which body part am I feeling now?"
She further added:
"The movement is fun because I feel like, for my husband and I both, it's fun to check in with him at the end of the night.It feels like we get to hang out with him a little bit. My husband, who's a musician, has been practicing and it's fun to hear what the baby responds to."
Claire had announced her pregnancy news to her followers after she flaunted her baby bumps at a SAG  Award party in the early month of January 2015.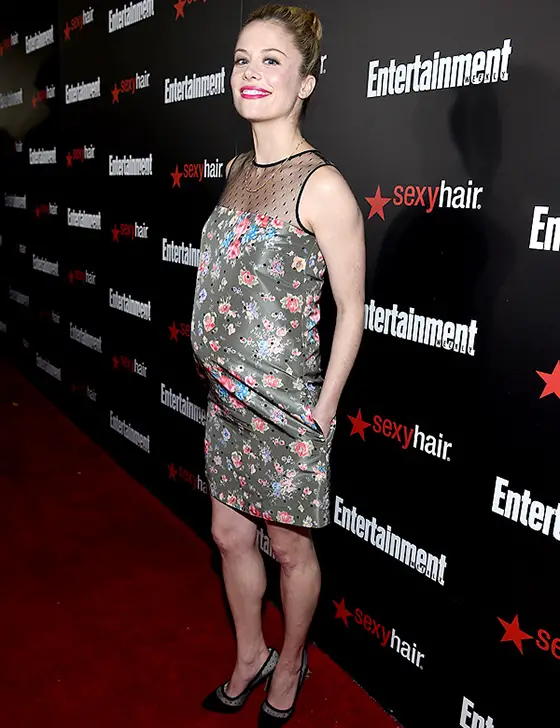 Caption: Claire Coffee shares her pregnant news bumps for the first time at SAG Awards (2015). 
Photo Credit: celebritybabies.people.com
While getting hold of her pregnancy news the actress spoke about getting hold of it only after she was taking trash. She said:
"I'm not a patient person, and I didn't realize you had to wait 10 minutes for the double lines to show up on those little pregnancy tests. Later, I was taking out the garbage, and I saw these little pink double lines in the trash."
Claire is still married to her man and enjoying her family life while her boy seems to be a beautiful child. She had uploaded the picture of her son and her husband enjoying a quality time during the Christmas holiday.
While presently Claire is fully enjoying her life by undertaking television project Buddymoon in 2016. While scrolling through her Instagram one can surely say she is living her life in an incredibly admirable manner where she is seen spending quality time in social work for hospitalized kids.
Claire Coffee had entered into the H-town with her first television debut through the series The Mind of the Married Man (2001) which further allowed her to undertake favorite television series projects like CSI.Miami (2007), Grimm(2011), Royal Pains (2014) followed by several movies like Death Row (2006), Wednesday Again (2008) and Inventing Adams which urged her to accumulate the total net worth of $4 million.
At the age of 36, the actress is surely doing well in her family life and professional front. With a successful married life and a beautiful son, it's obvious for the actress to do better in the future, so we wish her all the luck.